Fashion
Keep It Casual With The Trendy Men's Summer Outfits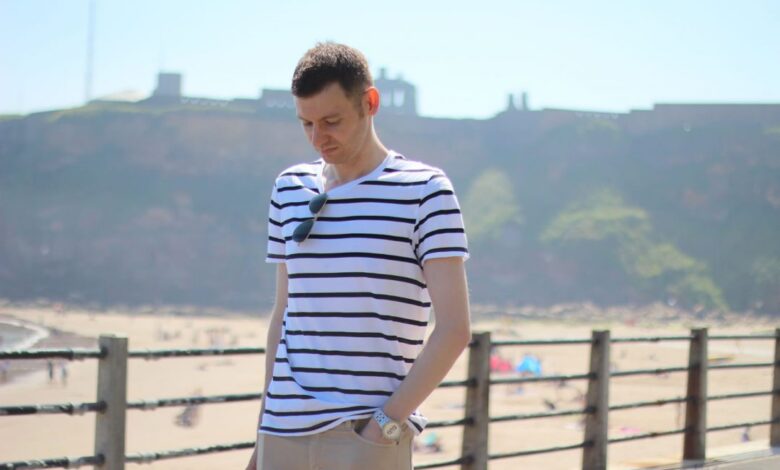 As the summer approaches, it's time for men to revamp their wardrobes and embrace trendy and comfortable outfits. Summer calls for casual and laid-back styles that keep you cool and stylish during the scorching heat. This article will guide you through some of the trendiest men's summer outfits, ensuring you look dapper while feeling relaxed and confident.
Lightweight Linen Shirts:
Linen shirts are a summer wardrobe staple for men. These lightweight and breathable shirts are suitable for hot weather, as they let air circulate and keep you cool all day. The natural texture of linen provides a relaxed drape, giving a comfortable and chic appearance. These shirts come in various colors and patterns, making it easy to pair them with shorts, chinos, or even swim trunks for a day at the beach. Opt for pastel shades or classic whites for a fresh, trendy summer look.
Classic Polo Shirts:
These shirts are a classic choice for men who prefer casual and innovative styles. These versatile shirts can be dressed up or down, making them suitable for various occasions. The collared design of the polo shirt adds a nice touch of sophistication, and the short sleeves keep you cool in hot weather. Pair a polo shirt with tailored shorts and loafers for a sophisticated yet relaxed look. You can also layer it with a light jacket for cooler evenings. With various colors and fabrics, you can effortlessly find a polo shirt to match your style.
Embrace the Relaxed Vibes
Bermuda shorts are a must-have for men who want to keep it casual without compromising on style. These knee-length shorts are both comfortable and stylish, making them ideal for the summer months. Bermuda shorts come in various colors and materials, allowing you to create different looks. You can style or pair them with a simple t-shirt and sneakers for a laid-back casual look or dress them up with a linen shirt and boat shoes for a day out in the city. The relaxed fit and breathable fabrics of Bermuda shorts make them a go-to choice for warm weather.
Stylish Denim Shorts:
Denim shorts are a classic summer piece that never goes out of style. The key to nailing this look is to find the right fit and length. Select a slim or straight fit and avoid overly baggy styles. You can pair denim shorts with a button-down shirt and loafers for a relaxed yet sophisticated appearance. Keep it simple with a graphic tee and sneakers for a cool, effortless ensemble perfect for casual outings. These shorts are multifunctional and can be paired with various tops and shoes, making them a go-to choice for many men during the summer.
Relaxed Camp Shirts:
Camp shirts, also known as resort or Cuban shirts, have returned in recent years. These relaxed and airy shirts are perfect for hot summer days. The camp shirt's open collar and loose fit give it a retro vibe that adds a touch of nostalgia to your outfit. Embrace the retro vibe with bold prints and vibrant colors to make a fashion statement. Pair your camp shirt with tailored shorts or lightweight trousers for a fun and fashionable summer look. Whether attending a pool party or a casual brunch, the camp shirt will keep you cool and looking stylish.
Breathable Sneakers:
Sneakers are a staple in men's fashion and no exception in the summer. Opt for lightweight, breathable sneakers that keep your feet comfortable throughout the day. White sneakers are versatile, as they go well with almost any outfit. Pair them with shorts, jeans, or chinos for a stylish and effortless look. For a more elevated style, you can opt for colored sneakers that add color to your outfit. Whether strolling on the beach or exploring the city, sneakers are the perfect blend of fashion and comfort for summer.
Protect Your Eyes in Style
During summer, sunglasses are essential to shield your eyes from the sun's damaging rays. Additionally, they serve as a fashion accessories that can enhance your appearance. Choose trendy sunglasses that complement your face shape and add a touch of style to your outfit. Aviators, wayfarers, and round sunglasses are timeless choices that suit most face shapes. Go for classic black or tortoiseshell frames for a sophisticated look, or opt for colored frames to add some fun to your style. You can protect your eyes and look effortlessly cool with the right pair of sunglasses.
A Classic Summer Accessory
Straw hats are a classic summer accessory that instantly elevates your outfit and provides much-needed shade. Opt for wide-brimmed hats that offer maximum sun protection for your face and neck. Straw hats come in various styles, from fedoras to Panama hats, making it easy to find one that suits your taste. Pair your straw hat with casual outfits like shorts and a t-shirt for a laid-back beach look, or wear a linen shirt and chinos for a more polished style. Straw hats add a touch of sophistication and keep you cool under the sun.
Effortless Summer Footwear
Espadrilles are the ultimate summer footwear for men. These lightweight and breathable shoes are made from canvas or cotton, with jute soles that add a casual and laid-back vibe. Espadrilles are versatile and can be paired with shorts, jeans, or chinos for a trendy summer look. For strolls along the beach or exploring the city, they're perfect for the slip-on design. Whether you opt for classic black or colorful patterns, espadrilles are a comfortable and stylish choice for summer.
Conclusion
With the summer heat in full swing, it's time to revamp your wardrobe and embrace trendy, casual men's summer outfits that keep you cool and stylish. From lightweight linen shirts and classic polo shirts to comfortable Bermuda shorts and stylish denim shorts, there are plenty of options to stay fashionable and comfortable. Add trendy accessories like breathable sneakers, stylish sunglasses, and a classic straw hat to complete your look. Whether strolling on the beach, attending a barbecue, or exploring a new city, these trendy summer outfits will ensure you look dapper and confident throughout the season. So, update your summer wardrobe with these stylish and comfortable pieces and enjoy a fashionable summer filled with unforgettable memories.