How To
How To Choose The Right Size Work Tote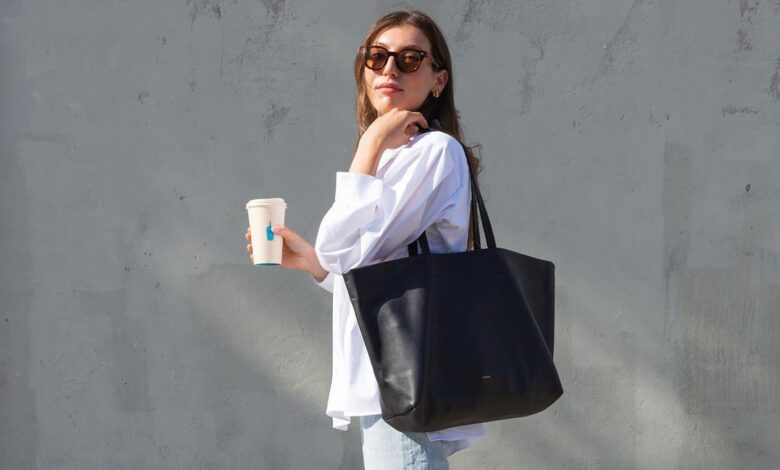 A work bag should match the demands and priorities of your schedule. You might prefer to carry lightweight work totes that have just enough room for the basics or a mobile office with everything you need for maximum productivity. The best bags can help you maintain a work-life balance with room for gym gear or look stylish enough for happy hour. Here are a few pointers to help you choose the right size of work tote.
From Work, To Gym, To Happy Hour
The first factor to consider when selecting a work tote is your daily schedule. If you have more stops in your day than work and home, you may want a bigger tote bag for work. Whether you need to carry gym clothing, athletic shoes or gear or leave room for groceries, you might want to consider the Large Work Tote.
The Work Tote measures 14.25 inches wide by 11 inches high and 6 inches deep. By comparison, the Large Work Tote measures 16.75 inches wide, 13.5 inches high and 7 inches deep. If you want a little extra room, the larger tote can provide it while maintaining a sleek profile. If you want an even larger bag that has a zip away or removable bottom compartment, check out the Weekender bag.
What You Should Pack In a Work Bag
You should be able to carry everything you need for a productive day in your work bag. The Work Tote and the Large Work Tote both feature padded laptop sleeve pockets with Velcro strap closures. The laptop sleeve in the Work Tote measures 12.5 inches wide by 9 inches high. The sleeve in the Large Work Tote is 13.5 inches wide by 11 inches high.
In addition to a computer or tablet, you may need to be able to fit paper files or other work materials in your bag. There should also be room for everyday essentials, such as hydration and snacks. Once again, if you have more items on your to-do list, room for gear or any items you pick up along the way can set the best work bags apart from the rest.
A Handy Tote or A Mobile Office
Your primary consideration when selecting a work tote involves the size and weight of the items you need to carry everyday. If you want a polished-looking bag that can easily transition from day to night, a Work Tote or Large Work Tote can be the best choice for your lifestyle. If you prefer active bags that can also serve as carry-ons with room for a change of shoes or clothes, you might prefer the Weekender bag.
Check the dimensions and features of any style of bag that you are considering carrying to work. You should be able to fit everything you need on the job and items for any other activities you have planned into the right work bag. A stylish work tote can be your go-to everyday bag and do double duty as carry-on luggage.