Business
7 iPhone issues Bugging Users in 2023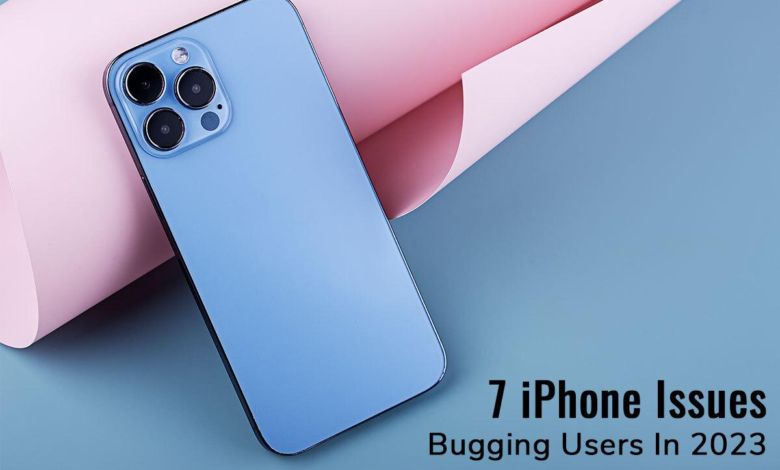 iPhones are a cut above the rest in delivering exceptional performance. Although Apple's software and hardware are unmatchable, iPhones have their fair share of problems. Since people hold Apple's smartphones in such high esteem, even minor issues bug them. Fortunately, most iPhone problems can be fixed without requiring a technician.
Some problems bugging iPhone users in 2023 are discussed below. Take a look.
iPhone Contacts not Showing Up
Contacts not showing up on iPhone is a frustrating problem. It may cut you off from your professional and personal networks. This issue might be because of a software glitch or iCloud syncing problems.
You can fix the problem by restarting your phone, turning off and on iCloud sync, and ensuring you haven't hidden the contacts.
It Feels Too Hot to Touch
While using your phone nonstop, you may get a message saying, 'iPhone needs to cool down before you can use it.'
This message means that your phone is getting overheated, and that's why you may face issues using your phone. If you don't cool down your phone, it may result in your phone catching fire or exploding. Therefore, you must be aware of this issue and protect yourself from an overheated iPhone.
You can solve this problem by taking it to a cooler environment, shutting off some applications, turning off Wi-Fi and Bluetooth, or shutting down your phone. This will help start the recovery process of your phone.
You can also remove the phone's cover and don't use it for some time.
To solve this issue quickly, you can Reset All Settings on your phone. Updating to the latest iOS version may also help eliminate this problem.
However, if these resolutions don't work, you may need to contact the experts.
Not Getting Updated to the Newest iOS Version
One common iPhone problem is the phone not getting updated to the latest iOS version. The solution is simple. Connect your phone to your Mac and force restart your phone. This will bring your phone to Recovery mode. Then, you will find an update option. Click on this option, and the update process will start. When the process is complete, your phone will work as before. 
However, before doing this, you must back up your data as you may lose your data in the process.
Applications are not Working in iOS 16
So, have you updated your phone to iOS 16? If, after updating your phone, the apps are not working, it might be because Apple has switched from 32-bit to 64-bit applications with iOS 16.
Therefore, the 32-bit applications will not work on your phone. You must check under Settings to see which of your apps are obsolete.
Choose the 32-bit application to visit the App Store and then check if there's a newer version of the app available. If there's no newer version, there's not much you can do. You will have to delete the 32-bit app from your phone and look for alternatives to the app.
The Speaker is not Working
If you cannot hear sounds from your phone, ensure your device is not in sound mode. You must press the volume button all the way and turn off Bluetooth.
If the sounds are still distorted, or you cannot hear, open any application that has music and then set the volume by pressing the volume button.
To solve the problem, you can try restarting your device to solve bugs or software glitches. However, if the problem is hardware-related, the speaker may need to be repaired or replaced.
Face ID is not Functioning
The Face ID feature in iPhone 14 and above lets users access their device, iTunes, and App Store. You can also set up this feature to access other apps on your phone. If, after upgrading your iOS version, there are issues with Face ID, you can restart or reboot your phone. You can also turn off and on the Face ID. 
Finally, go to Face ID settings to reset it.
Issues Connecting to Wi-Fi
If you cannot connect to Wi-Fi, you can try restarting your phone. You can also restart your Wi-Fi router and then try connecting to it again.
Also, check if the router is updated to the latest firmware.
You can Reset Network Settings under iPhone's Settings and then connect to the Wi-Fi.
If these don't solve the problem, then you may have to upgrade your device to the latest iOS version.
The Bottom Line
These are some iPhone problems that can ruin your mood and put you in a frustrating mood. After all, you must be using your phone for everything, including playing games, replying to emails, messaging your friends, browsing through social media sites, etc.
What problems have you faced on your iPhone? Share your experience to help others.