Fashion
What is Custom T-Shirt Printing? Why Is It So Trendy?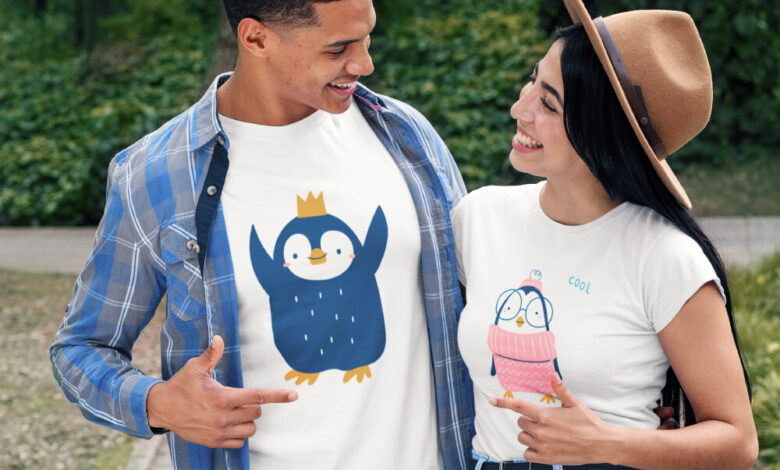 T-shirts are one of the most prized garments of a person's wardrobe. Is there a soul on this earth who has no tee in his/her wardrobe? (If there is, then beware, they aren't earthlings!) Be it any season, any occasion, any gender, any age, any part of the world, or any profession – tees rule.
The "tee-total"!
Throw over a blazer on a dark-shaded tee; combine with a pair of trousers and pumps (for men, well-polished shoes) and you are ready for the office.
Combine the same tee with a pair of jeans and you are all set for a hangout. The same tee works wonders on a date when you wear it with a pair of shorts and boots. Don't forget those danglers and shades.
Things become more interesting when you wear a custom T-shirt. In fact, this very piece of garment starts speaking for you…in the way you want it to.
Today, custom shirt printing is a rage. Customizing your T-shirt gives you a chance to personalize it. You can create your own look on the shirt, something that speaks about your style and taste. It's like having more power over your clothes. Or maybe over the world, eh?
Well, if you are unable to speak your mind, let your tee do it for you!
Any guesses why custom tee printing is so trendy?
No doubt, the T-shirt is the all-time favorite garment of everybody in the market – buyers and sellers. Custom tees are evergreen fashion. Have you ever heard that tees are out of fashion? No way!
According to Research And Markets, the custom tee printing market was USD 3.96 billion in 2021. As per the market forecast by the research store, it is anticipated to "grow at a CAGR of 9.7%." The market is expected to touch USD 7.57 billion by 2028.
As per other reports, tees are among the chief consumer goods in the apparel category that people use daily. Tees boast of having one of the largest shares in the fashion industry.
It does not matter what the fashion trend is; tees never go out of style. There can be varying trends in tees, but a T-shirt, as such, does not become outdated.
The best part is you can prep up your old tee through some fabulous print designs and embroidery. Your old tee becomes as good as the new one. And if you want to take your tee customization to the next level, consider investing in a direct-to-film printer for high-quality, personalized designs that will make your old tee truly stand out. With this innovative technology, you can turn your plain shirt into a fashion statement that's uniquely yours.
Here are 3 top reasons for the sheer popularity of custom T-shirts:
1. Medium for expression:
Want to put your message across to a large audience? Print it on your T-shirt!
Want to turn heads? Print a bold message or image on your tee.
Want to stand up for a social cause? Get a customized tee that features your social message.
For example:
"There are Women's Rights, Where are Men's Rights?"
"I am Against Child Labor, What About You?" "
"I Believe in 3D's: Don't Drink & Drive"
Want to be a little naughty, witty, or weird? Again, your T-shirt will help you be one. Either print funky images or print text on the fabric that makes you stand out of the crowd. By the way, when you decide to go against the tide, be ready for all kinds of reactions.
Here are a few examples that can turn heads, raise eyebrows, or even make people go crazy for you.
"I Am the Devil You Are Afraid of"
"It's a T-Shirt, not We-Shirt, so Stop Looking at Me"
"Smile Back, Please!"
2. Branding
Branding is big in the business world today. Customized products play a superb role in helping businesses build brands. Whether you are a startup, a small business, or an established corporate house, you can never have enough customized products as one of your marketing tools. Custom T-shirts are top on the list.
3. Team spirit
Custom tees are significant for boosting team spirit. When employees of a company wear custom apparel, they instantly catch the team spirit. The very thought of wearing a customized tee engulfs them into excitement as they develop an emotional bond with the company. This can work towards building trust and loyalty amongst the employees.
Custom T-shirts work well during an event, especially a CSR event where the company wants to showcase its corporate social responsibility. For example, a company organizes free meals for a day for the homeless. When the company's employees wear custom apparel, the following things happen:
The employees feel a strong bond with the company and the work they are doing.
The company gets better publicity.
The employees' uniform apparel increases the gravity of the event. The company conveys the message that they are serious about what they do.
People can instantly recognize employees of the particular company among the crowd.
Wearing custom apparel makes employees feel more confident and closer to the company's goals.
4. Celebrity influence
Celebrities love to wear custom apparel. They play a crucial role in spreading the trend. People love to copy their favorite celebrities. Moreover, fans love to wear T-shirts with pictures of their favorite celebrity printed on them.
5. Increased disposable income
The younger generation has a higher disposable income. People love to splurge on fashion, food, and the like. Many are not content with just a couple of tees in their wardrobe. They want a line of custom T-shirts, each matching their moods and occasions. People are attracted to unique clothing, something that speaks about themselves. No wonder custom tees are in huge demand.
In spite of the fact that customized apparel is more expensive than normal apparel, the modern generation is buying in bulk.
But hey, do you know if you buy in bulk from a reputable custom T-shirt shop, you can save dollars?
Besides, printing custom tees will definitely not empty your wallet. Reputable printing shops are known for their timely delivery, excellent designs, competitive prices, and amazing offers. They deliver your product to your doorstep.
So, if you haven't a custom tee yet in your wardrobe, you are losing the biggest fashion trend.
Hurry, print your tee today, and customize it to your style. Visit www.customshirtprintings.com now.