Fashion
Make a Fashion Statement with Sharara Dress for Any Occasion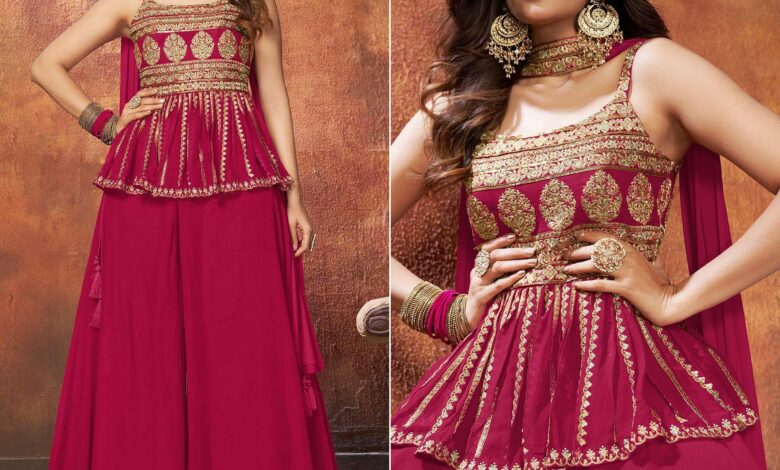 The sharara suit is a fashion-forward, comfortable, and beautiful apparel item that tops the list of fashionable ensembles. With its various designs, patterns, colors, and motifs, it offers a grandeur that is unmatched. While the sharara dress style originated in Lebanon, its roots can be traced back to the Hamedan tribe of Yemen. It gained popularity on the Indian subcontinent during the Mughal dynasty in the 16th century. This classic ensemble exudes a regal charm, especially when paired with simple yet stylish accessories.
What's All The Hype?
Why is there so much hype around Sharara dresses? Indian designer sharara suits have become immensely popular in the ethnic fashion category. Women today prefer this ensemble for its comfortable fit and unique silhouette when it comes to traditional dressing. The regal attire of a sharara suit, introduced by the Mughals, was adorned by queens and other royal females. Indian sharara suit designs hold great significance in traditional clothing, be it for celebrations or wedding events.
A sharara suit typically consists of a salwar suit with a flowy bottom and an elegant appearance from head to toe. Although shararas and ghararas have flared pants and are similar in many ways, they become distinct and beautiful ensembles when paired with trendy embroidered tops or short kurtis. They are a great alternative to sarees or bulky lehengas while still maintaining the essence of Indian culture.
Here are a few ways you can have fun with sharara suits and make a fashion statement:
Printed Sharara Suits: Opt for a sharara suit with a kurti top in lighter ecofriendly fabrics such as georgette or cotton. Look for intricate embroidery and pair it with a long-flared skirt, similar to a lehenga. Printed shararas are a great choice to add a touch of soft glam to your fashion while selecting a new design for any occasion. Their intricate design and distinctive style make them suitable for weddings or to enhance your ethnic quotient this season.
Full-Blown Sharara Dresses: Explore designer Sharara dresses online made from a mix of net and rich satin silk fabric, available in various on-trend pastel hues. Wearing one of these captivating sharara suits will undoubtedly make you the center of attention at parties or receptions. Experiment with intricate embroidery or Zari works on rich fabrics, soft net, or organza to add more elegance to your ensemble.
Heavy Sharara Suits: Instead of opting for light suits, go for heavy contrasting two-tone color combinations with embroidery. This will give you a classy and sophisticated appearance at any event. Buying sharara suits online will help you stand out in a crowd, as they come in rich combinations such as yellow and white, pink and golden, crimson and golden, black and beige, and more.
Traditional Sharara Suits: A traditional Sharara suit is a must-have in your closet for casual family gatherings or work parties where you want to look elegant. Choose a sleeveless sharara with a simple design if you want to stand out without being too flashy. For a striking effect, consider purchasing backless sharara outfits. Bell sleeves or ruffles can make sharara ensembles appear luxurious and feminine. Opt for sharara suits made of crepe fabric for formal occasions, as they will keep you comfortable all day long.
Up Your Style Quotient with Designer Sharara Suits: Look sophisticated by choosing a chikankari Sharara suit. With a wide selection of colors and pattern options available online, you can feel good while looking good in beautifully crafted chikankari sharara sets. Add some jhumkas (traditional Indian earrings) and bangles to complete your look for a party. Shop with reputable brands like Kreeva to find a fantastic selection of designer sharara suit sets suitable for women of all body types.
Go Bold with an Anarkali Sharara Dress: Anarkali or frock-style designer Sharara dresses deserve a place in your closet due to their grace and natural attractiveness. The frock-cut style of sharara tops instantly transforms a woman's appearance into a youthful and appealing one. This category of sharara dresses comes in a wide range of patterns, designs, and necklines that are sure to catch everyone's eye. Explore the stunning variety of frock-style sharara suits for weddings to find the perfect match for you.
Statement Pants for a Statement Look: Sharara suits are versatile, allowing you to try alternate bottoms or shirts with your Sharara trousers. For a modern urban vibe, wear jacket-style kurtas or crop shirts with sharara pants. Another option is to pair flared sharara trousers with a long kurta featuring a side split. Depending on the occasion, you can mix and match a single sharara set with different tops.
Summing Up
Sharara suits have evolved from a combination of royal rituals and traditional clothing into an ethnic fashion trend. When selecting a sharara suit, you can experiment with colors by choosing a brightly colored kameez (top) with a light-colored salwar (bottom) and a basic-colored dupatta (scarf), or vice versa. If you're ready to transform your wardrobe, explore the Sharara suit designer collection offered by brands like Kreeva. With their incredible variety of the latest sharara suits, you can find the perfect ensemble as the holiday and wedding season approaches.