Business
The Benefits of Custom Poster Printing for Businesses and Events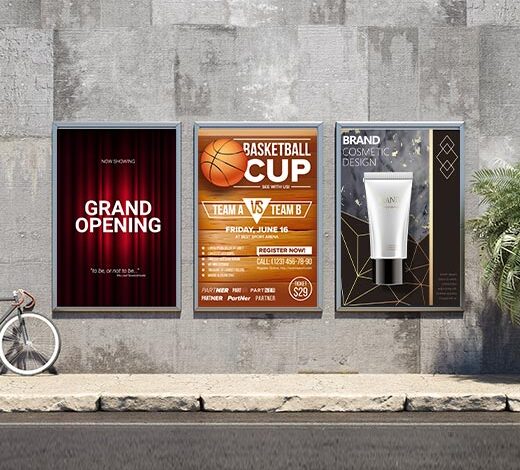 Posters are a versatile marketing tool that works both indoors and outdoors. They can help promote events, sales, and fundraisers.
Think of your favorite rock band or high school or college movie poster. Poster prints are not just for teenagers but also offer many business benefits. These include:
Personalized Marketing Strategy
Posters are a versatile marketing tool that can communicate a variety of messages. Whether you want to promote a concert, announce a grand opening or sale, or build brand awareness, there's a poster that's right for you.
Considering your audience is essential to designing an eye-catching poster. Different colors, images, and text can appeal to different demographics. For example, if advertising an event to attract a younger crowd, use brighter shades and bolder fonts in your design. Posters can be placed anywhere — in a store window, at an all-night diner or coffee shop, or in high-traffic areas like bus stations and shopping malls.
When choosing a printer for your posters, ensure they have the expertise to produce a professional result. Look for one that can offer same-day shipping or overnight processing to ensure you receive your signs as quickly as possible. Choose a printer with a high-resolution printing option, at least 300 DPI. Otherwise, your images may appear blurry and unprofessional when printed.
A good printer will also have a range of paper options, from standard glossy to photo gloss. They can also recommend the best color options for your posters. For instance, they will be able to tell you that RGB, an additive approach to color that uses red, green, and blue, is not the best choice for posters, while CMYK, which subtracts elements from cyan, magenta, yellow, and key to create shades, is ideal.
Easy to Create
Posters are versatile and mix well with other merchandising materials like flyers or brochures. They're also lightweight, easily transported, and displayed in multiple locations. They can even be passed out to customers and fans to promote an event or your company's products.
You can find poster templates online or design your own for a personalized touch. The most important thing to remember when creating a poster is to place the target audience. The right colors, fonts, and images will capture your attention and convey your message effectively. For example, vibrant colors attract attention, while contrasting colors make your posters more eye-catching. It's also helpful to leave plenty of white space, so the text stands out and doesn't feel crowded.
Choose a printer that can produce your poster at the highest quality possible. The best way to do this is by choosing a local printer that offers overnight shipping. This will ensure that your order arrives on time and you have enough time to review the product before it's presented or distributed.
Another advantage of working with a local printer is that they can provide you with sizing templates for your posters. This will save you a lot of time in the future when you need to print more. This can be especially useful if printing for a recurring event or business.
Low Cost
Posters are an inexpensive advertising tool, especially if designed with the audience in mind. For example, if the poster is a call to action, then font and color choices should reflect that. Similarly, if the poster promotes a fundraiser, images, and language should be more formal to appeal to a specific target audience.
The size of a poster is also important to consider when designing it. Ensure that the text and photos are large enough to be easily read from far away. Also, make sure the colors and image quality are high-resolution. For example, a poster printed in CMYK format should use at least 300 DPI for a sharp, clear result. Lastly, choose a print shop that offers professional-grade lamination and mounting services. This can add extra durability to the finished product and protect it from scratches and smudges.
Another benefit of custom poster printing is that it can be done quickly and efficiently. Look for a printer specializing in rush orders and can guarantee overnight shipping to help you meet tight deadlines. Also, ensure the print shop can work with your desired file types and is proficient in handling complex artwork. This can save you time and money by eliminating the need for costly corrections. Lastly, be sure to take the time to review your posters and proofread them carefully before sending them for production.
Extra Copy
Poster printing can be a great way to communicate important messages and information in a visually impactful manner. They can be used to promote events, advertise products or services, and make announcements in the workplace or at local community centers. When creating a poster, it is essential to keep the audience in mind. This will help you choose colors, images, and text that will catch the eye of those viewing it.
The format of a poster is also crucial and may be influenced by the purpose or message it is intended to convey. A large sign may be a better choice for promoting an event, while a small sign might be ideal for displaying artwork or creating a decorative statement. Choosing the right poster size will also determine how much text or imagery can be included.
Posters are also an excellent option for instructing employees or a public audience. Whether marking safe or restricted parking spaces, listing rules and guidelines, or simply describing how to use a product or service, posters can communicate important information in an easy-to-read and engaging way.
Choosing a print shop that offers high-quality paper and extras, such as mounting or professional-grade lamination, can add to the overall impact of your finished poster. In addition, choosing an efficient printer with a good track record of quick processing can save you time and money.