Fashion
Gorgeous Coffin Nails Designs And Ideas For Sophisticated Women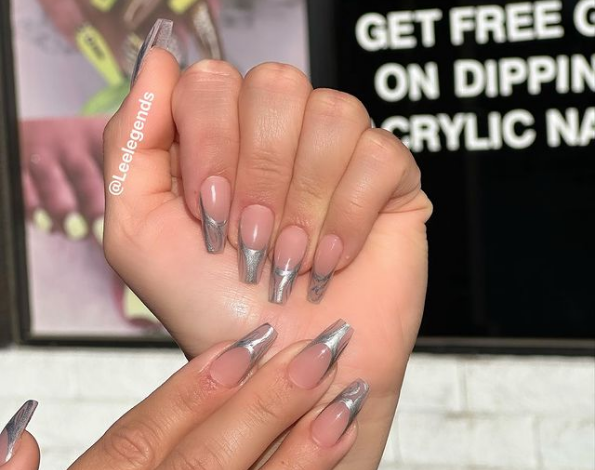 Coffin-shaped nails have a significant moment. The tapered square silhouette is edgy yet chic. From chrome colors to artsy prints, there are so many pretty coffin nail designs to try now. Coffin nails offer endless opportunities for creativity and self-expression.
The coffin nail shape sculpts and elongates fingers for a slimming, flattering effect. Tapering the nail straight across at the top balances the point for definition. Coffin-shaped nails suit any length and look great on all nail beds. Embrace this edgy coffin nails trend with these beautiful nail designs.
Simple Nude Coffin Design
A classic nude or blush pink coffin manicure is eternally elegant. Sculpting extended coffin nails in a creamy sheer polish creates a clean, understated style. Let the smooth, elongating shape take the spotlight.
White Coffin Manicure With Studs
Edgy stud embellishments transform soft white coffin manicures. Sculpt pristine white coffin tips. Glue gold, silver, or black studs onto one or two accent nails. The metal studs provide the outgoing edge.
Coffin Manicure With Abstract Art
Coffin designs are the perfect canvas for abstract nail art. Paint them black, white, or nude first. Use a detail brush and acrylic paint to create abstract shapes, drips, and designs. You will get a super artsy and modern vibe.
Chrome Powder Coffin Design
Chrome powder instantly takes a basic coffin manicure from simple to rockstar. Sculpt coffin tips and paint them black, white, or nude. Use a makeup sponge to dab on holographic or silver chrome powder randomly.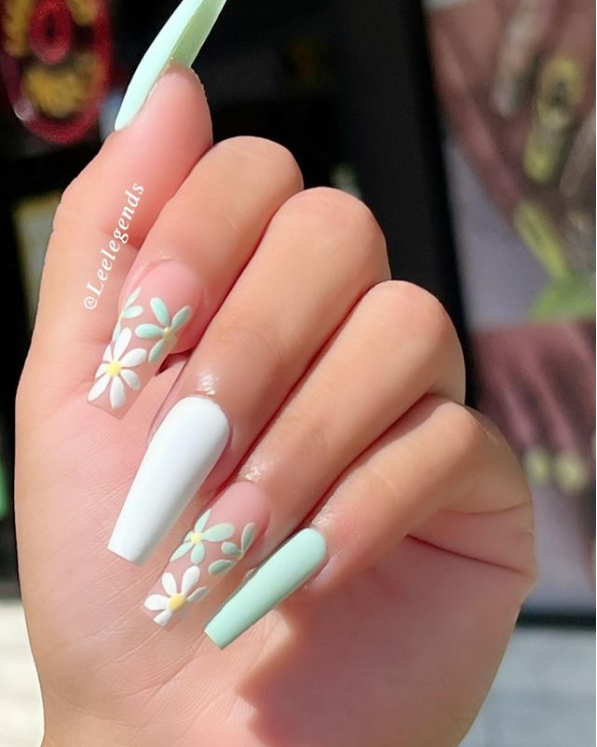 Matte Coffin Manicure With Glossy Tips
Play with texture contrasts by pairing velvety matte coffin manicures with high-gloss tips. Sculpt coffin manicure in a chic matte shade. Leave the tips ultra-glossy for definition.
Metallic Foil Coffin Design
Metallic foil creates a lavishly textured coffin manicure with mesmerizing depth. After painting your coffin tips, apply rose gold, silver, or gold leaf foil decals on several nails using glue.
Beautiful marble details give the coffin manicure a major visual appeal. Paint them black, white, pink, or nude. Use water decals to transfer stunning marble patterns onto several nails. The depth is so mesmerizing.
Coffin Manicure With Leopard Print
Unleash your fierce fashionista side with fun leopard print coffin manicures. Sculpt extra-long coffin shapes. Use black and tan polish to create leopard spots on accent nails. Unique and bold.
Frosted Icy Blue Coffin Manicure
Frosted blue polish on an elongated coffin manicure creates a wintery ice queen style. Sculpt extended coffin tips and paint them an opaque dusty blue with a luminous pearl finish.
Mirrored Chrome Coffin Manicure
Futuristic chrome coffin manicures in silver, gold, or rainbow reflect light for mesmerizing shine. The mirror-like reflective finish instantly makes hands look like jewelry. Edgy chrome coffins glam up any look.
Pink Marble Coffin Manicure With Gold Foil
The marbleized pink coffin manicure gets even more luxe with gorgeous gold foil details. Paint coffins pink first with white marble veins. Apply small gold leaf foil decals on two accent nails for regal dazzle.
Glossy Black Coffin Manicure With Rhinestones
Edgy black glossy coffin manicures are seriously glam when accented with sparkly rhinestones. Sculpt extra-long black coffin tips. Embellish a few nails by gluing on rhinestone crystals near the cuticles.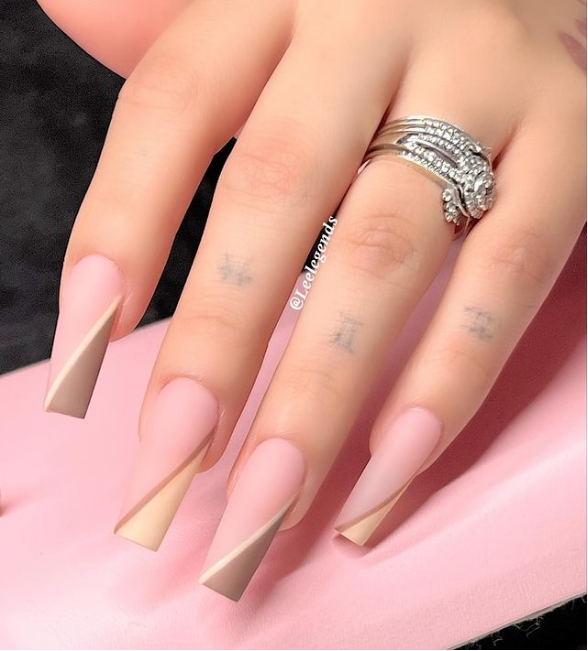 Neon Coffin Manicure With Glossy Black Tips
Black tips contrast sharply against bright neon colors on trendy coffin manicures. Sculpt neon orange, yellow, green, or pink coffin shapes. Paint just the tips in glossy black lacquer.
White Coffin Manicure With Gold Marble
Upgrade basic white coffin manicures with mesmerizing gold marble details. Paint coffins white first. Add stunning black and gold marble onto accent nails using decals or freehand painting.
Matte Nude Coffin Manicure With Glossy French Tips
A glossy French tip updates the chic matte nude nail trend. Sculpt coffin manicures in an icy matte nude shade. Leave the tips ultra-high-gloss for definition.
Natural Pink Coffin Manicure With Rhinestones
A short pink coffin manicure gets a sweet, luminous accent from delicate rhinestones. Sculpt glossy pink coffin shapes but keep them trimmed short. Glue mini clear rhinestones along the base of a couple of nails.