Sports
Essential Features to Look for in a Portable Pickleball Net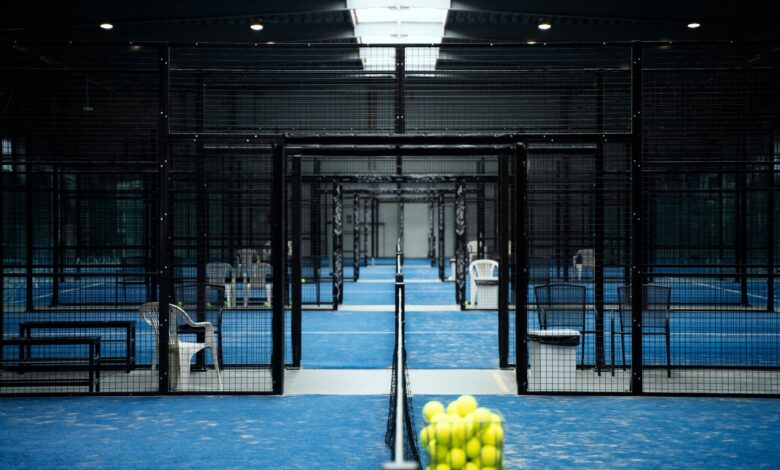 A portable pickleball net allows you to play in multiple locations. Look for a lightweight net with a carrying case or bag for easy transportation.
It should also withstand a lot of play and still maintain its quality. Make sure the net is USAPA-approved and easy to assemble.
Weight
The weight of a portable pickleball net can significantly impact your ability to use it. A light net is less of a challenge to transport and set up, and it will also be easier to handle during games.
The best portable pickleball net can withstand regular use and harsh weather conditions without weighing you down. They should be rust-resistant and have a powder coating to reduce wear rate.
Look for a portable wheel pickleball net with heavy-duty, non-scuff casters that can fold flat when unused. This will make it easy to keep in the trunk of your car and pull out when you want to play. It should also come with a carrying bag that makes it easy to transport and set up in your favorite spot to play. This wheeled net meets USA Pickleball Association regulations and stands 22 feet long and 3 feet high.
Durability
A portable pickleball net is built to last and can be used repeatedly. It is also durable enough to withstand harsh weather, familiar when playing outside.
An excellent way to gauge a net's durability is by its material and frame construction. Look for a sturdy mesh, a metal frame resistant to rust, and a durable carry bag.
The ZENY system is an excellent option if you're looking for a high-quality, durable, portable pickleball net that will last years. It includes a storage bag, steel frame, and regulation-sized net that can be assembled in less than 10 minutes.
The 3.0 net offers extreme durability with powdered-coated steel tubing that keeps the net taught and stable. It is also wind-resistant and easy to transport, weighing only 22 lbs once in its carrying bag. It's the perfect choice for professional court complexes or homes that can't afford a permanent setup.
Adjustability
A quality portable pickleball net is easy to assemble and store. It should also stand up to harsh weather conditions and frequent use.
A basic portable pickleball net may include a simple system of lightweight uprights attached to splayed feet and a long boom between them. The top of the boom can then be loosened or tightened using a crank and ratchet mechanism that helps to keep the net taut.
Alternatively, you can opt for a more advanced model like the PickleNet Deluxe, which features heavy-duty metal tubing and a powder-coated finish to resist rust. Its wheels make it easy to roll the frame on and off a court, and it can be locked into place when unused. The system folds up and fits into a convenient carry bag, making it ideal for impromptu pickleball games in a backyard or driveway. It also meets USAPA regulations with a height of 34 inches at the center.
Portability
If you frequently change locations to play, a portable net will be more beneficial than one that requires permanent installation. Portable nets are lightweight and come with a carrying case or bag that makes them easy to transport. This means you can take your game wherever you go, making finding time for a pickleball match easier.
When deciding on a portable net, looking for one that meets USA Pickleball Association (USAP) specifications and offers high-quality stability and durability is essential. The SLK Prime Portable Wheeled Net is a good option, which is ideal for impromptu games in public spaces such as parks and multi-purpose gyms.
This regulation-sized net can be assembled in less than 10 minutes and includes a heavy-duty carry bag. It also has a sturdy frame of oval steel tubing that keeps the net taut and prevents sagging. This net is an excellent choice for beginners and advanced players alike.