Lifestyle
10 Reasons Why Nature-Inspired Engagement Rings Are Better than Traditional Ones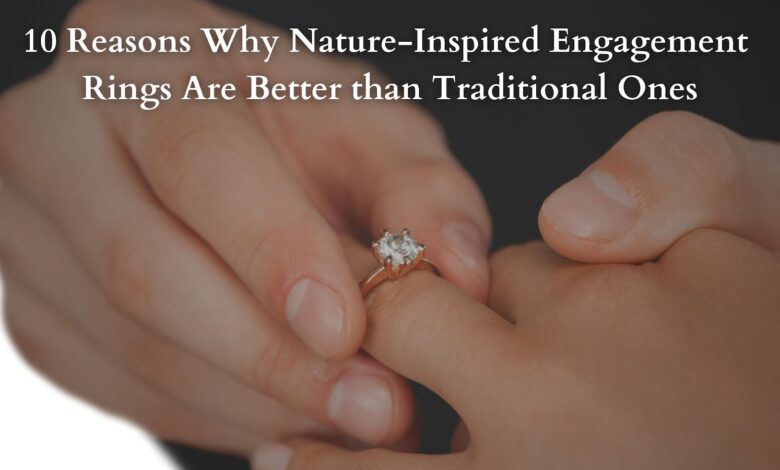 That sparkling diamond solitaire has dominated engagement ring styles for decades. But modern couples are breaking tradition by opting for unique, nature-inspired designs instead. Rustic or refined, these rings showcase the breathtaking beauty of the natural world.
Keep reading as we explore the top 10 reasons nature-inspired rings outshine traditional options. Discover why these meaningful and memorable rings are perfect for expressing your commitment while staying true to who you are as a couple.
Why Nature-Inspired Engagement Rings Are Better than Traditional Ones?
Engagement rings symbolize love, commitment, and a lifelong bond. While traditional diamond solitaires have dominated for decades, nature-inspired rings are growing in popularity. Organic, earthy designs that emulate leaves, flowers, vines, and other natural elements allow for unique, meaningful pieces.
Read on for 10 reasons why today's couples are choosing untraditional, nature-inspired engagement rings over classic diamond solitaires. These artistic, eco-friendly rings better represent modern relationships.
Infuse Symbolism and Personal Connection
The great thing about nature rings is they can carry deeper symbolism, representing natural elements like growth, resilience, and the continuous cycle of life. They're a nice way to incorporate personal stories and connections to the natural world that make the ring really meaningful for you as a couple.
For example, if you both love hiking through the forests and mountains together, a ring showcasing your favorite trail or scenic overlook could hold special meaning by symbolizing your adventures. Or if gardening is your shared passion, a floral design with your favorite blooms is a cool way to capture that. The point is, that nature rings let you customize details to reflect memories special to you.
Enjoy Endless Design Inspirations
There are so many design inspirations in nature, from majestic mountain ranges and mighty rivers to delicate vines and colorful blossoms. Compared to classic diamond solitaires, this breadth of choice allows for tailored rings that really fit your unique personalities and interests.
Do you lean toward bold, earthy metal tones or prefer bright floral hues? Are you into rustic, organic hand-textured styles or polished, elegant looks? Options abound, like wood grain patterns, meteorite bands, raw diamond botanicals, or sculpted floral shapes. You can craft a custom nature ring to match your vision.
Appreciate Organic, Refined Aesthetics
Nature-inspired rings range from rustic, raw textures to sophisticated and intricate styles. Tactile bands mimicking tree bark and detailed metalwork capturing the essence of leaves or petals can add artisanal, organic touches.
Graceful designs with ethically sourced gems in floral shapes, with polished craftsmanship, have a refined elegance rooted in nature's brilliance. These rings balance the rawness and imperfections of nature with polished refinement.
Incorporate Colorful Gemstones
Engaging with the beauty of nature has become an enchanting trend in the realm of fine jewelry. While 87% of couples still prefer the timeless elegance of diamonds, there's an unmistakable surge in the appeal of colorful gemstones that harmonize with the hues found in the natural world. People are increasingly drawn to the idea of adorning themselves with simple nature inspired engagement rings, ones that echo the serenity of a forest, the brilliance of a sunset, or the depths of the ocean.
Picture emeralds cut in the style of emerald leaves, yellow diamonds that effortlessly capture the radiance of the sun, and sapphires that mirror the mesmerizing depths of the ocean. The possibilities for customization are as vast as the landscapes that inspire them. Take inspiration from celebrities like Katy Perry and Scarlett Johansson who boldly bucked tradition with gemstone engagement rings bursting with personality.
Make Ethical, Sustainable Choices
With environmental consciousness becoming mainstream, ethical and sustainable sourcing matters to modern couples. Responsible vendors ensure rings promote conservation by using conflict-free stones in eco-friendly settings.
You can feel good knowing your ring aligns with your values while still appreciating nature's dazzling beauty and splendor. The chart below represents the displaying the growth in demand for engagement rings with ethical sourcing, recycled metals, and conflict-free stones from 2019 to 2022.
Revel in Unique Textures and Details
Nature's intricate details take center stage in these rings. Delicate engraving reimagines feathers, scales, or cracked earth. Tactile hammered bands mimic craggy cliffs. Intricate filigree and scrolling metalwork add fluid, lifelike touches. Every custom choice adds distinction. Leave a unique impression by creatively translating your favorite natural features into ring artistry.
Embrace Custom Design and Personalization
Since these rings are individually handcrafted instead of mass-produced, you can infuse personal touches at each step. Engrave inner bands with a special location or date. Choose a unique stone shape that holds meaning. When you're involved in each design decision, the finished ring becomes a true reflection of your shared story and bond with nature.
Achieve Next-Level Durability
When exquisitely crafted using resilient materials like platinum bands, sapphire center stones, and durable metalwork detailing, nature rings can withstand everyday wear and tear. Ask your jeweler about options to boost durability while retaining beauty.
While intricate detailing requires more care, durability doesn't have to be compromised. A trusted artisan will expertly build a lasting ring.
Pair Seamlessly with Traditional Bands
Nature-inspired rings sit elegantly alongside traditional diamond bands. Shared design cues like engraved leaves matching the engagement ring details or complementing metal colors unify the set.
Bands accentuating the central diamond can foreground the engagement ring's unique touches. There are abundant options for coordinated stacks.
Get Excellent Value for Money
While costs vary based on customization and materials, well-crafted nature rings provide excellent value given their distinctive artistry and detailing. The meaning infused into each element makes them priceless to those who cherish their significance.
When exquisitely designed and built to last by specialists, these rings earn their keep as heirlooms.
Make Timeless Memories with Nature Inspired Rings
Rings showcasing the magnificence of the natural world provide a timeless way to commemorate life's greatest love. Whether you adore the rugged feel of twig band rings or the refined grace of floral motifs with ethical gems, there's a spectacular bespoke nature ring waiting to represent what your hearts hold dear.
FAQs
How durable are nature-inspired rings compared to traditional ones?
When well-constructed using sturdy metals and resilient stone choices like sapphires, nature rings can be just as durable as traditional diamond solitaires. Craftsmanship is key.
Can you pair nature-inspired and traditional rings?
Yes, many complementary design options allow nature engagement rings and traditional bands to be stacked and styled. Shared metal tones and engraved motifs create cohesion.
Are nature-inspired rings more expensive?
Not necessarily. Well-crafted nature rings offer excellent value. However highly customized rings with premium materials may come at a higher cost. Set a budget that fits your vision.