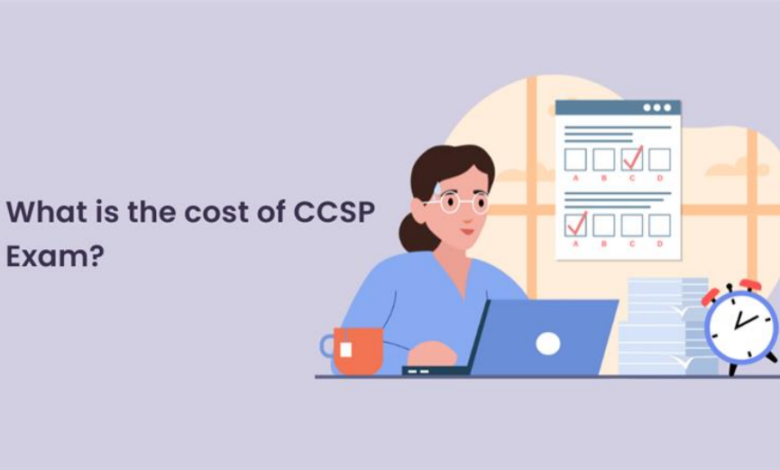 Organisations are increasingly seeking experts to safeguard their critical digital assets from various threats. As businesses transition to cloud-based environments, the demand for proficient cloud security professionals has increased, making certifications like the Certified Cloud Security Professional (CCSP) a coveted badge of honour. But, as with any pursuit of excellence, it's essential to be well-informed about the journey ahead, including the CCSP Exam Cost and the CCSP Training. In this blog, we will explore the details about CCSP Certification and understand the financial investment required for CCSP exam.
Table of Contents
CCSP Training: A Stepping Stone to Expertise
CCSP Exam Cost: Understanding the Investment

(ISC)² Membership

Exam Registration Fee

Training and Study Materials

Exam Administration Method

Exam Retake Fees

Continuing Professional Education (CPE) Credits

Conclusion
CCSP Training: A Stepping Stone to Expertise
Before we delve into the financial aspects, let's touch upon the significance of CCSP training. The CCSP certification, offered by (ISC)², the International Information System Security Certification Consortium, is a globally recognised standard for cloud security professionals. It validates your ability to manage and secure cloud environments, including cloud security's technical and managerial aspects.
The CCSP training is designed to equip individuals with the knowledge and skills required to excel in this dynamic field. It covers essential topics such as cloud concepts, architecture, governance, risk management, compliance, and data security. The comprehensive curriculum helps you understand the best practices and strategies for protecting cloud-based assets and managing cloud security risks effectively.
CCSP Exam Cost: Understanding the Investment
As you embark on the journey to achieve CCSP certification, you must know the costs involved. The cost of the CCSP exam can vary based on several factors, including your geographic location, membership status with (ISC)², and the exam administration method you choose. Let's break it down further.
(ISC)² Membership
(ISC)² offers discounted exam fees to its members, so you can save on the exam cost if you're a member. Becoming a member of (ISC)² may require paying an annual membership fee, which is usually affordable and comes with added perks like access to exclusive resources and networking opportunities in the industry.
Exam Registration Fee
The CCSP exam registration fee for non-(ISC)² members is typically higher than for members. This one-time fee covers the cost of taking the exam and contributing to the ongoing development and maintenance of the certification program.
Training and Study Materials
While not part of the official exam cost, investing in quality CCSP training courses and study materials is highly recommended. These resources help you prepare thoroughly for the exam, increasing your chances of success and overall competency in cloud security.
Exam Administration Method
(ISC)² offers two options for taking the CCSP exam – computer-based testing (CBT) and paper-based testing (PBT). CBT is generally the more popular choice, as it provides more flexibility in exam scheduling and delivers instant results. However, PBT might be the only option available in some regions and can incur additional costs.
Exam Retake Fees
If you don't pass the CCSP exam on your first attempt, you can take a retake. However, retaking the exam comes with a cost, so it's essential to thoroughly prepare to avoid this extra expense.
Continuing Professional Education (CPE) Credits
After passing the CCSP exam and earning your certification, you must maintain it by earning a certain number of CPE credits annually. Acquiring these credits might involve attending training sessions or industry events, which could incur additional costs.
Conclusion
Pursuing the CCSP certification is a valuable investment in your professional growth and expertise in cloud security. The CCSP training equips you with essential knowledge, while the exam validates your skills and competency. While the CCSP exam cost may seem like a significant upfront expense, the potential rewards and career opportunities of being a certified cloud security professional are well worth it.