Fashion
Unique and Unconventional Wedding Dresses That Will Wow Your Guests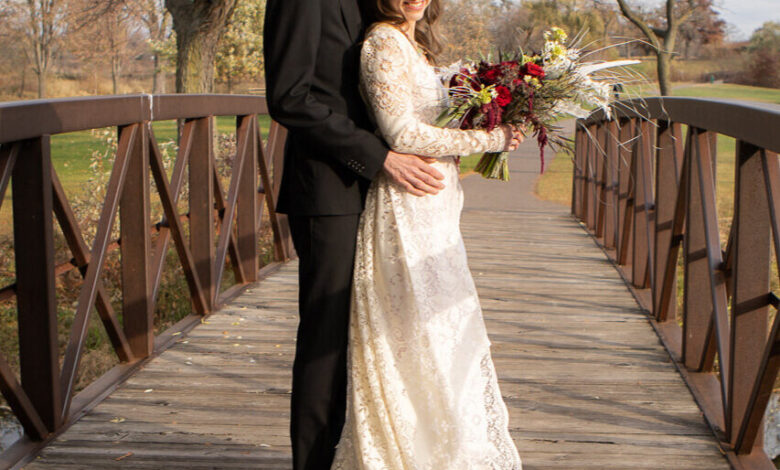 Are you tired of the same old white wedding dress tradition? Looking to make a bold statement on your special day that will leave your guests in awe? Well, look no further! In this blog post, we have curated a collection of unique and unconventional wedding dresses that are guaranteed to wow everyone in attendance. From vibrant colors to unexpected materials, these one-of-a-kind gowns will take your breath away and make your wedding truly unforgettable. So get ready to be inspired as we dive into the world of extraordinary bridal fashion!
Overview of Unconventional Wedding Dresses
There are many reasons to consider an unconventional wedding dress. Perhaps you want to make a statement, or you're simply tired of the traditional white gown. Whatever your motivation, there are plenty of options available to choose from.
One popular choice is a colored wedding dress. This can be anything from a light pastel to a bolder hue like red or black. If you're not interested in a solid color, you could also opt for a dress with patterns or embellishments.
Another option is to go for a shorter dress. This is perfect if you're having a summer wedding or you want to show off your great legs! You can find mini dresses, tea-length dresses, and even knee-length gowns.
If you really want to stand out, you could wear a unique wedding dress that's unlike anything anyone has ever seen before. You could go for an vintage-inspired dress, something with unusual detailing, or even something completely outrageous (like wearing a costume!).
Whatever style you choose, make sure it reflects your personality and makes you feel comfortable and confident on your big day.
Types of Unique Wedding Dress Styles
There are many different types of unique wedding dress styles to choose from if you want to wow your guests on your big day. Some of the most popular unique styles include:
-Vintage-inspired: Vintage-inspired wedding dresses are perfect for brides who want a one-of-a-kind look that pays homage to classic style. These gowns often feature intricate details and luxurious fabrics, making them a truly show-stopping option.
-Boho: Boho wedding dresses are all about free-spirited style. They tend to be loose and flowing, with intricate details and often featuring colorful accents. If you're looking for a dress that really reflects your personality, a boho gown is a great choice.
-Fairytale: Fairytale wedding dresses are perfect for the bride who wants to feel like a princess on her big day. These gowns are often very ornate, with plenty of tulle and lace, and can even include features like Cinderella's glass slipper or Rapunzel's long train.
No matter what your personal style is, there's sure to be a unique wedding dress style that's perfect for you. So don't be afraid to think outside the box when it comes to your gown – after all, it's your big day and you should feel like the absolute best version of yourself!
Finding the Right Wedding Dress for You
enjoy your wedding dress shopping in New York City with WONA Bridal, it can be hard to know where to start when looking for the right one for you. If you're looking for something a little bit different to the traditional white gown, then take a look at some of these unique and unconventional wedding dresses that will wow your guests.
For something a little bit more daring, why not try a wedding dress with a bold colour or print? A red wedding dress is always sure to turn heads, or if you want something a little more subtle, go for a pretty floral pattern. If you're really feeling brave, go for a full-on glittery sequinned gown – perfect for making a statement on your big day!
If you're not afraid to show off your curves, then why not try a fitted mermaid style dress? These look amazing on all shapes and sizes, and are guaranteed to make you feel like a million dollars on your big day. For something completely different, how about trying an asymmetric wedding dress? These dresses are super stylish and modern, and are sure to make you stand out from the crowd.
Whatever style of wedding dress you choose, make sure it's something that makes you feel confident and comfortable on your big day. After all, it's your day to shine!
Tips for Shopping for Unconventional Wedding Dresses
There are a few things to keep in mind when shopping for unconventional wedding dresses:
1. Think outside the traditional white dress. Wedding dresses come in all colors, so don't be afraid to experiment with different hues.
2. Consider a non-traditional silhouette. A-line, mermaid, and ballgown styles are all beautiful, but there are plenty of other options out there too.
3. Pay attention to details. Unique details can really make a dress stand out, so look for things like interesting necklines, beading, or lace accents.
4. Think about your venue. If you're having a more casual affair, you might want to choose a less formal dress. Conversely, if you're getting married in a grand setting, an elaborate gown might be just the thing.
5. Don't forget about comfort! Even if you're wearing a more unique dress, it should still be comfortable enough that you can dance the night away without any issues.
Alternatives to Unconventional Wedding Dresses
If you're looking for unique and unconventional wedding dresses that will wow your guests, there are plenty of alternatives to traditional gowns. From short dresses to jumpsuits, there's something for everyone.
Short Dresses
If you're not a fan of long gowns, opt for a short dress instead. A shorter dress is easier to move in and can be just as stylish and elegant as a traditional wedding dress. Plus, there are endless options when it comes to short dresses – from flowy and romantic styles to more structured and modern designs.
Jumpsuits
For something truly unique, ditch the dress altogether and go for a jumpsuit instead. Jumpsuits are becoming increasingly popular as wedding attire, and they offer a chic alternative to traditional gowns. You can find jumpsuits in a variety of colors, fabrics, and styles – so you're sure to find one that suits your taste.
Conclusion
We hope this article has helped you find the unique, unconventional wedding dress of your dreams and that your guests will be wowed by it. Whether you choose to go with a daring color or an offbeat silhouette, remember it is ultimately up to you. Take inspiration from these ideas and create something that reflects who you are as a couple and expresses your individual style. If you need more info about WONA