Home Decor
The Perfect Pairing: Choosing Faucets That Complement Your Sink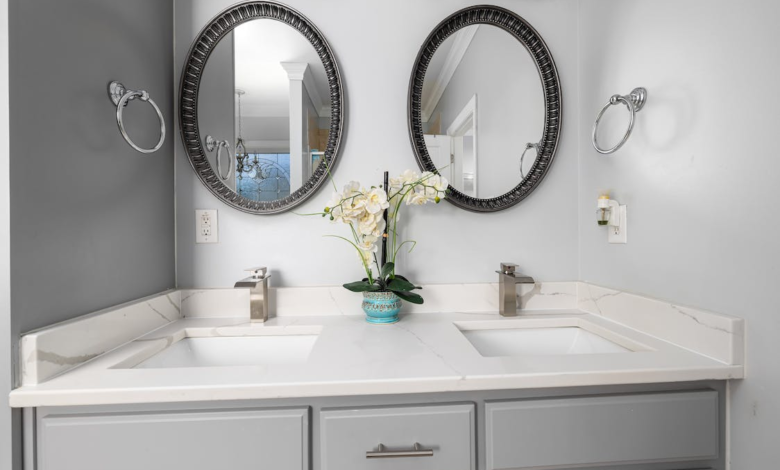 When it comes to designing your dream kitchen or bathroom, the sink and faucet combination is one of the most important decisions you'll make. Not only do these fixtures play a pivotal functional role, but their visual impact sets the tone for your whole space. The key is choosing a faucet that seamlessly complements the style and substance of your sink.
Understanding the Aesthetics of Sink and Faucet Compatibility
Contrasting finishes can create dramatic juxtapositions, while matching metals and shapes provide a more seamless look.
Consider the overall style of your space – modern and minimalist or traditional and ornamental. Identify the prominent design features of your sink, like an apron-front, farmhouse, or vessel basin. With these visual aspects in mind, you can narrow your search to faucets that align with your aesthetic vision.
Don't be afraid to mix eras and styles, either. A vintage sink would pop with a sleek, contemporary faucet. Pairing concrete bathroom countertops with wood-finished accents can create an interesting contrast. Ensure that each piece enhances the other. The goal is cohesion, so when combining different looks, anchor them with a common finish like brushed nickel or black.
Pay attention to the shapes and angles of both pieces as well. Softly curved faucets pair elegantly with rounded sinks, while right-angled faucets complement rectangular sinks.
The size of your sink and counter space also impacts your options. An oversized faucet on a petite vessel sink looks absurd. Scale down the faucet size for smaller sinks to maintain balance.
For a foolproof aesthetic match, consider purchasing your sink and faucet together from coordinated collections. Many brands offer suite packages with complementary designs, eliminating the guesswork in pairing.
Above all, trust your instincts. You'll use your sink and faucet multiple times a day. Choose a combination that delights your sense of style.
Material Matters: Matching Faucets to Your Sink's Substance
Along with visual style, consider the physical materials of your sink and faucet. Matching metals and surfaces creates harmony, while contrasting materials can add intrigue.
For contemporary spaces, a stainless steel sink paired with a minimalist stainless faucet conveys sleek modernity. The matching metal surfaces provide visual flow.
Traditional ceramic, porcelain, or cast iron sinks come to life when combined with classic brass, bronze, or nickel faucets, exuding timeless sophistication through complementary metals and traditional shapes.
No matter the material, choose a durable faucet design that will withstand everyday use. Splashes of water and cleaning agents can degrade finishes over time, so opt for scratch-resistant, tarnish-proof metals like stainless steel or antimicrobial finishes like brushed nickel.
Functionality Meets Style: Faucet Features for Your Sink
The functionality of your faucet should also align with your lifestyle and the configuration of your sink. Consider reach, height, handles, and features.
For larger sinks, look for faucets with a high spout arch and long reach. This makes filling pots and cleaning the whole basin easier. For small spaces, a compact faucet maintains maneuverability.
Determine your handle preference as well – single lever for intuitive flow control or dual handles for precise hot and cold mixing.
You can also upgrade to a hands-free or touchless faucet for convenience and hygiene. Touch activation eliminates handling contact completely for a cleaner experience.
Specialized finishes like PVD (physical vapor deposition) make faucet surfaces 10 times more scratch-resistant while also preventing fingerprints and water spots for easy cleaning.
Color Coordination: Finishing Touches That Make a Difference
Don't underestimate the power of color in pulling your whole look together. Matching or contrasting finishes blend or highlight other elements.
Chrome and stainless steel faucets have a clean, futuristic appeal that pops against bold sink colors like black or navy blue. For white or light-colored sinks, opt for warmer metals like bronze, antique brass, or gold for contrast.
For a more subtle pairing, choose finishes in the same color family, like brushed nickel or a dark gunmetal faucet for gray and black sinks. Matching brushed gold faucets with sinks creates a luxurious, coordinated look.
Consider the overall style as well. Modern spaces shine with matte black or chrome. Traditional environments come to life with antique brass, Venetian bronze, or polished nickel.
No matter your color choice, keep the finish uniform across fixtures for a cohesive look. Mixing too many metals in one space looks disjointed.
Installation Considerations: Ensuring a Perfect Fit
To prevent leaks and alignment issues down the line, pay special attention to the installation requirements of your sink-faucet duo.
Look for faucets designed specifically to fit your sink's holes and configuration. Vessel and undermount sinks require a specialized deck-mounted faucet. Farmhouse and apron-front sinks need faucets compatible with their larger rear-set holes.
Consider side sprays, soap dispensers, or purification filters you may want in future. Opt for faucets with pre-drilled features to easily add these down the road without installation hassles.
While DIY faucet installation is totally feasible, for built-in or stone countertops, consider hiring a pro. They can expertly drill countertops to precise specifications so your faucet and sink align perfectly for the long haul.
Budgeting for Beauty: Cost Considerations in Faucet Selection
With so many options, it helps to determine a faucet budget upfront. Prices range dramatically based on materials, technology, and design.
Basic chrome or stainless steel faucets start around $50-150. They offer a simple single-handle design with decent durability.
Mid-range options ($150-400) Add more metal finishes, like brushed nickel or bronze, with upgraded ceramic disc valve technology for smooth handle control.
High-end faucets ($400-1,000+) feature solid brass construction, premium finishes, and smart touchless technology. Their quality and style make a dramatic impact but come at a luxury cost.
Set your budget, and then look for value and quality construction within that budget. For example, a $250 faucet with all-metal parts will last longer than a $150 plastic version. Quality matters, so focus on the best-built faucet you can afford.
With some savvy selection skills, you can find the faucet destined to be the perfect pair for your sink. Keep design, functionality, materials, and budget in mind, and you're sure to bring your whole space together in beautiful harmony.
Frequently Asked Questions
What should I consider when choosing a faucet for my sink?
Consider the design style, size, configuration, and material of your sink. Then choose a matching or contrasting faucet that complements these factors in terms of reach, height, handles, features, color, and installation requirements. Aim for cohesive aesthetics, optimized functionality, and durable construction.
Should my faucet and sink finishes match?
Matching finishes creates a uniform, seamless look. However, contrasting finishes can add visual interest and drama. Just be sure to anchor mixed metals with another consistent finish like black or brushed nickel so the space still feels cohesive.
How do I install my new faucet properly?
Always follow the manufacturer's instructions for installation. For DIY, supply lines and drain connections should be secure with no leaks. For built-in countertops, consider hiring a pro to pre-drill the countertop hole to precise specs for perfect faucet-sink alive.