Lifestyle
The best Heat Protectant Sprays to use before Styling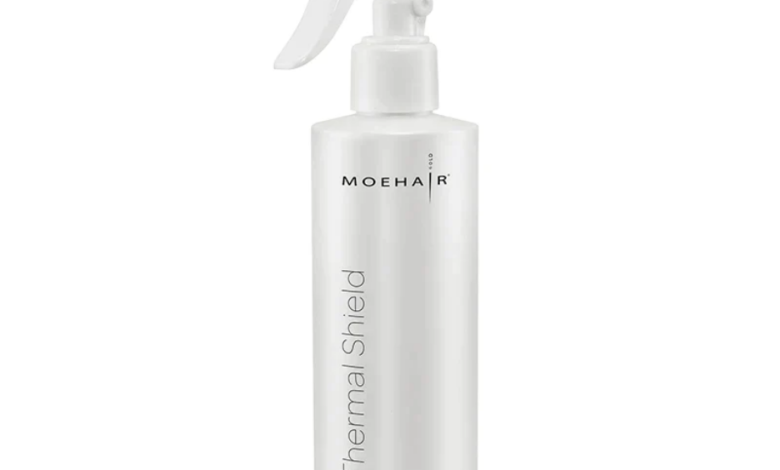 Changing hairstyle and complementing it with the outfit is something almost everyone loves doing. It is trendy and cool to match the hairstyle to the outfit. Different hairstyles, like seasons, can be easily achieved using various hair styling tools.
As much as the tools are efficient in styling hair, the heat radiation from the tools is damaging and drying the strands. Hence, if you frequently use heat-styling tools like curling irons, flat irons, or blow dryers, consider using a heat-protectant spray to prevent damage to your hair. These sprays form a protective barrier on your hair, reducing the heat reaching the strands. The heat spray coating minimizes breakage and split ends, leaving your hair looking and feeling healthier.
What is a heat protectant?
The heat from the styling irons strips off moisture, drying the hair strands and weakening the scalp. It often leads to hair loss, hair breakage, and split ends. A heat protectant spray is a lightweight, non-greasy spray that creates a protective shield around your hair strands. It helps retain moisture and reduces the risk of damage.
Using a heat protectant spray has several benefits-
1- Prevents heat damage- Styling tools like flat and curling irons or hair blow dryers release heat for styling hair. The heat strips off the moisture, making the hair dry, brittle, and weak. As a result, it causes hair breakage and overall damage to hair. A few product sprays are enough to lock in moisture and prevent hair from drying out.
2- Add shine- Heat protectant sprays boost shine with their rich ingredients. Along with natural oil extracts, omega fatty acids, and vitamins, healthy ingredients like water-soluble Cyclomethicone and dimethicone are good for hair.
3- Fends off frizz- Heat can strip off the moisture from your hair strands, leading to frizz. A heat protectant can minimize the damage, tame the frizz, and reduce the flyaways.
Moehair heat protectant spray is a blend of silicone derivatives, polymers, and oils. It hydrates your hair and supports long-term health. To ensure the best hair protection against heat damage, opt for a heat-protectant spray containing silicone derivatives, polymers, and oils. Pair the thermal protection hair spray with heat styling tools to deeply nourish hair strands, retain its health, and enhance the volume. Its deeply nourishing properties will help your hair retain its health and strength in the long run.
Here are the top 5 heat protectants that are highly recommended-
Moehair Thermal Shield Heat Protectant is one of the best heat protectants for hair, with its ability to heat-proof your mane and prevent damage. It is a lightweight product that controls frizz and combats flyaways. It leaves your hair hydrated and prevents hair breakage. A 10 on 10 product!
Ghd bodyguard heat protectant is suitable for all hair types The lightweight formulation protects your hair from heat damage by adding a barrier between styling tools and hair. It leaves hair smelling fresh with its infused floral notes. It provides a sleek, shiny, and hydrated perfect finish.
Chi 44 iron guard thermal protect spray protects your hair from damage caused by styling tools like flat, curling irons. It forms a protective barrier on your hair, reducing breakage and promoting healthier-looking hair. Just shake and spray it on your hair before using heat styling tools; it shields hair from high temperatures.
Sebastian Professional Trilliant Heat Protection hair spray is one of the top-rated heat protectant spray for hair as it is lightweight and protects hair from excessive temperature. Formulated with the goodness of rock crystal, it also provides shine and smoothness to the hair.
Moroccanoil Perfect Defense is a perfect go-to heat protectant formulated with sage leave extract, making it the best lightweight heat protectant. It works best on damp hair and creates a perfect barrier.
Taking good care of hair is essential, especially in today's world, where lifestyle changes can take a toll on the tresses. To keep the hair looking its best, it must be protected from external aggressors and environmental factors like heat, humidity, weather conditions, and UV rays.
Neglecting hair care results in unmanageable, frizzy, and greasy hair due to the sweat or oil secreted from the scalp. Therefore, it is important to take the necessary steps to keep our hair healthy and vibrant.Add a heat protectant spray to your haircare regime if frequent use of heat styling tools is a part of your everyday routine. These heat-protectant products, like gels, creams, and sprays, come in various forms. Make a choice depending on your hair type and texture.