Home Decor
The Art of Table Setting: A Guide to Perfect Dinnerware Selection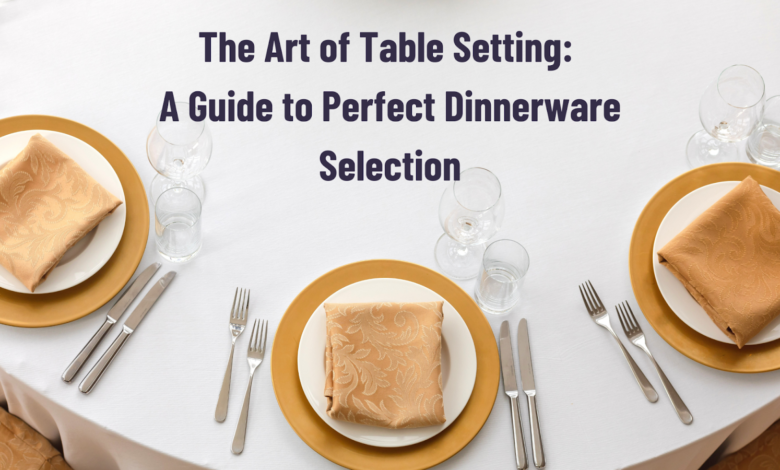 Setting the table can make dinner feel special. According to a recent survey by the Tableware Association Annual Report, many hosts say using attractive dishes creates a warm and welcoming atmosphere.
This article will help you choose dishes for any meal, from family dinners to fancy parties. We'll discuss materials, colors, and mixing pieces. With the right tableware, you can transform ordinary dinners into extraordinary experiences!
Finding Your Personal Table Setting Style
Picking your own table-setting style is fun! First, think about the mood you want at dinnertime. Do you like a formal setting with candles and cloth napkins? Or is a casual, relaxed vibe with fun placemats more your thing?
Also, consider your lifestyle and personality. If you love big family meals, sturdy dishes in happy colors and patterns could work. Party hosts may like delicate china with shiny metallic accents. Minimalists and modern fans could use simple white dishes and sleek glasses.
Don't be afraid to mix and match! For example, you could blend pretty vintage oyster plates with your favorite mugs for a quirky look. Unique place settings that combine your favorite pieces create a special look. Just keep the overall style consistent. Bright napkins might not match earthy-toned dishes.
Trying out different table elements is the best way to find your style. Play with linens, centerpieces, serving pieces, and lighting. Notice what makes you happy when you sit down to eat. Your signature style should match your taste and lifestyle. Most importantly, choose pieces that make mealtimes feel special for you and your guests.
Dinnerware Materials: What to Look For
The material you pick impacts the look, durability, and dining experience. Here's an overview of common materials:
1. Porcelain: Fancy dinnerware is prized for its shiny whiteness, delicacy, and sophistication. But it needs gentle handling to prevent chips and cracks. Best for formal or special meals.
2. Bone China: Contains animal bone, making it extra smooth and thin like ivory. Offers the beauty of porcelain with more sturdiness. A nice pick for fancy everyday use.
3. Stoneware: Made from thick natural clay fired at very high temperatures, stoneware has an organic, handmade look and is super durable for daily use. Unglazed terra cotta stoneware adds Tuscan-style warmth. Great for casual family meals.
4. Melamine: Resists chips, cracks, and stains. Comes in solids and retro patterns. Works well outdoors and for kids while adding happy color.
Consider whether you prefer refined porcelain or bone china for special events, or durable stoneware and melamine for daily meals. Investing in a few sets lets you mix and match.
Shape and Size: More Than Just Looks
In addition to material, the shape and size impact both style and function. Look at the pie chart below that shows the most popular dinnerware shapes:
Data Source: Statista
1. Useful Plate Sizes:
10-11 inch dinner plates fit big main dishes
7-9 inch salad plates perfectly hold appetizers and sides
6-inch bread and butter plates suit rolls and cake
5-6 inch saucers are nice for tea
2. Shape Tips:
Round dinner plates have a classic, inviting effect great for composed meals
Wide shallow bowls prevent soup splashes
Deep narrow bowls keep greens and cereals crisp
Square or rectangular plates have a sleek, contemporary look that flatters sushi and small plates
Choosing the appropriate dinnerware scale allows room for centerpieces without overcrowding. Napkins extending 1-2 inches beyond plates enhance proportion. Shape impacts dining too. Round plates offer a versatile surface for different foods. Square or rectangular plates have a streamlined look better for small plates and sushi.
The Power of Color and Pattern
Beyond style, dinnerware colors, and patterns add personality to your table.
Mood Colors: Warm reds and oranges energize while cool blues and greens soothe. Creamy neutrals exude rustic warmth. Pick hues that emphasize your desired mood.
Energizing Accents: Vivid accent plates make bright pops of color against neutral dishes. Sunny yellow plaids cheer up white dinnerware.
Coordinating Patterns: Layer some dishes with complementary patterns like stripes, florals, and geometrics for whimsical contrast. Keep base plates solid to anchor busier prints.
Consider the impact of color psychology. Hand-painted ceramic art also adds beauty to your table.
Crafting a Cohesive Tablescape
With your dishes selected, now comes the fun part – artistically layering your table! Follow these tips:
Rhythmic Placement: Use the rule of threes or fives for rhythm. Three candlesticks, five bottles. Repeat patterns to tie them together.
Textural Contrast: Use linens, glassware, chargers, runners, and placemats to make visual interest through varied textures and heights.
Thoughtful Touches: Accent plates, color-blocked napkins, and decorative rings provide color pops. Pitchers and platters work as elevated centerpieces.
Balanced Distribution: Artfully scatter centerpieces and decor not equidistantly. Candles and flowers come in clusters while place settings get orderly placement.
Take time to play with different elements until you get a look that matches your personal style.
Caring Tips
To keep your dishes looking their best:
Use tray organizers for safe storage. Avoid stacking differing materials.
Follow manufacturer cleaning instructions. Gently hand wash delicate pieces.
Avoid harsh dishwasher detergents which may cause fading over time.
Always gently place glassware and dishes in the dishwasher, avoiding contact with other items.
With care, quality dinnerware will elevate your table for years. Invest in timeless pieces as your budget allows.
Frequently Asked Questions
1. How many place settings should I buy?
It's good to have at least 8 place settings for entertaining guests. For daily family meals, have enough for everyone plus a couple extra.
2. Should my dishes all match?
Matching dishes look very elegant for formal meals. Mixing and matching allow more creativity for casual gatherings.
3. What's the most important piece to invest in?
Focus on buying high-quality dinner plates first. They'll be the foundation of your table setting for years to come.
Bringing Your Table to Life
Whether a sophisticated party or cozy family dinner, thoughtful dinnerware adds warmth, style, and self-expression to your table. Keep the mood, function, color scheme, and patterns true to your personal tastes for a harmonious dining experience.
With an artist's eye and these tips, you can create table settings as unique as you! Now you have the basics to start crafting distinctive tablescapes.