Entertainment
Shining Brighter than the Stage Lights at an Armin van Buuren Concert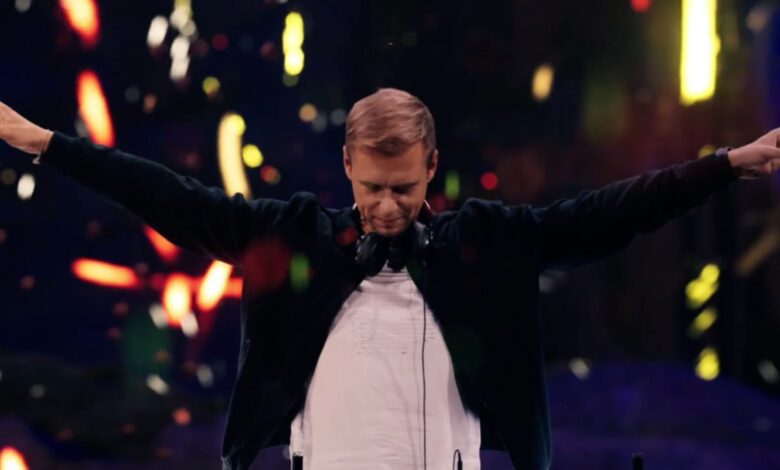 Hello, trance temptress! Ready to match the vibrancy of the one and only Armin van Buuren with your ensemble? Before we decode your radiant look, let's voyage through the symphony of Armin's life and music.
Decoding DJ Armin van Buuren:
Armin van Buuren, born on December 25, 1976, in Leiden, Netherlands, is a globally acclaimed DJ, record producer, and remixer, best known for his contributions to the trance music genre. With a career spanning over two decades, Armin has become one of the most influential figures in electronic dance music (EDM).
Armin developed an interest in music at an early age and started making tracks in his university years. His career trajectory sharply rose at the turn of the millennium, marked by the success of tracks like "Blue Fear" and "Communication," and his groundbreaking studio albums, particularly "76," "Shivers," and "Imagine," have solidified his standing in the EDM world.
He's the brain behind the popular weekly radio show "A State of Trance" (ASOT), which has amassed a devout global following and is syndicated across more than 84 countries, demonstrating the unifying power of dance music. The show has grown into a complete sub-brand, with its festivals, and a record label, celebrating trance music culture.
Armin's impact on the music scene has been recognized with numerous accolades, including being crowned the world's number one DJ in the DJ Mag Top 100 DJs poll a record of five times. His performances are known for their positive energy, with appearances at major global festivals like Ultra Music Festival, Tomorrowland, and the Electric Daisy Carnival, as well as his own "Armin Only" shows, a solo set with live performances by guest vocalists and musicians.
Despite his success, Armin van Buuren continually strives to innovate musically and explore new sounds, often collaborating with artists across genres. His passion for music, dedication to his craft, and unwavering support from fans have firmly established him as a titan in the world of electronic music.
Read: The History of the Trance Music
Hits like "This Is What It Feels Like" and "Blah Blah Blah" resonate the magic Armin creates. From hosting his radio show to selling out arenas worldwide, this Dutch maestro has made a mark as one of the pivotal figures in global trance music.
Fashioning Your Armin-Approved Ensemble
Ethereal Elegance: Think flowy fabrics, sheer tops, and skirts. Perfect for catching the wind as you dance do not forget the rave fashion during your process of deciding an outfit.
Stiletto Sass: Give those dance moves added flair with some sultry heels. Not a fan? Opt for sparkly sneakers!
Neon Diva: Add a neon touch to your outfit. Be it neon belts, platform shoes, or makeup, stand out amidst the crowd.
Dazzling Denim: A sequined denim jacket or glittering shorts can be the perfect blend of casual and chic.
Accessorize with Attitude: Chunky bracelets, glowing necklaces, and those statement earrings that say, "I'm the queen of trance."
The Diva's Checklist for a Buuren Bash:
ID & Chic Clutch: For those moments when you need to grab a drink or splurge on Armin merch.
Phone & Power: Snap, record, repeat! A portable charger ensures you capture every moment.
Protect Those Ears: Invest in snazzy earplugs. Your ears will thank you after the beat drops!
Sleek Water Bottle: Dancing to trance can be intense. Hydrate in style with a sleek, refillable bottle.
Glow Sticks & Bands: Illuminate the night and vibe with the beats.
In Conclusion…
An Armin van Buuren concert isn't just a musical experience; it's a cosmic journey through beats, rhythms, and emotions. As you prepare to immerse yourself in this trance universe, remember to wear your sass on your sleeve and let your outfit be as spellbinding as the tracks Armin spins. Here's to nights of rhythm, rapture, and runway-ready looks! Dance on, diva