Home Decor
Rectangle vs Round Dining Tables: Which Suits Your Space?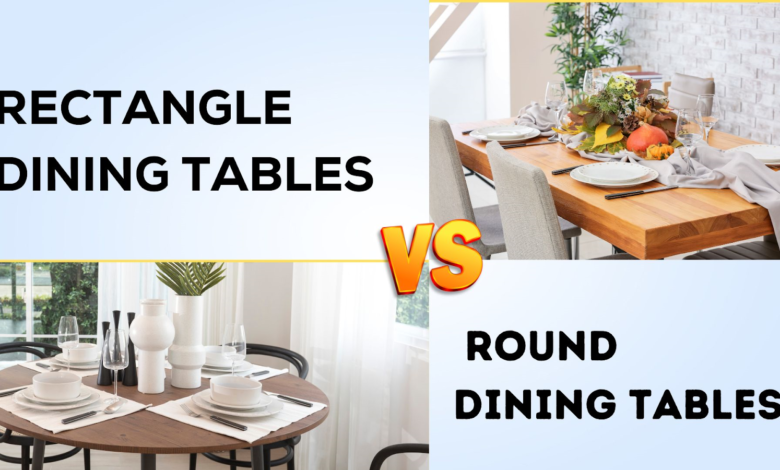 Selecting a new dining table is an enjoyable endeavor! It's a big part of decorating your home. However, there's a significant decision to make initially. should it be a rectangular shape? Or should it be round? Both rectangle and round tables have good things about them. Each shape has its advantages and disadvantages as well. You need to look at how many people you want to sit at the table. And what you'll use the table for besides dinner.
The shape you pick changes how much space there is. It also gives your dining room and kitchen a certain look. Rectangles and rounds are good for different room sizes and layouts. This guide will cover all the key considerations. That way you can decide if a rectangle or a round table is better for your home.
We'll explore the seating capacity of each type. And talk about what they are good for using. We'll also discuss what styles work in different decor. And what shapes fit in different room shapes.
With this guide's help, you'll be able to pick between a rectangle or a round dining table. You'll know which one is the winner for your space and lifestyle! Let's explore the dining table debate.
Size and Seating Capacity
The initial consideration is how many people you intend to comfortably seat at your dining table on a regular basis.
Rectangular tables are ideal for maximizing seating in long narrow spaces. A 6-foot rectangle table can seat 4-6 people, while 8 to 10-foot lengths accommodate 6-10 guests. Bench seating on two sides boosts capacity further.
Round tables by nature limit group sizes. A 4-foot round fits 4 guests cozily up to a 6-foot round seating 8 more spaciously. Rounds work well for intimate gatherings rather than large parties.
If you host big groups, get a rectangular table so you can fit lots of chairs. However, if you prefer cozy dinners with just a few friends, opt for a round table. A round dining table set works great for small gatherings.
According to a survey conducted by the National Association of Home Builders, the most popular dining table sizes among U.S. homeowners are as follows:
Data Source: National Association of Home Builders
Usage Versatility
Dining tables often serve many functions beyond dinner. A few key differences emerge when evaluating rectangle vs round tables:
Rectangular tables allow more space to spread out projects, puzzles, board games, etc. Rounds limit work area.
The flat long surface of rectangles accommodates books, laptops, and paperwork better than curves.
Rectangles can add a leaf or two to make even longer banquet-style seating. Round limits expandability.
A round 36-42 inch pedestal table can fit in tiny kitchens or corners that rectangles can't.
When it comes to versatility, rectangular tables are superior for work, crafting, and accommodating additional guests.
Aesthetics and Style
Both table shapes bring certain aesthetic qualities to a space:
Can fit with farmhouse and industrial decor; elongates spaces; allows bold runner down center.
Exudes contemporary and minimalist vibes; feels fluid and organic; allows floral or draping centerpieces.
Can appear more stiff/formal if large; people are far apart at ends.
Limits centerpiece length; harder to arrange rectangular platters.
In modern homes, rounds often convey casual chicness and approachability. Traditional interiors lean towards classic rectangles. However, the choice of style ultimately boils down to personal preference.
Room Constraints
The dimensions and layout of your dining space could determine that one table shape is impractical.
If your room is long and narrow, a skinny rectangular table may be the only shape that fits. In open kitchens or breakfast nooks, a small round pedestal can tuck perfectly into unused corners.
Measure thoroughly and account for chair clearance on all sides so guests don't feel crammed in. This assessment will indicate whether room constraints dictate your choices.
Comparison Chart
Below is a helpful comparison chart summarizing the key differences between rectangular and round dining tables:
| | | |
| --- | --- | --- |
| Factor | Rectangular Table | Round Table |
| Seating Capacity | Seats 6-10+ comfortably | Seats 4-6 comfortably |
| Usage Versatility | Excellent for projects, homework, and work | Space is limited for anything beyond dining |
| Aesthetic Style | Traditional, formal, elegant | Modern, casual, approachable |
| Room Fit | Fits narrow spaces; elongates room | Fits small corner nooks; can feel crowded |
| Furniture Pairing | Benches, wood chairs, bases with legs | Pedestal base, armless chairs, metal legs |
Common Styles to Consider
Beyond the basic shape decision, popular dining table styles abound to match any decor.
For rectangular tables:
Farmhouse plank tables.
Parsons-style pedestal tables.
Mid-century modern chrome and wood.
Rustic Barnwood tables.
Modern glass and metal.
For round tables:
Marble or quartz pedestal tables.
Scalloped edge tables.
Pub-height tables with wine racks.
Nesting tables for small spaces.
Tulip base tables.
The options are nearly endless; the shape merely narrows down the choices.
FAQs
What's the standard size for a 6-person rectangular table?
For 6 chairs, aim for a 72-84 inch long table as a comfortable standard. 60 inches can work in a pinch.
What size round table seats 6?
A 60-inch round table provides ample room for 6 guests, while 48-inch rounds fit 6 tightly.
What if I change my mind and need more/less seating later?
Rectangular tables can add leaves to expand length. Round tables unfortunately can't adapt as easily, so size it for your maximum guests from the start.
Should I get a table with chairs or a table base alone to buy chairs separately?
Buying as a set ensures matching finishes and styling. But mixing table bases with different chair styles allows endless customization.
Conclusion
The choice between a rectangular and a round dining table is a significant one. Rectangle tables fit more people and work better for homework, crafts, and games. Round tables feel cozier for smaller groups and add a modern, casual look.
Before making your decision, assess whether a long, narrow rectangle or a round table better suits your space. Think about how many people really need to sit there and if you'll use it a lot besides dinner.
Don't forget to consider your decorating preferences as well. Rectangles or rounds may match your style better. Ensure you measure accurately to obtain a table of the right size with enough space to accommodate chairs.
Regardless of the shape, your dining table will remain a vital piece for years to come. It's the place where you'll come together with family and friends to share meals and create lasting memories.
Take all these factors into account, and then select the rectangular or round table that suits you best. Discovering the perfect fit for your home will make it a central element of celebrations and everyday life for years to come.