Lifestyle
Offshore Fishing Made Easy: Gear Up with the Right Clothing for Success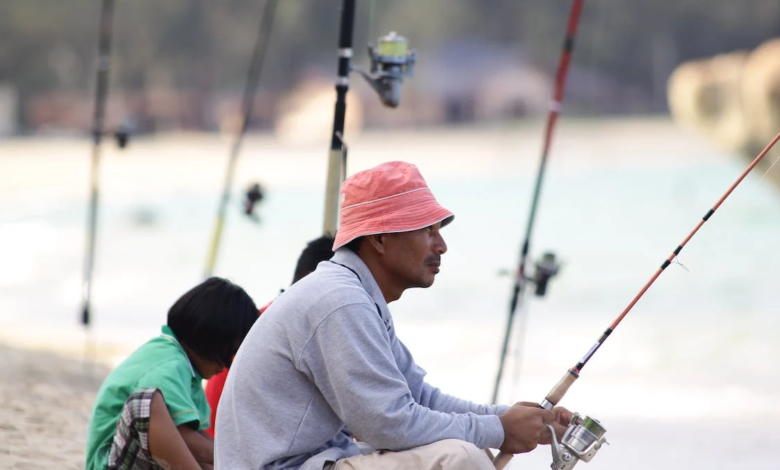 Offshore fishing can be an exhilarating experience. The open ocean, the thrill of the catch, and the peace of being at one with nature make offshore fishing a popular recreational activity. However, proper clothing and gear are essential to ensure your offshore fishing adventures are both safe and successful.
The National Oceanic and Atmospheric Administration (NOAA) states that recreational fishing generates $39 billion. This report also reveals that offshore fishing accounts for 8% of all recreational fishing trips in the United States.
Choosing the right clothing for an offshore fishing trip can significantly affect your comfort and enjoyment. This is between an enjoyable experience and one plagued by discomfort. The open waters can be unforgiving. Invest in quality gear designed specifically for offshore fishing.
In this article, we will explore the clothing and gear you need to confidently head offshore in pursuit of trophy fish.
The Right Clothing for Offshore Fishing
Heading offshore means exposing yourself to the elements for hours at a time. To stay comfortable and safe, choose Lantic Gear Offshore clothing made from breathable, quick-drying, and durable materials.
Breathable Clothing
Breathable clothing is arguably the most important part of an offshore angler's wardrobe. A study found that breathable clothing can help reduce the risk of heat stress.
Unlike cotton, nylon and polyester do not absorb moisture. Instead, these synthetic fabrics allow sweat to evaporate away from your skin so you stay dry. This is critical for avoiding dehydration, heat exhaustion, and seasickness.
Many popular fishing brands feature shirts, pants, and shorts crafted from 100% polyester or nylon. These materials are lightweight, dry extremely fast, and provide UPF sun protection.
Moisture-wicking performance shirts made of polyester or nylon are ideal for long days offshore. Look for shirts with ventilated mesh panels under the arms and along the sides to enhance airflow.
Fishing pants and shorts made of nylon or polyester that dry quickly are recommended over cotton or canvas. Lightweight nylon/polyester blends allow air circulation while also resisting snags from hooks.
Source: University of California San Francisco Health
Some key features to look for in offshore fishing apparel include:
Loose, ventilated fits that allow air to pass over the skin
Mesh ventilation zones to accelerate drying
UPF sun protection
Durable, snag-resistant fabrics
Multiple large pockets with velcro and zipper closures
Fishing branded clothing offers excellent hot-weather fishing shirts, pants, and shorts purpose-built for breathability and sun protection offshore.
By choosing lightweight, synthetic clothing designed to keep anglers cool, dry, and protected from the sun, offshore fishermen can focus on landing trophy fish instead of discomfort.
Waders
Neoprene or breathable waders are a common choice for offshore fishing. Waders provide an extra layer of protection from splashing waves and also help prevent hypothermia. Look for waders designed specifically for fishing that are lightweight and allow sweat to escape.
Foul Weather Gear
When offshore fishing conditions take a turn for the worse, quality foul weather gear can prove invaluable. Waterproof and windproof jackets, bibs, hats, and gloves made of durable fabrics like Gore-Tex are essential for keeping anglers warm, dry, and safe in poor weather.
Footwear
Boat shoes or slip-resistant deck boots with good traction are a must when fishing offshore. Shoes should have thick, supportive soles to protect your feet from the hard surfaces of the boat deck. Waterproof materials are also ideal for keeping your feet dry.
Other Essential Offshore Fishing Gear
While clothing is critical, you also need certain essential pieces of gear for a successful and safe offshore fishing trip.
PFD: In most areas, a personal flotation device (PFD) is not only legally required but can also be life-saving in emergencies. Look for an inflatable or low-profile PFD designed for fishing.
Rod holders: Rod holders help keep your hands free and prevent rods from going overboard. Mounting rod holders to the boat railing or hardtop is recommended.
Fighting belt: A fighting belt allows you to securely attach a fishing rod to your body for better leverage during a battle with a tough fish.
Tackle storage: Plano waist and shoulder packs, along with tackle backpacks, make organizing and accessing tools and tackle easy.
Cooler: An insulated cooler keeps your catch fresh and your food and drinks chilled. Hard-sided marine coolers with tie-down points are best for offshore fishing.
First aid kit: A waterproof first aid kit containing seasickness medication, bandages, disinfectant, and other medical essentials is a vital piece of safety gear.
Final Takeaway
Heading offshore to fish requires specialized clothing and gear designed for open ocean adventures. Breathable, quick-drying nylon and polyester clothing provide comfort and mobility. Neoprene waders, waterproof deck shoes, and heavy-duty foul-weather gear are also offshore fishing essentials that can make the difference between an enjoyable trip and one plagued by seasickness, hypothermia, and injury. Taking the time to invest in quality clothing and equipment pays dividends with safer, more successful fishing far from shore.
So don't let a lack of proper gear keep you tied to the coast. With the right clothing and essential equipment, you can confidently fish offshore waters like an experienced angler. Tight lines!
Frequently Asked Questions
What type of clothing should I wear for offshore fishing?
Breathable clothing made of nylon or polyester is ideal for offshore fishing, as it can help reduce the risk of heat stress. Moisture-wicking performance gear designed for fishing offers both breathability and sun protection.
What are the best materials for offshore fishing clothing?
Nylon and polyester are top choices. These synthetic materials dry quickly, are durable, and allow sweat to evaporate. Neoprene waders and foul weather gear are also excellent options to handle the rigors of offshore fishing.
How do I know if my clothing is suitable for offshore fishing?
Look for clothing designed specifically for offshore fishing. Seek out brands known for their high-performance fishing gear. Prioritize pieces made of breathable, quick-drying, and abrasion-resistant fabrics like nylon, polyester, and neoprene. With the right gear, you can enjoy your time outdoors.