Travel
Navigating the Benefits of Travel Nursing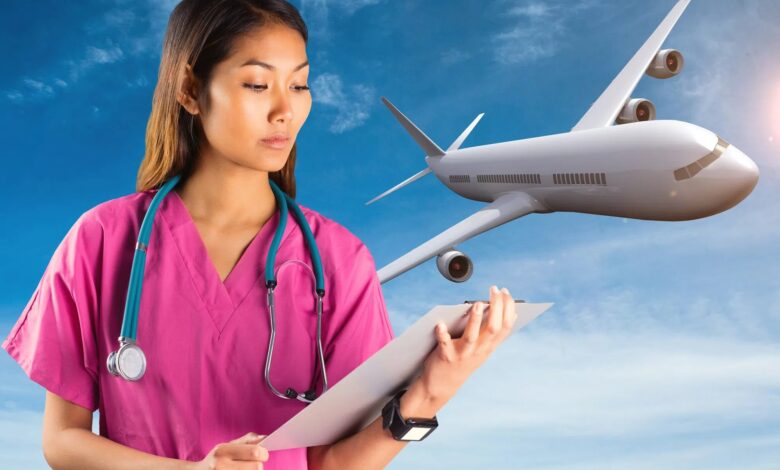 Travel nurses work in a variety of prestigious healthcare facilities. They also enjoy competitive hourly pay rates, housing stipends or free furnished housing, sign-on bonuses and premium health benefits. Before you apply, research reputable travel nursing agencies and hospitals. Also, remember that you may be away from home for a few months. Make sure to prepare your family and friends for this transition.
Job Security
One of the biggest benefits of travel nursing is job security. Nurses contract with a healthcare staffing agency, and the agencies are responsible for paying their wages. The nurses then work temporary contracts at healthcare locations, usually hospitals. The staffing agencies also arrange housing for their nurses. Depending on the location and travel nurses ' preferences, they typically provide furnished apartments or a tax-free housing stipend. This allows travel nurses to experience different areas of the country and learn about different styles of facility administration. Travel nurses also get to meet new people and build friendships that last a lifetime. The social experiences are invaluable for nurses who enjoy networking and making connections, whether with their new coworkers or friends made outside of work.
Flexibility
The flexibility of travel nursing can be a huge draw for nurses who crave new experiences. Travel nurses can sign up for contracts in various locations to meet a hospital's temporary staffing needs including other healthcare travel jobs, often working 13-week blocks and then moving on to the next assignment. The nature of their employment also means that travel nurses may encounter different work cultures at each location, which can broaden their perspective and allow them to connect with people from all walks of life. This opportunity to meet new people could ultimately open doors to future professional opportunities or lifelong friendships. Depending on the contract, a travel nurse is typically allotted a tax-free housing stipend to cover living costs at their new location. This additional compensation can help offset the cost of commuting or paying for a new apartment and provides nurses with more disposable income to spend as they please.
Pay
Travel nurses enjoy a higher salary than permanent staff nurses and receive travel stipends and housing provisions. This additional income can help them repay student loans, build their savings and take vacations between assignments. The pay rate can vary depending on where a project is located and how much overtime the nurse chooses to work. Travel nurses willing to move to less popular locations or times of the year can increase their overall pay throughout an assignment. Overtime pay is negotiated separately from the travel nurse's contract hourly wage.
Opportunities
Each new assignment brings a chance to immerse yourself in a different culture. The opportunity to experience a variety of work environments is a great benefit for nurses who want to continue their education and expand their skill set. In addition to the diverse work settings, travel nurses have the chance to build a strong network of colleagues and friends across the country. They also gain many new experiences and learn more about the healthcare industry. Since travel nursing assignments typically last 13 weeks, nurses can move to another location once their contract ends. This flexibility can allow nurses to pursue other opportunities or take a much-needed break. Some travel nurse agencies can provide a temporary position near their home. This will enable them to be close to loved ones and visit them regularly between travel nurse assignments. It also allows them to determine if they want to live in that area long-term.
Experience
The opportunity to travel and work in new locations across the country provides nurses with experience and a diverse professional portfolio that will set them apart in a competitive field. From working at top research and teaching facilities to small rural hospitals, travel nurses can work in various healthcare settings to learn from experts and build their skill sets.
The experience a travel nurse gains at each assignment can also be beneficial for building a strong network. As they move to each new facility, travel nurses will meet a large number of professionals and permanent staff members, and fellow travelers. In addition to helping them find assignments, most travel nursing agencies will offer nurses tax-free stipends for housing and travel expenses as part of their compensation package. This gives travel nurses the freedom to try out various parts of the country until they find a place where they would like to settle down and pursue a long-term career in the industry.
Socializing
Travel nurses take short-term assignments at healthcare facilities across the country. The typical appointment lasts 13 weeks, which provides plenty of time to explore a new location and immerse yourself in local culture. Nurses can stick around for an additional negotiated-upon period if they like the place so much they want to stay longer. Travel nursing is a great way to meet many people—both permanent staff and fellow travelers. It's also a chance to see how healthcare practices and work environments impact patient outcomes. Nurses from various backgrounds bring unique perspectives to the table, which improve patient care and can help build up the skillset of permanent nurses who work with them. It can be difficult for travel nurses who get homesick to adjust to living away from family and friends, but many find that it's a healthy experience, and they grow as people due to their travels. In addition, the job's flexibility allows nurses to try activities they wouldn't have considered otherwise and to make their temporary housing feel like home by adding touches or creating a routine that makes them comfortable.