Health
Medical Benefits: How Do I Get Workplace Health Compensation?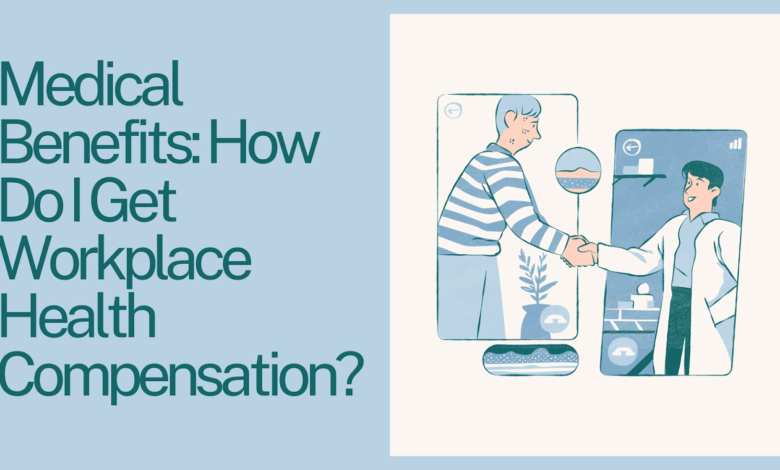 Sustaining an injury or illness directly related to your job duties can lead to exorbitant medical expenses and loss of income during recovery. But thankfully, programs like workers' compensation provide injured employees access to vital health benefits and wage replacement. Understanding exactly how to obtain these workplace injury benefits is key to getting the care and compensation you need.
Who Is Eligible for Workers' Compensation Benefits?
If you sustain an injury or illness that arises from your work activities, you may be eligible for workers' compensation benefits. Some key eligibility factors:
The injury must have occurred "in the course of employment" i.e. while performing job duties.

It must arise "out of employment" i.e. be directly attributable to work activities rather than personal health factors.

Pre-existing conditions that are exacerbated by work duties may also qualify you for benefits.

In 2021 alone, over 2.6 million non-fatal workplace injuries and illnesses were reported in the private sector. So if you are hurt at work, you are likely entitled to medical care and/or financial benefits through workers' compensation.
In the bustling urban landscape of Los Angeles, workplace injuries can be particularly common due to the city's diverse industries. If you find yourself facing such an unfortunate situation, it's essential to seek the guidance of a skilled workers' compensation attorney in Los Angeles. These legal professionals specialize in navigating the intricacies of workers' compensation laws in California. When it comes to safeguarding your well-being and securing your future, a workers' compensation attorney Los Angeles is your trusted ally.
When and How to Report a Workplace Injury
Prompt injury reporting is crucial. Key steps include:
Report the injury to your supervisor immediately, no matter how minor it may seem.

Submit the claim to your employer's workers' compensation insurance provider within 30 days.

File additional paperwork your employer provides detailing how, when, and where the injury occurred.

For injuries with a longer onset like repetitive stress, report as soon as you become aware it is work-related.

Keep copies of all physician reports, treatment receipts, and claim forms you submit.

Your employer cannot penalize or fire you for reporting legitimate work-related injuries.

Submitting your claim quickly and with proper documentation maximizes timely benefits delivery.
Types of Worker's Compensation Benefits
There are several types of benefits available depending on your specific situation:
Medical Care
Covers all reasonable and required treatment costs like doctor visits, hospitalization, physical therapy, prescriptions, medical equipment, and more. There are no deductibles or copays.
Temporary Disability Benefits
Provides partial wage replacement if you miss work for over 3 days due to your injury. Typically about 2/3rds of gross weekly wages.
Permanent Disability Benefits
Pays out if your injury causes lasting limitations that impact work capacity and earnings. The amount depends on your projected future earning losses.
Supplemental Job Displacement Benefits
Provided if you don't return to work within 60 days of your temporary disability ending and your employer does not offer modified duties. This helps pay for retraining.
Death Benefits
Paid to surviving dependents if a worker dies due to work-related causes. This may include burial costs and ongoing wage replacement.
Choosing a Medical Provider for Your Workers' Compensation Injury
Many states mandate initially consulting a physician within your employer's designated workers' compensation provider network. However, you may switch to a doctor of your choice after the first visit. Options include:
Your personal primary care physician if you pre-designated them as your workplace injury physician.

A specialist like an orthopedist or neurologist.

A doctor recommended by your attorney.

When selecting a physician, consider their experience treating workplace injuries specifically. Familiarity with workers' compensation processes can simplify recovery. Costs are covered directly by the claims administrator, so network restrictions don't apply.
What If My Employer Doesn't Have Workers' Compensation Insurance?
By law, all employers must carry workers' compensation insurance. But in rare cases, employers may illegally opt-out. Options if your company lacks coverage include:
Reporting them to your state's insurance commission. Fines may be imposed on the business.

Suing your employer in civil court for medical costs and lost earnings.

Filing a claim with your state's Uninsured Employers Fund which provides benefits protections.

Consulting a workers' comp attorney to determine the best path for restitution.

While frustrating, various options exist for getting care even when employers shirk their legal obligations. Don't hesitate to exercise your rights.
Appealing a Denied Workers' Comp Claim
Unfortunately, claims administrators deny about 15% of filed workers' compensation claims on average. If your claim is rejected, swift appeal is key. Steps include:
Request a written explanation detailing exactly why your claim was denied.

Consult with an experienced workers' compensation lawyer as soon as possible.

File an application for adjudication of the claim with your state's workers' compensation appeals board.

Submit additional evidence like medical records, witness declarations, or occupational health assessments to build your case.

Consider getting a second opinion from an independent medical examiner if the denial questioned your doctor's opinion.

While the appeals process varies by state, a qualified lawyer can navigate the system and fight for your entitled benefits. Don't leave money on the table.
Other Benefits Beyond Workers' Compensation
While extremely helpful, workers' comp may not replace all lost wages. Other options to make up income gaps include:
State disability insurance – Partial wage benefits for non-work injuries.

Social Security disability – For long-term disability including work-caused.

Personal insurance – Short-term disability or sickness policies if offered.

Legal damages – Additional restitution if employer negligence caused your injury.

Employer policies – Some companies offer supplemental injury pay.

Explore these additional resources, but know that workers' comp provides the core medical and wage benefits for workplace injuries and illnesses.
Frequently Asked Questions
Can I choose my own doctor for treatment?
You can select your personal physician if designated ahead of time. Otherwise, you may switch doctors after the first visit directed by your employer. Ensure they have workplace injury expertise.
What if my employer doesn't carry workers' comp insurance?
Report uninsured businesses to the state workers' comp division. You can still file a claim with the state's Uninsured Employers Fund for benefits protection. Consulting a lawyer about suing your employer is also an option.
How do I appeal a wrongfully denied claim?
Retain a workers' comp lawyer immediately to navigate the appeals process. File an Application for Adjudication of Claim along with additional evidence supporting your injury circumstances. Don't delay – there are strict deadlines.
Final Thoughts
Sustaining a workplace injury or illness can be devastating without proper medical and wage benefits. But thankfully, programs like workers' compensation provide a safety net. By understanding your rights and following reporting procedures accurately, you can obtain the care and income you need to recover.
Don't hesitate to consult experienced attorneys for guidance – especially if your claim is denied or your employer lacks proper insurance. With over 2.6 million incidents reported annually, you'll be in good hands with professionals who have helped countless injured workers.