Business
Indulge in Brunch Bliss: Cincinnati's Best Brunch Spots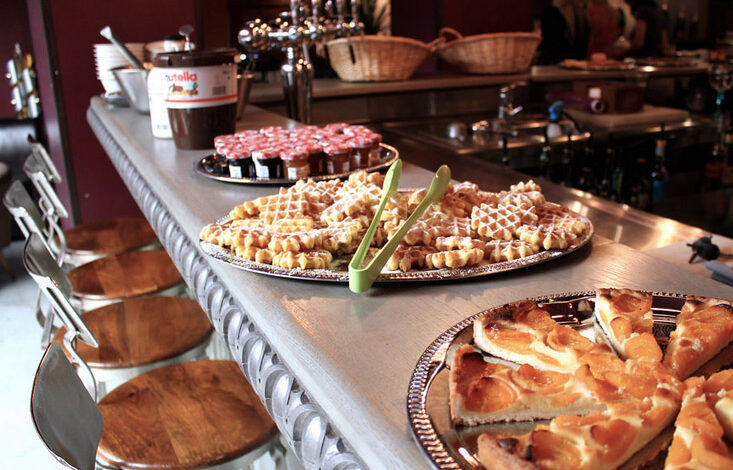 Brunch, the delightful fusion of breakfast and lunch, has become a cherished culinary tradition in cities across the globe. With its mouthwatering combination of sweet and savory dishes, brunch has captured the hearts and taste buds of food enthusiasts everywhere.
In Cincinnati, a city known for its vibrant food scene, brunch holds a special place. Embarking on a brunch bliss in Cincinnati could be one of the most mood-elevating Cincinnati activities this weekend.
Exploring the Charm of Brunch in Cincinati
Cincinnati has earned a well-deserved reputation as a foodie destination, offering diverse culinary delights. The city's brunch scene is no exception, with many establishments dedicated to creating unforgettable brunch experiences.
Cincinnati offers many options for every palate and preference, from trendy cafes to elegant restaurants. Whether you're seeking a traditional brunch spread or craving a unique twist on classic dishes, Cincinnati has it all.
This blog explores Cincinnati's top brunch spots, where you can indulge in a delightful culinary experience that will leave you craving more.
Maplewood Kitchen and Bar
Our brunch journey begins at Maplewood Kitchen and Bar, a renowned eatery located in downtown Cincinnati. Step inside and immerse yourself in the warm, inviting atmosphere adorned with rustic decor.
Indulge in their famous Avocado Toast, topped with a poached egg and sprinkled with microgreens. Don't miss their mouthwatering Lemon Ricotta Pancakes drizzled with homemade blueberry compote for a sweet treat.
Sleepy Bee Café
Just a short drive from downtown, you'll find Sleepy Bee Cafe, a charming brunch spot that serves fresh and locally sourced ingredients. Their Bee Cakes, fluffy pancakes infused with honey and topped with seasonal fruit, are a must-try.
For a savory option, sink your teeth into their Bee Brave Breakfast Burrito, packed with scrambled eggs, chorizo, black beans, and avocado.
Taste of Belgium
An exploration of Cincinnati's brunch scene would only be complete with a visit to Taste of Belgium. Known for its delectable Belgian waffles, this beloved establishment offers sweet and savory options.
Treat yourself to their Liege Waffle, adorned with Nutella, fresh strawberries, and whipped cream. If you prefer something delicious, their Chicken and Waffles, featuring crispy fried chicken and maple syrup, will satisfy your cravings.
The National Exemplar
Nestled in the picturesque village of Mariemont, The National Exemplar is a brunch destination that exudes timeless elegance. Their Crab Cake Benedict, boasting a perfectly poached egg atop a homemade crab cake, is a crowd favorite.
If you're in the mood for something lighter, their Spinach and Feta Omelet, accompanied by fresh fruit, will surely delight you.
Melt Eclectic Cafe
For those seeking a unique brunch experience, Melt Eclectic Cafe in Northside is a hidden gem. With its eclectic decor and artsy ambiance, Melt offers a menu that caters to all dietary preferences.
Don't miss their Vegan Breakfast Bowl, with quinoa, roasted vegetables, and a flavorful tahini dressing. And if you're feeling adventurous, try their Spicy Fried Chicken and Waffles, combining sweet and spicy flavors in perfect harmony.
Sugar n' Spice
A Cincinnati institution since 1941, Sugar n' Spice is a classic diner that has delighted locals and visitors alike with its hearty breakfast and brunch fare. Their fluffy, oversized omelets are a hit, with the Western Omelet stealing the show.
And only a visit to Sugar n' Spice is complete with trying their famous Goetta Hash, a Cincinnati specialty made with pork, beef, and steel-cut oats.
Explore Cincinnati's Brunch Culture Beyond Brunch
In addition to the flavorsome brunch options, Cincinnati offers a vibrant brunch culture with exciting events and activities. Cincinnati has something to offer if you are looking for tasty and fun Cincinnati activities this weekend.
Explore the local farmers' markets, stroll along the scenic riverfront, or attend one of the many festivals and art shows this weekend. Immerse yourself in the rich tapestry of Cincinnati's culture while satisfying your brunch cravings.
Insider Tips for an Exceptional Brunch Experience:
To make the most of your brunch adventure in Cincinnati, here are a few insider tips:
Make reservations in advance, especially for popular brunch spots.
Arrive at your chosen brunch spot at the ideal time to avoid long waits.
Explore off-peak days or hidden gems for a more relaxed and intimate experience.
If you do not wish to take the pain of going out, you can still savor the culinary experience of food in Cincinnati by hiring personalchef.
Conclusion
Cincinnati's brunch scene offers brunch enthusiasts a treasure trove of culinary delights. Whether you're a local or a visitor, the city's diverse brunch spots ensure something for everyone. From trendy and contemporary to timeless and traditional, Cincinnati's brunch establishments will leave you craving more.
So, go ahead and indulge in brunch bliss at Cincinnati's best brunch spots and experience the city's vibrant food culture firsthand.