Real Estate
How Do I Get My Tennessee Real Estate License?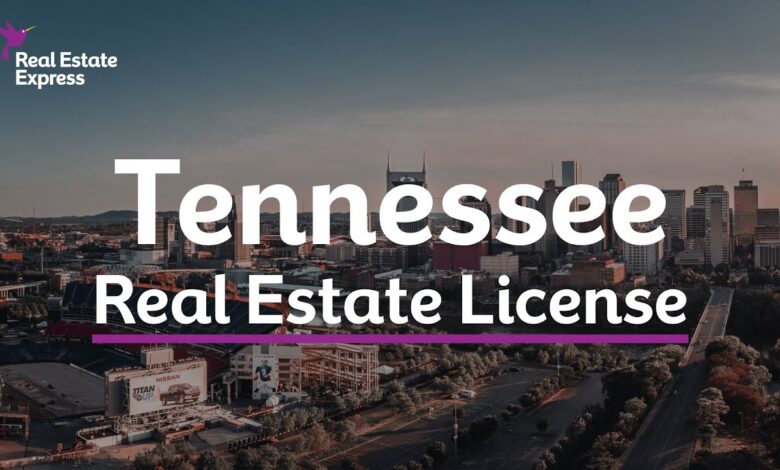 The real estate market is a serious business. This means home sellers, buyers, or renters want to be sure that you know what you're doing when you represent them during their deals. To be a successful real estate agent in Tennessee, you need more than an amicable personality and gusto for selling. It is also about having the required legal paperwork to practice in Tennessee. You'll need to get your Tennessee real estate license.
A Tennessee real estate license is required for your practice as a real estate agent in the state. For realtors in Kingsport, TN, you need to meet the following requirements:
Be at the legal age of 18 or older
60 hours of the necessary education
Pass the Tennessee affiliate broker exam
Finish the Tennessee 30-hour new affiliates course
Register and then apply for the license.
That may sound like a lot, but it's a pretty standard set of requirements. Most states have similar processes for you to become a real estate agent. Some states have their individual unique processes. In Tennessee, these are the five steps you are required to complete before you can be licensed as a real estate agent.
Step 1: Be at least 18
You need to be of legal age before you can be given a Tennessee real estate license. Your application will not be considered if you aren't at least 18. You also need to be a citizen of the US or a documented immigrant. There are also minimum education requirements. You will nee a high school degree or an educational equivalent. Tennessee realtors experience a lot of accounting and legal work. You need to have some level of education so your clients can trust that you can comprehend the intricacies of real estate work. Someone under 18 isn't of legal age in the U.S., so it'd be hard to trust that they know what they're doing when they talk about real estate.
Step 2: Complete the Tennessee 60-Hour Real Estate Principles Course
To apply to become an affiliate broker, you need to have studied and finished the compulsory 60-hour Real Estate Principles Course. You can only register for the licensing exam in Tennessee after you have completed said course.
This requirement is relatively easy to fulfill as there are several Tennessee 60-Hour Affiliate Broker Licensing packages that contain exam prep programs as well. You can also take the Tennessee 90-Hour Affiliate Broker Licensing package, also with exam prep programs and packages. These courses will give you the basics of real estate principles in the state of Tennessee. These packages will have all the coursework and study guides you need to pass the PSI (Professional Service Industries) exams. All you need to do is select the appropriate course on the page.
When you are done with the necessary education and you want to practice for the exam, you can go through the exam question banks, which contain guides that will prepare you for the exam and give you an idea of what to expect.
Step 3: Register and Take the Tennessee Affiliate Broker Licensing Exam
Once you have completed the education and the prep, the next thing to do is to sit for the Affiliate Broker's exam through the exam provider. PSI Testing provides a real estate exam with content accredited by the Association of Real Estate License Law Officials (ARELLO).
During the exam registration process, you must submit your application with your education and your experience level. They will be reviewed by the Tennessee Real Estate Commission. It will take about four weeks for the process to be complete.
All the information you need about the registration process for the exam is on the Real Estate Commission website. The minimum score required to pass this exam is 70%. On the PSI site, you can arrange a schedule for your exam.
Testing is always stressful, but it's a necessary part of the process. The essence of this exam is to be sure that you successfully completed and understood the content of the real estate course. The exam tests your knowledge of common real estate problems to see how you would handle yourself in a real-life situation as a real estate agent or broker.
Step 4: Complete the Tennessee 30-Hour Course for New Affiliates
The next step is studying for the Tennessee 30-Hour Course for New Affiliates. This is essential before you can apply for the affiliate broker license. Though it may feel tedious, this is another critical step to learning all the information about the job of a real estate agent. The course will get you up-to-date on the current knowledge that you will need for you to be a successful real estate agent.
While these courses may seem long, you can space them out. This way, you can easily assimilate and digest the information in them. At the end of the day, successful completion of these courses will establish you as a committed real estate professional. It's not about how quickly you get your Tennessee real estate license, it's about how effectively you can apply your learnings.
Step 5: Apply for Your License
When you want to submit your application, you need to include a photo which will be provided to you by the testing center once you have successfully finished the Tennessee Affiliate Broker Licensing Exam that will enable you to be a part of the Tennessee Real Estate Commission. You can get the application forms on the TREC website.
In addition to your picture, you need to add a few other things to your application process.
Proof of education (High school diploma or equivalent)
Proof of insurance coverage for errors and omissions.
Fees payment.
Once you have completed all the necessary requirements, you can then submit your application to become a licensed real estate agent in Tennessee. Getting a license allows you to practice legally in the state. Clients are only likely to trust you if they know that your operations have been duly vetted and licensed.