food
Get your hands on free cake with Nothing Bundt Cakes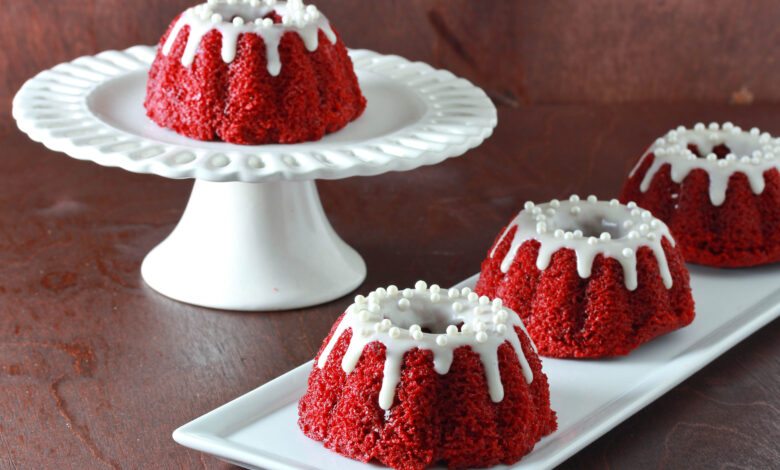 Looking for a sweet treat to satisfy your cravings? Nothing Bundt Cakes has got you covered! Not only do they offer a delectable assortment of cakes in various flavors, but they also give away free cake for their loyal customers. Yes, you read it right – FREE CAKE! If that sounds too good to be true, keep reading to learn how you can get your hands on some delicious cake from Nothing Bundt Cakes.
What is Nothing Bundt Cakes?
At Nothing Bundt Cakes, the name pretty much says it all. They specialize in bundt cakes – but not just any ordinary bundt cake. Their cakes are moist, dense and bursting with flavor that will make your taste buds dance with joy.

Founded in 1997 by two friends who shared a passion for baking, Nothing Bundt Cakes has since grown into a popular chain of bakeries across the United States. Each bakery is locally owned and operated to ensure that every customer receives personalized attention and quality service.

What sets their cakes apart from other baked goods is the unique combination of premium ingredients such as real eggs, buttercream cheese frosting and high-quality chocolate chips or fruit purees. With flavors ranging from classic vanilla to decadent chocolate chocolate chip, there's something for everyone at Nothing Bundt Cakes.

Whether you're looking to indulge yourself or surprise someone special with a sweet treat, Nothing Bundt Cakes' distinctive bundts are sure to satisfy your cravings!
How to get free cake from Nothing Bundt Cakes
Nothing Bundt Cakes is a bakery that offers delicious bundt cakes in a variety of flavors. If you're looking to get your hands on some free cake, there are actually a few ways to do so!

One way to get free cake from Nothing Bundt Cakes is by signing up for their e-club. When you join the e-club, you'll receive exclusive offers and promotions, including a free bundlet (a miniature bundt cake) on your birthday.

Another way to score some free cake is by attending one of Nothing Bundt Cakes' grand opening events. When a new store opens, they often give out free samples and sometimes even entire cakes to customers who visit during the event.

You can also follow Nothing Bundt Cakes on social media to stay updated on any giveaways or contests they may be running. Sometimes they will ask followers to share or retweet posts in exchange for the chance to win free treats.

There are multiple ways to snag some free cake from Nothing Bundt Cakes – whether it's through joining their e-club, attending a grand opening event, or participating in one of their social media giveaways.
What flavors of cake does Nothing Bundt Cakes offer?
Nothing Bundt Cakes offers a wide variety of flavors to satisfy every taste bud. Each cake is crafted using carefully selected ingredients, ensuring that every bite is moist and flavorful.

One of the most popular flavors is the classic vanilla. This cake features a rich, buttery flavor with hints of vanilla bean throughout. It's perfect for any occasion, from birthdays to weddings.

For those who prefer something a little more decadent, there's the chocolate chocolate chip cake. This cake boasts an indulgent chocolate flavor and is studded with mini chocolate chips for added texture.

Another customer favorite is the red velvet cake. Made with real cocoa powder and topped with cream cheese frosting, this vibrant red dessert has just the right amount of sweetness.

If you're looking for something fruity, Nothing Bundt Cakes also offers delicious lemon raspberry and white chocolate raspberry cakes. These cakes are bursting with tart raspberries and complemented by sweet notes of white chocolate or lemon.

No matter what your preference may be, Nothing Bundt Cakes has a flavor that will leave you wanting more!
Where are Nothing Bundt Cakes located?
Nothing Bundt Cakes has been steadily growing its presence across the United States, with over 300 bakery locations in 40 states. The company's rapid expansion is a testament to the popularity of their delicious cakes and exceptional customer service.

Whether you're living on the East Coast or West Coast, there's bound to be a Nothing Bundt Cakes location near you. You can find their bakeries in busy urban centers, quaint suburban areas, and even tucked away in smaller towns.

If you're traveling for business or pleasure, it's easy to satisfy your sweet tooth by visiting one of their many bakery outlets. You'll love the friendly atmosphere at each location that always welcomes patrons with open arms.

To locate a Nothing Bundt Cakes outlet nearest to your area, visit their website and use the store locator feature. Simply enter your zip code or city name and voila! You'll see all the available options pop up on-screen accompanied by information about store hours and contact details.

Finding a Nothing Bundt Cakes bakery is no longer an issue thanks to its widespread reach throughout America. Whether you're craving for something sweet while running errands in town or simply want to indulge yourself after a long day at work- head over to one of these amazing cake shops today!
Conclusion
Nothing Bundt Cakes is the perfect bakery for those who have a sweet tooth and crave delicious cakes. With their wide range of flavors and sizes, there's something for everyone at this bakery. Plus, with the option to get free cake on your birthday or when you join their e-club, it's hard to resist stopping by one of their many locations.

Whether you're celebrating a special occasion or just need a pick-me-up treat, Nothing Bundt Cakes has got you covered. So why not try out one of their tasty cakes today? Your taste buds will thank you!