Games
EA FC 24 Player Review: Evaluating Legendary French Defender Blanc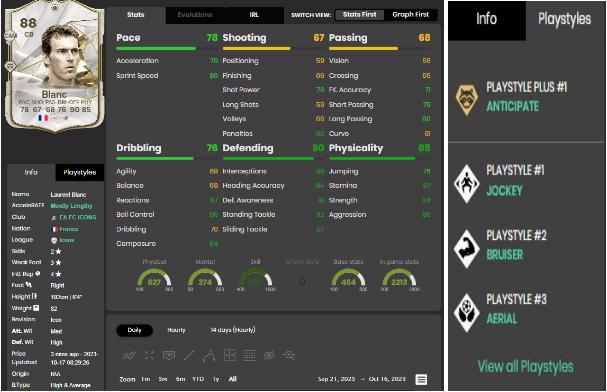 In this article, we will provide a comprehensive review of Blanc, the legendary French defender who is available in the game as an SBC (Squad Building Challenge). We aim to offer players interested in completing this SBC a specific reference and analysis of Blanc's performance.
Introduction to Player Panel Information:
Blanc's current SBC cost is approximately 420,000 coins. He is a right-footed player with a 2-star skill moves and 3-star weak foot rating. Standing at an impressive 6'4″ tall and weighing 82, Blanc possesses a towering stature that adds to his defensive capabilities. His mentality considered high-medium, which is ideal for a center-back position. While his body type is classified as high average, his height compensates for any potential limitations. To optimize his performance, we recommend applying the Shadow chemistry style due to his relatively slow pace rating of 78. With the Shadow style, his overall rating will increase to 86. Blanc's defensive stats excellent, with the exception of heading accuracy, which not maximized. Notably, his physical attributes are slightly below average. He has a jumping ability of 76, which, when combined with his height, will need to tested in-game to determine its effectiveness. Additionally, his strength rating is 84, which may pose a challenge against powerful strikers like Haaland or Lewandowski. On the positive side, his reaction rating is 87, which considered practical for a center-back. With a composure rating of 84, Blanc's passing ability should be decent. Moving on to traits, Blanc possesses the "Anticipate" trait, allowing him to read the game better and reducing the chance of committing fouls during tackles. Furthermore, his "Plays with Style" gold trait increases his chances of successfully winning standing tackles and enhances ball control during these actions. Utilizing the new "Anticipate" trait involves positioning the player correctly in defense, triggering an automatic leg extension to intercept the opponent's ball. This trait has proven effective with other players possessing it, such as Varane. Blanc also has the "Jockey" trait, which enables him to move faster while jockeying, and the "Bruiser" trait, providing an advantage in physical battles. Finally, the "Aerial" trait gives Blanc an edge when competing for aerial balls.
Summary after Gameplay:
In my team, I partnered Blanc with Van Dijk, prompting many friends to inquire about choosing Blanc or directly purchasing Van Dijk considering the cost. Van Dijk currently priced at over 200,000 coins and widely regarded as an exceptional center-back. Let's compare the two center-backs and make a recommendation. Now, let's review Blanc's performance based on my team's statistics. He has played a total of 10 matches, accounting for 8 matches after excluding two opponents who quit directly. Overall, Blanc is a good defensive player but not outstanding. If I were to rank defensive players, he would fall into the T1 level. However, Van Dijk surpasses him significantly in terms of defensive protection, aerial duels, and interception animations. Blanc's main weakness lies in his passing ability, which is very poor. This deficiency may influenced by his vision, as he struggles to make satisfactory long passes or stable short passes. Consequently, I would not recommend acquiring this card. Although he is a decent center-back providing solid defense, I personally require a player who excels in passing, making Blanc an unsuitable choice. Alternatively, I prefer Varane, who, despite not having high ratings in long and short passing, possesses a strong Four-Star Weak Foot, slightly improving his long pass stability. Therefore, I would choose Varane over Blanc. Both Varane and Blanc share the French Chemistry, so for those seeking that chemistry, the more affordable Varane, currently priced around 100,000 coins, would be a wise choice. Overall, I believe Varane holds a slight advantage over Blanc, primarily due to his lighter model and faster initial speed, resulting in more comfortable control. Assessing the value of this SBC, I would rate it around 7 out of 10. The inclusion of a legendary player, the first legendary center-back, and the French chemistry are significant advantages. However, considering the player's ability alone, I would rate Blanc at 8 out of 10, as he falls short in areas such as aerial duels, speed, body inertia, and long passing, which are crucial aspects. Nevertheless, his strengths lie in defense, physicality, and AI positioning, albeit with slightly lacking defensive animations.
Conclusion:
In conclusion, our evaluation of Blanc, the legendary French defender in EA FC 24, suggests that while he a solid center-back option, he outperformed by players like Van Dijk and Varane in terms of defensive capabilities. Blanc's passing ability is notably poor, limiting his effectiveness in distributing the ball. If passing proficiency is a crucial aspect for your team, Blanc may not be the ideal choice. However, if you prioritize defense, physicality, and AI positioning, Blanc can provide solid performances. When comparing him to Van Dijk, the price difference and Van Dijk's superior defensive protection, aerial duels, and interception animations make Van Dijk a more recommended option. Varane, on the other hand, offers a more affordable alternative with the added benefit of a strong Four-Star Weak Foot. Overall, Blanc's SBC has value due to his legendary status, French chemistry, and defensive strengths, but considering his ability alone, he falls slightly short in key areas.
If you need FC 24 coins to purchase the players you desire or complete the Blanc SBC, Buymmog is a safe choice. They offer fast and secure services to enhance your FC 24 gaming experience.