food
Create Your Own Pizza or Try a Papa Pick for Dinner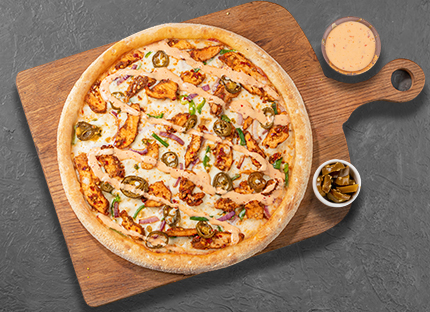 The menu at Papa Johns has no shortage of pizza options. For example, during the fall, order the cool Jack-O-Lantern pizza to get in the Halloween spirit. Even if you do not take advantage of one of the many limited-time and seasonal pizzas offered, the regular menu has a wide variety of options. Many people like to create their own, as the options are almost limitless. However, if you like someone else to make the decision for you, choose from one of the chef-inspired pizzas on the menu.
Garlic Stuffed Crust
The Papa Johns menu is constantly featuring new items, and some remain only for a certain period, while others become permanent fixtures on the menu. The newest item is the garlic stuffed crust. The stuffed crusts have always been a popular item, and now they combine the signature garlic sauce. Cheese is flavored with the traditional or spicy garlic sauce and then stuffed into the crust, which is then drizzled with even more garlic.
This crust is a great choice as the base for a create-your-own pizza. If you prefer a more traditional crust, there is the original crust as well as a thin, New York style, and gluten-free option. Next, top with your choice of sauces, such as pizza, BBQ, alfredo, buffalo, and ranch. Then load it up with meats and veggies of your liking.
Handcrafted Specialties
When looking for pizza deals near me, you more than likely will find specials on one of the many handcrafted specialties on the menu. The works is a classic supreme, topped with popular meats and veggies. For something a little different, try these combinations:
Fiery buffalo chicken: grilled chicken, tangy and spicy buffalo sauce, cheese, bacon, and onions
BBQ chicken bacon: BBQ sauce base with grilled chicken, bacon, onions, and cheese
Super Hawaiian: pizza sauce, Canadian bacon, bacon, pineapple, and cheese
Zesty Italian: pizza sauce, salami, Italian sausage, banana peppers, cheese, and Italian seasoning
Fresh spinach and tomato Alfredo: Alfredo sauce, Roma tomatoes, spinach, cheese, and Italian seasoning
Tuscan six cheese: pizza sauce, fontina, romano, parmesan, provolone, asiago, and mozzarella
Each pizza is made with the finest ingredients, and you can customize them how you like.
Papa Pick Options
If you like a little more simplicity with your pizza, you can always go with one of the Papa Picks. The options include cheese, sausage, and pepperoni. They all come on the original crust, although you can customize the crust if you prefer.
If you love the flavor of pizza, but you are limiting your carb intake, try one of the Papa Bowls. These crustless combinations contain your favorite pizza toppings, sauce, and cheese. Specialties include garden veggie, chicken parmesan, and Italian meats trio. You can also create your own.
When placing your pizza order, round it out with chicken wings, sides, desserts, and beverages. The boneless and traditional wings come in various flavors, and popular sides are garlic knots, bacon cheesesticks, jalapeno Papa Bites, and original breadsticks. Each item comes with your choice of sauce to dip into.