Health
Commonly Asked Questions About Online Midwifery Programs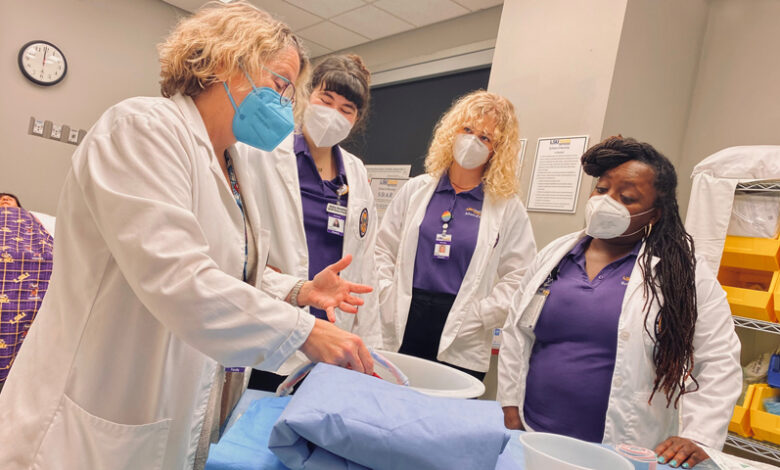 Online midwifery programs give prospective nurses a flexible route to getting their license in maternal healthcare. The program provides affordable structured learning that blends theoretical knowledge with practical skills. Here are some of the commonly asked questions about the online program:
What Is the Structure of the Curriculum?
The curriculum covers maternal and newborn care, women's health, reproductive health, and the Basic Antenatal Care Approach. Courses are organized into modules, allowing students to focus on specific subjects while progressing through the program. Clinical experiences are integrated to apply theoretical knowledge in real-world settings.
How Do I Interact with Faculty and Peers?
Faculty members are accessible through various communication channels such as video conferencing, email, and discussion boards. Peer interactions are facilitated through group assignments and virtual class discussions. This collaborative approach fosters unity and support among students.
Can I Afford an Online Midwifery Program?
The program is reasonably priced compared to traditional on-campus options. These programs understand the financial constraints of aspiring midwives and strive to offer competitive tuition rates. Many students appreciate the flexibility of online learning, which allows them to continue working while pursuing their education.
How Do Online Midwifery Programs Prepare Students for Certification and Licensure?
The course content is designed to meet the requirements for certification and licensure in midwifery. The curriculum aligns with the content covered in certification exams, and clinical experiences provide hands-on training essential for practice. Graduates are well-equipped to pursue their certifications and licenses to embark on a successful midwifery career.
How Do Online Programs Handle Practical Skills and Hands-on Training?
Online programs tackle hands-on training through a blend of innovative strategies. These include virtual simulation labs replicating real scenarios and enabling the practice of essential skills. Video demonstrations by experienced instructors elucidate proper techniques, while optional in-person workshops provide a valuable in-person approach.
Clinical placements with instructors in local healthcare facilities allow students to apply knowledge in actual settings. Hands-on kits and collaborative peer activities enhance practical learning. This progressive approach provides skill development and competence, preparing students effectively for real-world midwifery practice within the online format.
What Support Services Are Available for Online Students?
Online students pursuing the Nurse-Midwifery Program can benefit from dedicated support services. Personalized academic advising guides curriculum choices and progression. The Student Success Center assists with study skills, time management, and exam preparation.
Virtual libraries and databases provide access to essential research materials. Regular interaction with experienced faculty fosters mentorship and clarifies doubts. A responsive technical support team promptly addresses any online platform-related issues.
What Are the Benefits of the Online Programs to the Students?
The program emphasizes certified nurse-midwives as instructors, providing valuable insights and mentorship. Its extensive curriculum equips students with primary healthcare skills for women across their lifespans. The flexibility of an online format accommodates diverse schedules, while a supportive network guides success. This program is tailored to empower aspiring nurse-midwives.
What Are the Requirements for Enrolling in Online Midwifery Programs?
Enrolling in online midwifery programs requires meeting specific prerequisites. Applicants need a bachelor's degree, preferably in nursing or a related field. A valid RN license is commonly required, along with relevant clinical experience. Clearances like background checks and drug screenings might be mandatory due to clinical placements.
Many programs seek a competitive GPA to ensure academic readiness. Some may ask for letters of recommendation to gauge professional suitability. A well-crafted personal statement highlighting career goals and motivations is imperative. Meeting these requirements lays the foundation for a successful application to the program.
What Are the Challenges of Earning an Online Midwifery Degree?
Online classes require self-discipline. You need to stay motivated and on track without the structure of a traditional classroom setting. The course requires students to complete clinical hours in person. This can be a challenge for students with other commitments.
Are Online Midwifery Programs Credible and Accredited?
A reputable institution may focus on midwifery programs that meet standards set by regulatory bodies such as the Commission on Collegiate Nursing Education (CCNE). The accreditation indicates that the program meets educational standards, providing students with a quality learning experience. Prospective students should always verify their accreditation status before enrolling.
Register for Online Midwifery Programs Today
Online midwifery programs offer flexibility and affordability, allowing you to earn a degree in midwifery without attending classes on campus. The courses are designed to equip you with the skills, knowledge, and confidence you need to succeed. Register for a program today and embark on your journey toward becoming a certified midwife.