Security
Bulletproof Backpacks: The New Age of Personal Security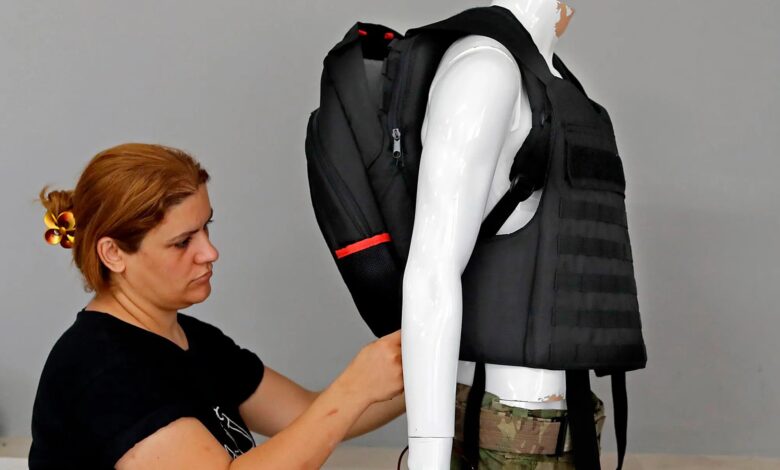 Although you and your children both hope they'll never need a bulletproof backpack, it's better to be safe than sorry in the modern world, where there are hundreds of active shootings every year.
The need for bulletproof backpacks increased as a result of the widely reported mass shootings in the USA, as frightened parents all over the nation sought to give their child the best chance of surviving in an emergency.
The wearer of a bulletproof backpack will survive very perilous conditions thanks to the backpack's carefully constructed armor and ballistic shields that can stop gunshots. They often resemble regular backpacks but feature unique pockets constructed of ballistic materials that, if necessary, can double as a bulletproof vest.
What is the process of bulletproof backpack?
In bulletproof backpacks, the soft armor fabric functions as a net, capturing the bullet and flats the tip.
At the same time, it disperses the majority of its energy across the entire armor, preventing it from being concentrated in a single, bullet-sized area.
The concept is the same, but hard armor functions somewhat differently, tending to deflect or shatter a bullet and absorbing more of its impact.
It's equally crucial to recognize that a bulletproof backpack won't make you invulnerable.
On Earth, there is no bulletproof body armor. They are technically resistant to bullets.
And even if the armor absorbs a large portion of a bullet's impact, part of it will ultimately move to the body.
Even bulletproof armor eventually wears out. Soft body armor typically has an intact lifespan of five years from the time it leaves the factory.
Reasons to use bulletproof backpack
The following are various reasons for using a bulletproof backpack.
LIFE PRESERVATION
The most obvious advantage of a bulletproof bag is that it increases your chances of surviving if you find yourself in a situation involving a loaded weapon.
Additionally, bulletproof backpacks have armor that is nearly identical to that worn by, say, police officers. And it has consistently been shown to save police officers' lives.
Secure storage of contents
Any type of rucksack can sustain damage. However, if the pack is dropped or trodden on unintentionally, one that is armored will do a better job of protecting the items inside.
Mental peace
If nothing else, bulletproof backpacks have psychological value since they instill a sense of security or at the very least help people feel less scared and anxious.
Because you're as prepared as you possibly can be. It's as much control as you can hope for in terms of preventing harm to yourself and loved ones.
List of great bulletproof backpacks
BulletProof Boxs describes a list of the top bulletproof backpacks that available in market, and it is reliable.
Backpack with BulletBlocker 50
If you want a large, roomy hiking backpack that is also bulletproof, check out the BulletBlocker 50 Backpack. By far the largest backpack on our list, it may also be used as a standard day bag despite being intended for longer adventures.
It has functional pockets, a pocket for a water bottle, a hydration system, and an easily tuckable waist belt.
The ballistic capabilities are excellent. All BulletBlocker backpacks are NIJ IIIA-tested and include the most recent Kevlar technology for its bulletproof panels.
Tactical one leatherback
The Ballistic Panel on the Leatherback Tactical One protects both your front and back torso and enables the backpack to change into a bulletproof vest.
It's a pretty ingenious design that uses a dividing zipper to split the backpack in half.
Jump Pack with BulletBlockers
The BulletBlocker Jump Pack is based on a Condor Compact Assault Pack 126 that has been armored with BulletBlocker ballistics and uses the same design principles as the previous variant.
With only two main compartments and two external pockets, it is smaller than the previous models and is more suited for short trips or use as a daypack.
Defender BulletBlocker
You'll adore the Defender bulletproof bag from BulletBlocker if you adore their bulletproof technology but disliked how large or militaristic their earlier models were.
This particular design is simple to wear as a rucksack for school or work and won't draw any unwanted notice.
The ballistic protection is covertly stitched into the pack's back, while the remaining sections are designed with the contemporary professional in mind. Everything else that you could anticipate from a contemporary urban backpack is included, including a padded laptop sleeve, accessory compartments with zippers, a cup holder and more.
Tactical BulletBlocker Backpack
The Condor Orion Assault Pack serves as the base for the BulletBlocker Tactical Backpack, which has been updated to feature special bulletproof technology. In this way, it retains all the benefits of outstanding tactical backpacks, such as stash pockets, waist belts, hydration systems, and accessory pouches, but it also offers covert bulletproof defense.
Junior BulletBlocker Pack
Concerned about your child's safety in the wake of recent horrific shootings at schools? This BulletBlocker Junior pack is composed of lightweight materials so that even young children may wear it easily while providing your child with the protection they require.
The straps are ideally built for all-day support, and the back is completely padded. Although it may appear to be just another school backpack, the ballistic panels that are sewed into it could one day save a life.
Conclusion
Due to the alarming increase in school shooting occurrences over the past few years, more and more individuals, in particular parents, teachers, and kids, urgently require security for themselves.
You can get NIJ Level IIIA-rated backpack armor and excellent luggage for a remarkably low price with our Bulletproof Backpack Package. No matter if you require a bag for travel, laptop storage, or education, you can be sure to find a package that suits your requirements.