Business
An In-depth Cost Analysis—Wrike Pricing vs Smartsheet Pricing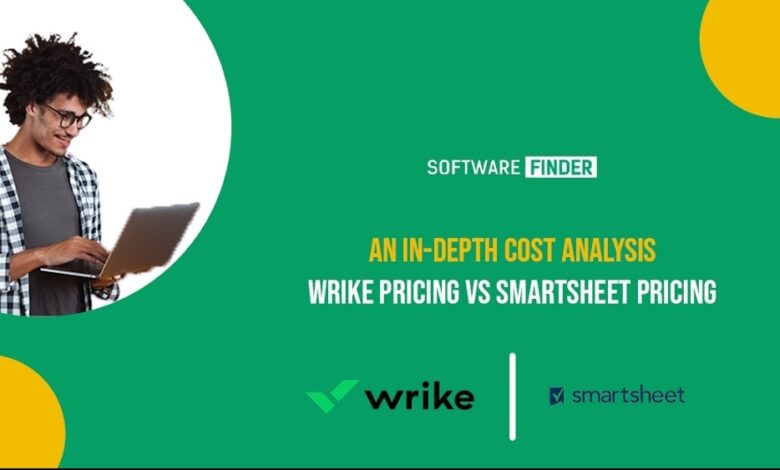 Project management software is essential for modern businesses that need to manage their projects and resources effectively. It provides an organized system that helps teams collaborate, plan, and execute tasks more efficiently. The use of such tools also allows businesses to track progress, keep accurate records, make sure deadlines are met, and ensure better communication between team members. Additionally, users can benefit from automated processes such as scheduling, budgeting, and resource allocation. Project management software systems are perfect for businesses of all sizes that seek enhanced organization and more efficiency in their operations.
In this post, we provide an in-depth comparison of Wrike pricing vs Smartsheet pricing—two of the leading project management software applications of today.
What is Wrike Software?
Wrike is a cloud-based collaboration and project management software. It enables teams of any size to stay organized and collaborate efficiently. Wrike helps users to manage tasks in real-time, set priorities and deadlines, assign tasks to team members, monitor progress, and keep all project stakeholders informed with updates. It is an intuitive tool that can help teams get their projects done quickly and without stress. It is feasible for small businesses to large organizations, offering flexible plans tailored to fit specific needs.
Wrike's mission is to empower organizations with intelligent solutions to make work simpler and more efficient than ever before. With its clean user interface, simple data entry capabilities, powerful automation features, and diverse integrations, the software offers a comprehensive platform for teams of any size who want to collaborate on projects with ease.
Key Features of Wrike Software
Task management and collaboration: Wrike's interactive interface allows teams to view all tasks, assign them, prioritize them, and create project timelines in real-time
Priority setting and deadline tracking: Set priorities and deadlines for every task and monitor progress to ensure timely delivery of each project
Assigning tasks to team members: Create assignments for individuals or entire teams, receive notifications for due dates, and review the completion status of tasks
Progress tracking and visualizing workflows: Easily track the progress of projects with comprehensive overviews that provide insight into task statuses from day one, as well as customizable dashboards to visualize workflows
Project stakeholder communication and updates: Automate communication between stakeholders through notifications sent directly from within Wrike
Automated workflow rules and notifications: Automatically apply rule sets and build custom notifications to improve efficiency throughout each project stage
Flexible plans for teams of any size: Choose the plan that fits your team size with options ranging from individual users up to unlimited users per account
Intelligent automation capabilities: Move beyond simple data entry with intelligent automation tools that can be set up easily within Wrike's intuitive user interface
Powerful integrations with other business apps: Sync data across multiple platforms by integrating Wrike with G Suite (Google Sheets/Docs), Salesforce, Jira or Zapier
Wrike Software Pricing Model
The vendor offers the following three Wrike pricing plans:
Free plan: Includes up to 5 users and basic features such as task lists, shared workspaces, and comments and chats
Professional plan: Starts at $9.80 per user/month and provides more advanced features such as Gantt charts, automation tools, and workload view
Business plan: Starts at $24.80 per user/month and includes additional features like custom reports, unlimited sharing permissions, and resource management tools
What is Smartsheet Software?
Smartsheet is a cloud-based work execution platform that allows users to manage their work, collaborate with teams, and get results in real-time. The platform works as an online spreadsheet where users can capture data, automate processes and add workflow rules to keep everything moving. Smartsheet helps teams across the organization to coordinate tasks and improve visibility on project performance. It provides a unified view of all tasks within a project, allowing users to see progress in real-time and take decisive action when needed.
Smartsheet also includes powerful automation features and an intuitive user interface so anyone can start working with ease. It streamlines collaboration between departments within an organization, providing the tools necessary for collaboration without sacrificing security. The software helps teams perform faster with less effort while maintaining control of the process.
Key Features of Smartsheet Software
Real-time collaboration: Share and update sheets, tasks, and resources in real-time to ensure your team has the most up-to-date information
Robust project management: Set due dates for tasks, prioritize them according to importance, track progress, and receive notifications when tasks complete
Powerful automation capabilities: Use automation tools to create rules and simplify tedious tasks such as assigning owners to tasks or sending reminders
Intelligent document management: Manage projects with powerful documents such as spreadsheets, checklists, Gantt charts, and other forms of data
Integrations with other services: Sync data across multiple platforms by integrating Smartsheet with Salesforce, Dropbox, or Zapier
Data visualization tools: Visualize workflows with interactive graphs and charts that provide insights into task statuses from day one
Flexible plans for teams of any size: Choose the plan that fits your team size with options ranging from individual users up to unlimited users per account
Smartsheet Software Pricing Model
Smartsheet offers the following pricing plans:
Individual plan: Starts at $14.00 per user/month and includes task tracking, email integration, basic reporting, and more
Business plan: Starts at $25.00 per user/month and provides functionality such as automated workflow, advanced reporting, and integrations with Salesforce and other third-party applications
Enterprise plan: Starts at $40.00 per user/month and includes features like customization, enterprise security, advanced collaboration tools, and more
Which is Better for You—Wrike Pricing vs Smartsheet Pricing
It depends on the requirement of your project management team or overall business. Wrike is a great option for teams requiring powerful project collaboration features and real-time visibility into progress. It also offers Gantt chart capabilities, which are helpful for complex projects with many moving parts. On the other hand, Smartsheet is a great choice for tracking tasks and managing cross-functional teams. It has robust reporting tools and its interface makes it easy to set up workflows and automate projects. Ultimately, both solutions provide effective project management benefits so it is up to the customers to decide which one best meets their needs.
Interested customers can also read Wrike reviews and Smartsheet reviews by visiting the Software Finder website.