Home
4 Ways to Make the Most of Your Door Pantry Storage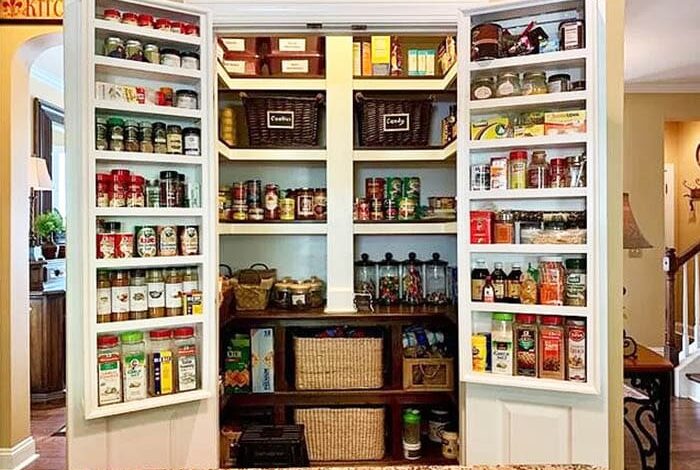 Pantry organizers that clear your countertops can make cooking and baking much more accessible. But before you invest in one, consider your door space and weight capacity.
Install a pantry pull-out system to keep back stock items like canned goods and unused food tins from clanking. Or, try a flexible drawer insert to store kitchen utensils and storage containers.
Use Bins or Baskets
Organizing items in bins or baskets is the easiest way to ensure everything fits on higher shelves. This trick makes it much harder for things to get lost or stuck and allows you to see what's on the shelf at a glance. Stackable bins are perfect for tall bottles of oils and short items like spices, and flat ones can hold various things like tin foil, saran wrap, and paper towels.
Consider transferring your bulk ingredients to clear canisters (like these) for even more pantry organization. This will give you a quick overview of your supply and inspire uniform tidiness.
Add command hooks to the side of your pantry door for a place to hang oven mitts, kitchen towels, and aprons. This keeps them off the floor and makes it easy to grab them when heading out to the farmer's market. You could also use a pegboard for heavy-duty pots and pans.
Use Glass Jars
Decanting dry goods into pretty jars is a no-fuss way to organize your pantry instantly. It looks much nicer than keeping things in supermarket packaging. Plus, it's easier to see what you have and what you might be running low on (no more getting cereal when only half a box is left).
If mason jars aren't your thing, consider buying clear storage containers that perfectly fit pint and quart-size jars. These also come with wooden storage lids, which create an airtight seal and are easy to open. They're ideal for brown sugar, tea bags, and spices but can also store canned goods.
Add labeling stickers to avoid confusion if you're storing multiple types of food in the same jars. You can even buy customizable ones that are water and oil-resistant so that they won't fade.
Label Everything
Over the door pantry storage racks are a simple way to add functional storage space to your pantry. Grouping items like jars, cans, and packets of spices makes them easy to find when cooking. You can use a pantry door organizer for small snack packets and tea bags.
Labeling everything in your pantry is essential for creating an organized system that will work for you and your family. Using clear, coordinating containers is another brilliant option that looks good and inspires consistent organization. Labels make it easier to see when you're running low on supplies, saving time and helping with pantry maintenance.
Add a chalkboard or whiteboard to your pantry door for a more visual interest and stylish feel. This is a great spot to write a grocery list, a reminder, or a sweet note for your kids. If you have extra wall space, hang hooks to hold aprons, brooms, and reusable grocery bags for easy access when grabbing food or cleaning supplies.
Use Hanging Shelves
If your pantry shelves are crowded but need more room for another cabinet, turn to your door for extra storage. A simple rack that hangs over the door, such as this one from IKEA, provides hardworking space for a mix of containers and baskets that keep frequently used items at hand.
Use a shelf-length rod to hang baskets of varying sizes, from large liter bottles to small jars. This setup is great for storing bulky items like rolls of paper towels and reusable grocery bags, dry ingredients, canned foods, and other pantry essentials.
A hanging rack is also an intelligent solution for storing your most-used plastic container lids. Instead of getting lost in a drawer, this organizer makes it easy to grab the right-sized cover for your meal prep. You can also mount a strip of hooks on the inside of a door to hold items such as aprons and aprons.