CBD
25 Best Things to Do in Orange County, CA (for 2023)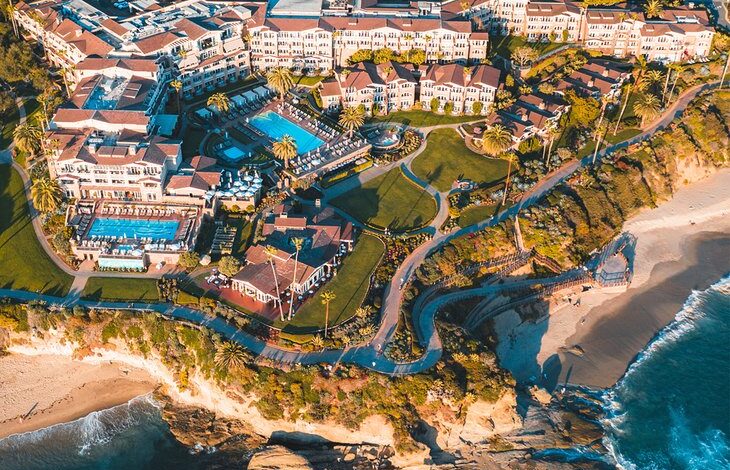 Welcome to Orange County, California, a beautiful and vibrant destination waiting for you to explore! With its endless sunshine, stunning beaches, top attractions, delicious food scene, and rich history and culture – Orange County has something special for everyone. Whether you're a local or visiting from out of town, there's no shortage of exciting things to do in this amazing region. So pack your bags and get ready to discover the 25 best things to do in Orange County (for 2023) that will make your trip unforgettable!
See the beautiful weather in Orange County
Orange County, California is known for its beautiful weather that makes it the perfect destination to visit year-round. The region enjoys a Mediterranean climate with mild winters and warm summers, which means you can expect plenty of sunshine during your trip.

One of the best things to do in Orange County is to soak up the sun at one of its many stunning beaches. Whether you're looking for a peaceful day spent reading a book or an action-packed adventure filled with surfing and water sports – there's something for everyone here.

Apart from the beaches, the county boasts several parks and hiking trails where you can enjoy nature while basking in sunny skies. Take a walk through Laguna Coast Wilderness Park or take in panoramic views from atop Saddleback Mountain; either way, Orange County's weather will make sure that your outdoor experience is enjoyable.

The beautiful weather also makes it easy to explore some of OC's top attractions without worrying about unpredictable rainstorms or cold temperatures. From Disneyland® Resort and Knott's Berry Farm amusement park to museums like Bowers Museum and Discovery Cube Science Center – there are endless possibilities for fun activities under clear blue skies!

So don't forget your sunscreen because Orange County's beautiful weather awaits!
Enjoy a day at the beach
Orange County, California is known for its picturesque beaches with crystal clear waters and warm sandy shores. Enjoying a day at the beach should definitely be on your list of top things to do in Orange County.

There are numerous beaches to choose from depending on what you're looking for. Huntington Beach, also known as "Surf City USA," offers some of the best waves for surfing while Newport Beach has soft sands perfect for sunbathing or playing beach volleyball.

For families with kids, Laguna Beach offers tide pools full of sea creatures waiting to be explored. If you're more into water sports, head over to Dana Point where you can go kayaking and even spot some whales and dolphins.

No matter which beach you choose, make sure to pack sunscreen, hats, towels and plenty of water! The California sun can get pretty hot so it's important to stay hydrated and protected.

A day at the beach is not only great for soaking up some Vitamin D but it's also an opportunity to relax with friends and family while listening to the sound of crashing waves. Don't forget your camera because the views are breathtaking!

In conclusion (not allowed), whether you want fun in the sun or just a peaceful retreat by the ocean, Orange County's beaches have something for everyone. So grab your swimsuit and hit one of these beautiful beaches!
Tour some of the top attractions in OC
Orange County is a hub of tourist attractions that offer something for everyone. Whether you're interested in theme parks, museums or nature, OC has it all. One of the best ways to experience the top attractions in OC is by taking a tour.

Disneyland Resort is undoubtedly one of the most popular tourist destinations in Orange County. This iconic amusement park attracts visitors from all over the world with its thrilling rides and magical atmosphere. Another famous attraction worth exploring is Knott's Berry Farm, which features roller coasters and other rides to get your adrenaline pumping.

If you're looking for an educational experience, check out some of OC's museums like Bowers Museum or The Discovery Cube Science Center. These museums showcase art, history and science exhibits that will leave you amazed and educated at the same time.

For those who love nature, there are plenty of outdoor attractions to explore such as Crystal Cove State Park or Newport Beach Pier. Take a stroll along miles of pristine beaches while enjoying stunning ocean views.

Don't forget about shopping! South Coast Plaza offers high-end shopping experiences while Fashion Island provides amazing outdoor scenery with tons of shops and restaurants nearby.

Exploring these top attractions will make your trip to Orange County unforgettable!
Take in a show at the local theater
Orange County is known for its thriving theater scene, and catching a show at one of the local theaters should definitely be on your list of things to do. Whether you're interested in drama, comedy or musicals, there's something for everyone here.

The Segerstrom Center for the Arts is a top-notch venue that hosts Broadway productions and world-renowned performers. Catching a show here is an experience like no other as it boasts state-of-the-art facilities with comfortable seating and great acoustics.

If you're looking for smaller venues with more intimate settings, check out South Coast Repertory or The Chance Theater. These theaters offer unique performances by talented actors and are sure to leave you impressed.

Orange County also has outdoor amphitheaters that host concerts during summer months such as Pacific Amphitheatre in Costa Mesa or Irvine Meadows Amphitheatre in Irvine. These venues bring popular musicians from all over the country so make sure to check their schedules before visiting Orange County!

Taking in a show at one of these local theaters will surely add entertainment value to your trip while immersing yourself into Orange County culture!
Taste some of Orange County's most popular food and beverage establishments
Orange County is home to some of the most exciting and diverse food scenes in Southern California. With a range of local eateries and acclaimed restaurants, there's something for everyone. For those who enjoy dining out, Orange County offers an array of options that cater to every taste bud.

From fresh seafood dishes at waterfront restaurants to innovative fusion cuisine at trendy spots, visitors will find plenty of delicious meals to try. The county also boasts a thriving craft beer scene, with dozens of breweries offering unique flavors and styles.

If you're looking for authentic Mexican cuisine, be sure to visit Santa Ana's 4th Street Market or Anaheim's historic Packing House. These culinary destinations feature traditional tacos, tamales and more from award-winning chefs.

For wine lovers, Orange County has many vineyards where visitors can sample locally produced wines while enjoying scenic views. Whether you prefer reds or whites, there are plenty of wineries here that offer tours and tastings year-round.

In addition to popular restaurant chains like In-N-Out Burger and Chick-fil-A that have their roots in Orange County , the area is also known for its farm-to-table dining experiences featuring fresh produce sourced from local farms. Whatever your preference may be, Orange County has endless opportunities for foodies craving new culinary adventures!
Explore historical sites in OC
Orange County may be known for its beautiful beaches and theme parks, but it also has a rich history to explore. One of the top historical sites in OC is Mission San Juan Capistrano, which was founded in 1776 by Spanish missionaries. Visitors can tour the historic buildings and gardens, as well as learn about the indigenous people who once lived on the land.

Another must-see historical site is The Richard Nixon Library & Birthplace in Yorba Linda. This museum houses exhibits on President Nixon's life and career, including his time in office during some of America's most tumultuous years.

For those interested in aviation history, head to the Lyon Air Museum at John Wayne Airport. The museum features restored aircraft from World War II and other eras, with interactive displays that bring aviation history to life.

And finally, don't miss out on Old Towne Orange Historic District, a charming area filled with antique shops and historic buildings dating back to the early 1900s. Take a walking tour or simply stroll through this picturesque part of town while learning about its past.

Exploring historical sites in OC is not only educational but also fascinating. With so much to see and learn about Orange County's past, visitors are sure to leave with a newfound appreciation for this vibrant region of California.
Learn about the culture and history of Orange County
Orange County, California has a rich history and unique culture that is worth exploring. As one of the most diverse counties in the state, it offers a wide range of activities for those interested in learning more about its past and present.

One great way to learn about Orange County's history is by visiting some of its museums. The Bowers Museum in Santa Ana features exhibitions on art and cultural artifacts from around the world, while the Mission San Juan Capistrano offers insights into early Spanish colonial life.

For those interested in local culture, Orange County also has several festivals throughout the year that celebrate different ethnicities and traditions. The Tet Festival celebrates Vietnamese New Year with food, music, and dance performances, while Dana Point hosts an annual Tall Ships Festival that showcases maritime history.

In addition to these events and attractions, visitors can also explore historic sites such as Old Towne Orange or take guided tours through neighborhoods like Little Saigon or Little Arabia to get a deeper understanding of Orange County's diverse communities.

By learning about Orange County's culture and heritage, visitors can gain a greater appreciation for this vibrant part of Southern California.
Spend time with friends and family
Orange County, CA is the perfect place to spend time with friends and family. Whether you're looking for adventure or relaxation, there's something for everyone in this sunny destination.

If you're a thrill-seeker, head to Disneyland Park where you can ride roller coasters and enjoy attractions with your loved ones. For those who prefer a more low-key experience, visit one of Orange County's many beaches like Huntington Beach or Newport Beach where you can take leisurely walks along the shore and soak up some sun.

Another great way to bond with your family is by exploring nature at Crystal Cove State Park or hiking through Limestone Canyon Nature Preserve. These outdoor activities are not only fun but will also give you an opportunity to connect with nature as well as each other.

Looking for something indoors? Check out Discovery Cube OC which has interactive exhibits that both kids and adults will love. Alternatively, try bowling at Bowlmor Lanes which offers a unique experience filled with food, drinks, games all under one roof!

No matter what activity you choose to do with your loved ones in Orange County it'll bring everyone together!
Get involved in community events
Orange County offers a wide variety of community events that bring together locals and visitors alike. These events give you the opportunity to meet new people, learn about different cultures, and have fun while supporting local businesses. From food festivals to art shows, there's always something happening in Orange County.

One popular event is the Orange International Street Fair, which takes place every Labor Day weekend in downtown Orange. The fair celebrates diversity with over 40 ethnic food booths representing countries from all around the world. There are also arts and crafts vendors, live music performances, and carnival rides for kids.

If you're into sports, don't miss out on the annual Surf City USA Marathon held in Huntington Beach every February. This event attracts thousands of runners from all over the country who test their endurance by running along the beautiful coastline. Even if you're not participating as a runner, it's still an exciting experience to cheer on your friends or family members at the finish line.

For those interested in history and culture, consider attending one of Mission San Juan Capistrano's many events throughout the year. The historic mission hosts cultural festivals that celebrate Mexico's Independence Day as well as Native American heritage month. You can enjoy traditional music and dance performances while learning about these rich cultural traditions.

These are just a few examples of community events you can get involved with during your visit to Orange County. Check out local event calendars or ask locals for recommendations to discover even more opportunities for entertainment and connection during your stay!
Have some fun!
There are so many amazing things to do in Orange County, CA, and this list is just the beginning. Whether you're a local or visiting for the first time, there's something for everyone to enjoy.

From soaking up the sun at one of OC's beautiful beaches to exploring historical landmarks and indulging in delicious food and drinks, there's never a dull moment here.

So go ahead – have some fun! Embrace all that Orange County has to offer and create memories that will last a lifetime. And who knows? You might even discover your own hidden gems along the way.