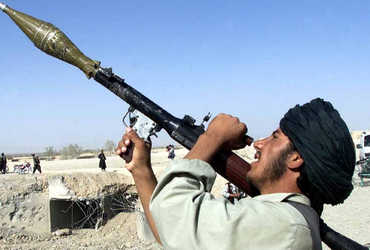 Washington, DT
The role of Chinese tanks and American artillery was instrumental in the defeat of the entire Afghan army by the Taliban. Apart from this, the Taliban have also received weapons that America gave to Afghanistan for free. Now the Taliban are armed with lethal weapons.
American watchdog report says Taliban had AK-4s, AK-4s, rocket-propelled grenades, anti-aircraft guns, light machine guns, hand grenades and mortars in addition to AK-4s, but Taliban have become . These include Chinese-made tanks as well as American-made guns.
To keep the air force afloat in Afghanistan, the United States has spent 5 million to acquire Italian-made 20G3 twin turbocop aircraft. However, due to maintenance problems, 14 of them were not fit to fly and were abandoned on the runway at Kabul International Airport. It was eventually sold as scrap for just 5,000 at six cents a pound. In May 2020, the Justice Department told the Special Inspector General, the specially appointed watchdog for Afghanistan, that it would not prosecute anyone in civil or criminal cases related to the failure of the G7 aircraft program so that no one would be held accountable. Ten such projects were identified by a US-appointed monitoring body.
As a result of the inaction of the US government, the Taliban have received 30 billion worth of modern weapons and 11 military bases for free. Today the Taliban have the largest number of Blackhawk helicopters in the world out of 17 countries. The US has provided the Taliban with unimaginable modern airports for free. Which is equipped with state-of-the-art weapons and facilities.
During the three months from April to June 2021, the US provided Afghan forces with six A-2 light attack aircraft, 12 high-mobility multi-role vehicles, 10,000 three-inch rockets, 21,000 forty-mm rounds and nine million rounds . Fifteen thousand rounds of 7.5 mm bullets were deposited.
The Afghan Air Force had three types of helicopters. These include 3 UH-20 Blackhawks, 2 MI-17 helicopters. In addition, the Afghan Air Force consisted of 9 A-3 Super Tucano fighter aircraft, C-130 Hercules transport aircraft, C-203 aircraft and AC-203 fixed-wing aircraft.
The 11 military bases assigned to Afghan forces include New Antonic, Kandahar Airfield, Camp Morehead, New Kabul Complex, Black House, Camp Stevenson, Camp Dwyer, Camp Lincoln, Camp Arena, Bagram Airfield and Resolute Support. Resolute Support Headquarters was handed over to the Afghan government on 5 June 2021.
Americans have gone to countries like Vietnam or Afghanistan that have not won a war anywhere and the situation is worst.