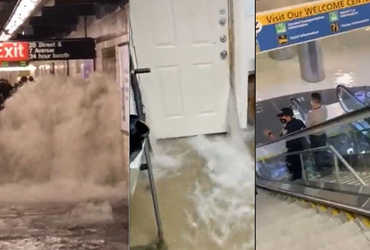 In states like New York, Mississippi, Alabama and Florida, lakes have formed on the roads.
New Delhi Date. September 03, 2021, Friday
Heavy rain caused by Hurricane Ida has wreaked havoc in New York and New Jersey, USA. The storm has claimed the lives of more than 40 people so far. A state of emergency has been declared in both places as the storm became more dangerous and moved toward New England.
New York City police have confirmed seven deaths, while one person has died in New Jersey. New York FDR Drive, a large area east of Manhattan, and the Bronx River Parkway were submerged as of late Wednesday. The Metropolitan Transportation Authority had to suspend all services due to flooding of metro stations and roads. A video posted online showed people standing on seats in cars and traveling in the metro.
In another video, cars parked on the pavement are seen colliding with glass. The National Weather Service in New York issued its first emergency flood warning on Wednesday night. This warning is issued in special circumstances when catastrophic flood damage has occurred or is about to occur. The rain also damaged several buildings in New York and New Jersey. Torrential rains have also affected power supply, leaving thousands without electricity in their homes.
State of emergency declared in all counties of New Jersey
Storms and rain have declared a state of emergency in all 21 counties of New Jersey. People have been warned to stay away from roads where there is flood. He also warned that the floods would be more severe.
Hurricane Ida has not stopped in America. Wind speed reached 241 km/h after hitting the coast on Monday in the coastal areas of Louisiana. It was considered one of the most powerful hurricanes in America. Its strength can also be gauged from the fact that even after 2 days of weakening of the storm, heavy rains have disrupted life in many American cities. The situation is that in states like New York, Mississippi, Alabama and Florida, lakes have come on the streets and rescuers are helping people in boats.
New York received 17.78 cm of rain in 5 hours on Wednesday. Looking at the ratio, New York got about 1 lakh 32 thousand crore liters of water in 5 hours. That much water can fill the swimming pool used in the Olympic Games 50,000 times.
Record breaking in Newark
It can be said that the whole world has received so much rain in such a short period of time. This amount of rain can be very difficult, especially for those living in urban areas. What's more, Newark in New York State received 21.59 cm of rain during this period, the most in a single day in the city's history.