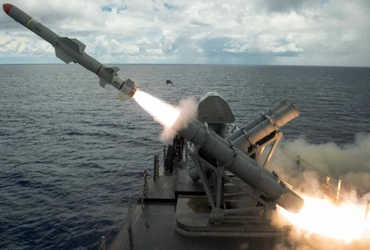 (PTI) Washington, DT
In a bid to strengthen bilateral defense ties with India to counter China's growing dominance in the Indo-Pacific region, the US has approved a 290 million deal with India for the Harpoon Joint Common Test Set (JCTS) and its associated equipment. has given. The Pentagon's Defense Security Cooperation Agency said the decision will strengthen India-US bilateral strategic ties and enhance the security of a key defense partnership in the Indo-Pacific region.
According to an official statement, the Pentagon's Defense Security Corporation Agency (DSCA) notified the US Congress of the required certification on Monday. Harpoon is an anti-ship missile. The Indian government requested the US to purchase the Harpoon Joint Common Test Set (JCTS).
USA approves 25 million deal with India including Harpoon Intermediate-level maintenance station, spare and repair parts, support and test equipment, test equipment, publications and technical documentation, personnel training, US government and contractors, engineering and logistics Is. Support services, as well as logistics and other things related to program support.
DSCA said the proposed sale would improve Indian-US strategic ties and boost US foreign policy and national security by helping to enhance the security of a key defense partner. India is an important force for political stability, peace and economic development in the Indo-Pacific and South Asia region. During the visit of Prime Minister Narendra Modi to the US in June 2016, the US recognized India as a "major defense partner".
The US State Department said the proposed foreign military sale would enhance India's ability to deal with current and future threats. The sale will enhance India's flexibility and expertise in the maintenance of Harpoon missiles. The Pentagon said that India will have no difficulty in incorporating this system into its military and that the proposed sale and cooperation of this system will not change the basic military balance in the region.
The Pentagon said the Boeing Company, based in St. Louis, MO, would be its main contractor. According to Boeing, the Harpoon was first deployed in the 19th century. It is an all-weather anti-ship missile system. The Harpoon missile is the world's most successful anti-ship missile and has been deployed in the armies of more than 50 countries.