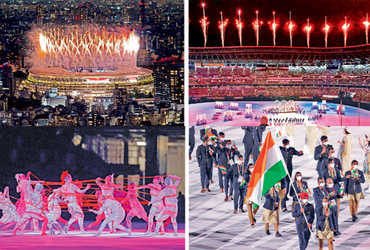 Japanese Emperor Naruhito inaugurates Olympics amid Corona crisis
Only 15 leaders including US First Lady Jill Biden were present: India's march past led by boxer Mary Kom and hockey captain Manpreet Singh
Ceremony and sporting ceremonies without spectators for the first time in Olympic history
Tokyo: The government has announced an emergency lockdown in Tokyo in view of the increasing number of corona cases. On the other hand, the Olympic Games were reopened today after a simple and opening ceremony, amid massive protests from most citizens.
The opening ceremony was also becoming a TV show for the citizens of Japan as the stadium was empty. According to the Japanese alphabet, the Indian team was ranked 21st in the March Past. The delegation of 19 athletes was led by Boxer Mary Kom and Hockey Captain Manpreet Singh. India has sent a total of 120 athletes and 108 officials to Japan.
Some of the items were pre-recorded and presented on the stadium's huge screen so that the performers would not come close to the opening ceremony. While there were colorful things like choreography with social distancing, those were some serious items based on the challenges Japan is facing.
In the VVIP gallery, with considerable distance, sat Emperor Naruhito of Japan, Prime Minister Suga of Japan, Thomas Bach, President of the International Olympic Committee, and Muto, the head of the organizing committee. They greeted each other by bowing their necks as per Japanese tradition.
First Lady of the United States of America Jill Biden and President Macron of France were the most important guests. The prime ministers or presidents of most countries of the world avoid visiting Tokyo. Only leaders of 15 countries participated. Former Japanese Prime Minister Shinzo Abe's attempts to host the Olympics were not present.
As the opening ceremony began, the sky lit up with purple and white fireworks, the colors of the Japan Olympic theme. There were less than 1000 guests at the opening ceremony and they too were seated at a great distance from each other. So the stadium seemed empty and desolate. Corporate personalities could not be seen as most of the sponsors were also moving.
Ever since Tokyo was chosen as the host, all eyes have been on theatrical performances that Japan faced the historic challenge of natural disasters such as the earthquake, tsunami and coronavirus last year.
Earlier, at the 1964 Tokyo Olympics, Japan was cited as proof of the extent to which they had been killed and progressed by sitting during World War II. Similarly, in the changed world of the post-coronavirus, citizens expressed commendable sympathy and the object they connected to the virtual web was a recognition of Japan's technological progress through laser and sound shows.
Athletes around the world are preparing for the Olympics by practicing almost alone to avoid corona. In one item, Japanese boxer nurse Arisa Subata walks on a treadmill alone with a broken heart.
It was a symbol of the athletes of the world. During the opening ceremony of the Olympics, citizens were seen outside the stadium with banners of its boycott. Let's hope the Olympics go smoothly. 11,000 athletes from 204 countries have come to participate in the Olympics, which will run till August 8.