The ruling PSUV rampages in Venezuela; he takes 20 of the 23 gubernias in dispute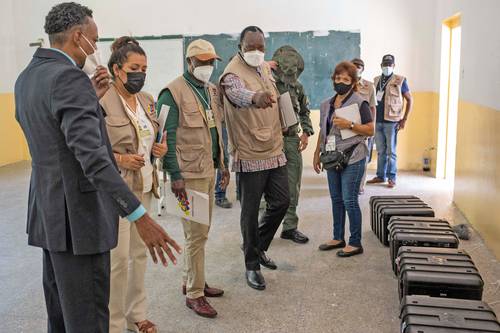 ▲ Members of an international observer mission yesterday at an electoral college in Caracas. The United Socialist Party of Venezuela prevailed in the midterm elections, in which 23 governors, 335 mayors, 253 legislators and 2,471 councilors were elected.
Afp, Reuters, Xinhua and Sputnik
La Jornada newspaper
Monday, November 22, 2021, p. 30
Caracas. The ruling United Socialist Party of Venezuela (PSUV) swept the elections held yesterday, winning 20 of the 23 disputed governorships, in addition to the mayor of Caracas, reported this Monday the president of the National Electoral Council (CNE) Pedro Calzadilla in his first newsletter.
The opposition, gathered in the Democratic Unity Table (MUD), and which participated after three years of boycott and calls for abstention, conquered three entities: Cojedes (center), Nueva Esparta (north) and Zulia (west), with 90.21 percent of the votes counted.
The CNE bulletin reported a participation of 41.80 percent, 10 percent more than that registered in the December 2020 elections, journalist Marco Teruggi of the newspaper Página / 12 highlighted in a tweet.
It is impressive (…) good triumphs that must be highlighted, declared President Nicolás Maduro, surrounded by collaborators, in a message transmitted to the country, in which he proclaimed: today we have more homeland than ever.
He pointed out that a new era of prosperity is beginning, called for unity and work and thanked the more than 70 thousand candidates who participated in the contest, in which 335 mayors, 253 state council legislators and 2,000 were also elected. 471 municipal councilors.
The results represent a setback for the opposition, which returned to the polls in these regional elections after four years of absence, considering that there were not enough guarantees.
In the regional elections of 2017, the PSUV ruling party won 19 governorships, while the opposition triumphed in four.
Among the mayoralties, the first CNE bulletin only mentioned that of Caracas, the most important in the country, in which the ruling party also prevailed.
The head of the Electoral Union observer mission, Isabel Santos, indicated in the morning that everything was going smoothly in the country.