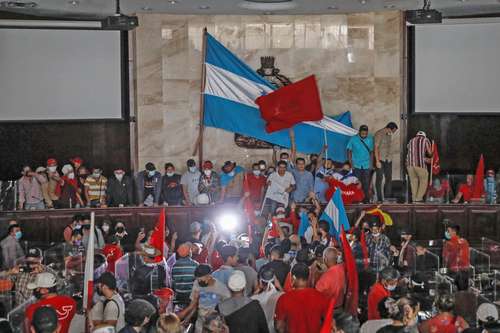 ▲ Supporters of the elected president of Honduras, Xiomara Castro, yesterday at the Legislative headquarters, where Luis Redondo was appointed president of Congress. In parallel, Jorge Cálix was appointed to the same position in another office. Photo Ap
Reuters and AFP
Newspaper La Jornada
Monday, January 24, 2022, p. 23
Tegucigalpa. Honduran deputies yesterday elected two parallel congressional boards of directors amid disputes between president-elect Xiomara Castro and dissident lawmakers from her party for control of that power in a new political crisis in the impoverished Central American nation.
Nineteen dissident deputies from Castro's party, Libertad y Refundación (Libre), with the support of right-wing formations, elected Jorge Cálix president of Congress in a social center.
In parallel, parliamentarians from Libre loyal to Castro and the Salvador Party of Honduras (PSH) appointed Luis Redondo, from the latter formation and as part of an agreement between both parties, in the Congress building.
Castro agreed with the PSH to vote for Redondo as head of Congress.
Castro supporters outside the compound
Hundreds of Libre supporters gathered since Saturday night in front of the Congress headquarters, summoned by Castro, in a vigil that they held until yesterday.
Cálix, accused of being a traitor by Castro, promised to work for the program of the president-elect, who is due to take office on Thursday. He added that his swearing-in took place in a social center because the legislative building was surrounded by Castro supporters and he feared for his safety.
In any case, in his first speech, Cálix was forceful: as long as I hold the presidency of the first power of the State there will be no coup against the elected president.
The board of directors chaired by Cálix was elected by 80 proprietary deputies. The one chaired in the other session of Castro supporters was elected by 49 proprietary deputies and an unspecified number of substitutes, according to sources from the group. It is difficult to corroborate the support received by the PSH legislator, since the vote was by show of hands in a chaotic session overwhelmed by the presence of sympathizers.
In total, 65 votes are required to achieve the leadership of Congress, half plus one of the 128 seats.
The crisis broke out last Friday in a session amid blows and shouts, when Cálix was sworn in as provisional legislative president, in disobedience to the pact between Libre and the PSH.
The 19 dissident deputies were expelled from Libre.
I recognize the presidency of Congress headed by deputy Luis Redondo, I invite him to my swearing-in with the people on January 27, Castro tweeted.
Castro accuses his party's dissidents of allying with the PN to prevent him from carrying out the transformations he promised during the presidential campaign.
Castro won the elections on November 28 by an overwhelming majority, thanks to an alliance with the PSH, in exchange for nominating its presidential candidate, Salvador Nasralla, as vice-president.
The Congress was made up of 50 deputies from Libre, 44 from the PN (of current president Juan Orlando Hernández), 22 from the Liberal Party (PL, right), 10 from the PSH and two from other parties.