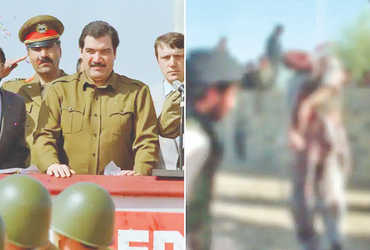 Kabul: Taliban fighters have captured the whole of Afghanistan. The current situation in Afghanistan can be gauged from the fact that the current President Ashraf Ghani and Vice President Amrullah Saleh have fled the country. India, America and Canada are airlifting their citizens.
However, this is not the first time such a situation has arisen in Afghanistan. The People's Democratic Party of Afghanistan was a communist political party in power at the time. Najibullah was involved in this party. The party came to power largely with social engineering. Women were given their rights and secularism was talked about. However, people were hurt by the brutality of the government.
After this people started helping the Mujahideen who were fighting against the government. Najibullah was elected president by the Soviet Union in the 19th century. Najibullah rewrote the Constitution of Afghanistan and changed the name of Afghanistan to the Republic of Afghanistan. But with the collapse of the Soviet Union in 191, all aid to Najibullah was stopped.
Then came the Taliban. The Taliban continued to receive aid from Pakistan and the United States. There was fear of Taliban fighters everywhere. It gradually took control of all the cities of Afghanistan. No one came forward to help Najibullah, who was hiding in the compound in the hope of help. When the Taliban entered Kabul, he asked Najibullah to accompany him. But Najibullah refused and did not go. He sought help for his safety, but did not get it. The Taliban killed him. He was hanged on a pillar in Ariana Square in Kabul. They were tied to the back of a truck and dragged on the road before being hanged. He was reportedly shot in the head. The body of his brother Shahpur Ahmadzai was also hanging on a pillar.