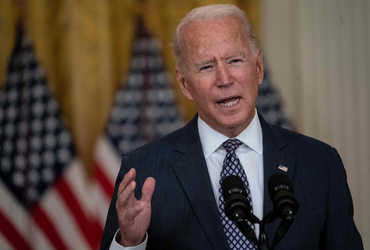 Washington, DT
A credible US intelligence report claims that Russian President Vladimir Putin planned to invade Ukraine on Wednesday, February 15. However, US President Joe Biden and Russian President Vladimir Putin spoke on the phone to avoid war. On the other hand, the United States and European countries have asked their citizens to leave Ukraine within six hours.
According to the German newspaper Der Spiegel, the US Secret Service has told the CIA and the Pentagon that it has received "detailed plans" for Russia to invade Ukraine on February 15. The plan has been handed over to the Biden government and has been the subject of a series of secret discussions with NATO countries. According to the German newspaper, the report also details the exact route by which Russian units will attack Ukraine and their role in the war. However, experts claim that Russia is likely to invade Ukraine after the completion of the Winter Olympics in China.
The White House has confirmed that Biden and Putin discussed on a phone call today, hours after thousands of Americans and Britons were warned to leave Ukraine. In an hour-long phone call, Biden hung up on angry Russian President Vladimir Putin, threatening Russia with dire consequences. The United States has warned that Putin could launch airstrikes on Kiev, which could result in the death of a large number of civilians.
The Pentagon said in a statement that the United States had ordered the deployment of 3,000 more troops to Poland, in addition to the 1,500 troops already in place, to demonstrate its commitment to NATO allies and the prospect of a Russian attack on Ukraine. The United States has deployed heavy military equipment in Romania's Black Sea port, indicating that the United States is increasing its military numbers there. Russia, Ukraine and NATO allies have military bases in the strategically important Black Sea.
Meanwhile, the United States has begun to evacuate its embassy in Ukraine. He also warned Americans to leave Ukraine within six hours. The White House says it is not yet known what he will do after leaving office. Ukraine is surrounded by clouds of war as Russian troops hold war games near Ukraine. At the same time, Russian warships from the Baltic and Northern Fleets have reached Sevastopol Bay on the island of Crimea in the Black Sea. The island was occupied by Russia in 2014. Moscow will organize war games in the Black Sea and the Ojav Sea in the coming days.