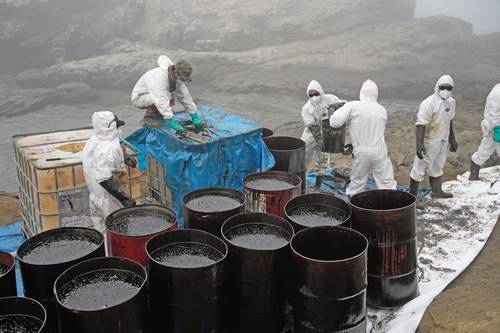 ▲ Workers remove spilled oil on Cavero beach, in Peru. Repsol assures that it is an accident after the waves created by the eruption of a volcano in Tonga.Photo Ap
Sputnik, Reuters and AP
Newspaper La Jornada
Saturday, January 22, 2022, p. 19
Lime. The Municipal Public Prosecutor's Office of the Chancay district of Lima filed a criminal complaint against Repsol company officials after the oil spill that occurred off the coast of the Peruvian capital last Saturday, Mayor Aurora Dulanto reported yesterday. The United Nations Organization (UN) confirmed yesterday the sending of aid to Peru for the spill, in response to the request of the Prime Minister, Mirtha Vásquez.
The complaint is for the alleged crime of environmental pollution as a result of the spill and accuses the general manager of the Spanish oil company, Jaime Fernández Cuesta Luca de Tena, among others. An exhaustive and thorough investigation of this serious event is required and that those responsible be punished in an exemplary manner, as well as a payment of civil damages that can compensate for the disastrous consequences of this immeasurable ecological disaster, Dulanto declared, according to the state agency Andina. .
The official of the district located 78 kilometers north of the city of Lima indicated that the negative impact of the oil spill not only reaches the coastal marine heritage of Chancay, but also productive sectors such as artisanal fishing and tourism.
Last Saturday, an accident at the La Pampilla refinery, in the Lima district of Ventanilla, caused some 6,000 barrels of oil to be dumped into the sea, causing contamination that reaches an area of ​​1.1 million square meters.
On Thursday, Peruvian President Pedro Castillo blamed Repsol and urged it to carry out immediate remediation work.
While the United Nations has immediately activated the emergency care protocols in order to make technical support available to the (Peruvian) government through a mission of experts in environmental disasters, it said in a statement.
Repsol stated that the —- accident was due to unusual waves, which came as a small tsunami to the coast of America, caused by the eruption of an underground volcano in Tonga (Polynesia).
Hundreds of fishermen from the districts of Ventanilla and Ancón, who are the most affected, demand compensation from the oil company. Aid brigades have been able to rescue birds, such as penguins, stained with oily material impregnated not only in the sand but also in rocks on the coast and on small islets.
Shot at JFK
In another order, the Peruvian prosecutor's office opened an investigation against a journalist who asked on his social networks to assassinate President Pedro Castillo.
Prosecutor Augusto Berrocal will investigate whether journalist Jimmy Hernández committed the alleged crimes of apology and discrimination against Castillo. Both carry a sentence of between three and 15 years.
On Sunday, Hernández incited to kill the president born in the Andean town of Chota. A national hero who approaches the shitty chotano and puts a bullet in him, JF Kennedy style, he wrote on his Twitter account, referring to the assassination of the US president in 1963.