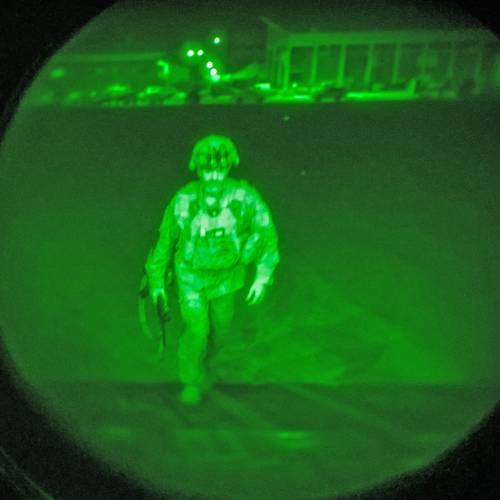 ▲ Gen. Chris Donahue, commander of the Army's 82nd Airborne Division, addressing a C-17 cargo plane at Kabul airport. He was the last U.S. serviceman to leave Afghanistan, one minute before midnight Monday.Photo Ap / Sergeant Major Alexander Burnett / U.S. Army
David brooks
Correspondent
La Jornada newspaper
Wednesday, September 1, 2021, p. 26
New York., The last American soldier to leave Afghanistan, General Chris Donahue, walked alone with his weapon towards the military plane, one minute before midnight Kabul time last Monday, which took off putting an end to the war longest in American history.
The last chapter was closed like so many during the 20 years of the American war in that country: last Sunday an American drone killed nine members of a family, including six children. At the same time, the bodies of 13 servicemen were transferred back in coffins draped in American flags on Sunday, passing a solemn greeting from the president and commander-in-chief, Joe Biden, at Dover Air Force Base.
The war ended without glory or celebration, quite the contrary, and now it has become a political war in Washington. The game between both parties – the war was a bipartisan warlike adventure – has been essentially childish: avoid taking responsibility for the disaster and above all not being accused of having lost Afghanistan.
Republicans, with America's disastrous exit from Afghanistan, now condemn the Biden administration and Democrats for handling the end of the war, as the president and his allies try to create a narrative that avoids the word defeat at all costs.
Biden, in a short message from the White House yesterday, proclaimed that the war in Afghanistan is over, and he fully defended his decision, stating that the choice was between leaving or escalation and that I was not about to extend this infinite war. He reiterated that I refused to send another generation of America's sons and daughters into a war that should have ended long ago.
He praised the extraordinary success of the rescue of more than 124,000 people evacuated with an airlift from Kabul in the last two weeks, an operation without precedent in history, he said.
He stressed that the only vital interest of the United States in Afghanistan is to ensure that that country can never again be used to launch an attack against our homeland, recalling that the 9/11 attacks perpetrated by Al Qaeda originated there, and that this objective is achieved a decade ago. He warned that the threat of terror has metastasized around the world and that we will continue the fight against terrorism in Afghanistan and other countries. We just don't need to fight a ground war to do it, he justified.
Biden concluded that this decision is not just about Afghanistan. It's about ending the era of major military operations to remake other countries.
The Taliban; round trip
But there is no way to ignore that a war that began with the explicit objective of ousting the Taliban from power and that ends two decades later with the return of the Taliban to power is by definition a defeat, which was predicted by that enemy who enjoyed the say: you have the clocks, we have the time.
A very expensive defeat in human and financial costs for the United States. The war cost the lives of 2,461 US military personnel, another 20,000 were injured, many of whom will need medical and psychological assistance for the rest of their lives. Another 3,846 US private contractors also lost their lives.
The direct financial cost of the war is estimated to be $ 2.3 trillion, but that does not include interest costs on those funds, or spending on caring for wounded veterans.
Not to mention the costs for Afghans: more than 47,000 civilians killed; more than 66 thousand Afghan soldiers and policemen perished.
In total, according to estimates by the Watson Institute at Brown University, 241,000 people died as a direct result of the war in Afghanistan (https://watson.brown.edu/costsofwar/ figures / 2021 / human-and-budgetary-costs- date-us-war-afghanistan-2001-2022).
Not everyone lost. The five largest arms companies in the United States received more than $ 2 trillion in public funds during the period of the war in Afghanistan (not all for that war, but against that background).
Now, after years in which the forever war was frequently no longer on the front pages, the intense exercise and debate about what happened, how it happened, who knew what, and who is responsible has begun.
That is not so easy: as in any war, the lie was king. "For two decades, Americans have told one lie after another about the war in Afghanistan. The lies have come from the White House, Congress, the State Department, the Pentagon, and the CIA; Also from Hollywood, experts… reporters, "wrote veteran journalist James Risen in The Intercept.
In late 2019, a Washington Post investigation revealed on the basis of confidential official documents that senior government officials failed to tell the truth about the war in Afghanistan for 18 years, offering upbeat proclamations they knew were false and hiding unequivocal evidence that the war was not winnable (https://www.washingtonpost.com/graphics/ 2019 / investigations / afghanistan-papers / afghanistan-war-confidential-documents /).
One of those cited in those documents was Douglas Lute, general in charge of that war in the White House during the Bush administrations and part of Obama's, who stated in a confidential official interview in 2015 that we did not have a fundamental understanding of Afghanistan. ; we didn't know what we were doing.
Bipartisan support
The war was supported in a bipartisan way from the beginning (a single dissident deputy in the lower house, Barbara Lee, voted against that war), which although it was launched by Republican George W. Bush on October 7, 2001, was dramatically enlarged by the Democratic president, and Nobel Peace Prize winner, Barack Obama, beginning in 2008, incoherently continued by Republican Donald Trump, and now concluded by Democrat Biden, who supported her as senator and later as vice president.
Many of the 80,000 US servicemen who were deployed to Afghanistan throughout that war not only repeat having the feeling of having participated in a meaningless mission, but also express anguish and pain at the abandonment of so many who helped, supported, rescued. Several veterans – along with journalists, aid workers, artists and scientists – searched, until the last moment, for ways to save their former colleagues and collaborators.
It's horrible to see this. But it was always going to happen, and it's better that we're gone now than in two, or three, or 10 years. I just hope that, this time, we learn the lesson that we did not learn in Vietnam. I don't have much hope that this will be the case, says military veteran of the war in Afghanistan Laura Jedeed in an interview with The Guardian.
"The war is over. Stop! No more wars… Time now to compose ourselves and strengthen our own democracy and defend it against our domestic Taliban. Use the war money for schools, health, guaranteed income, housing. Never more. Never, "documentary maker Michael Moore tweeted.
Nearly two-thirds of Americans, 62 percent, think the war in Afghanistan was not worth it, according to a recent AP-NORC poll.