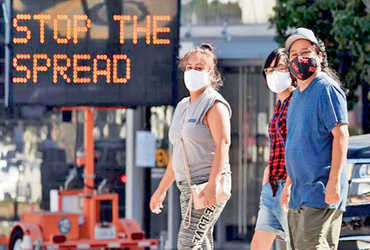 Total corona cases 257,180,131, total deaths due to corona 51,59,330
Europe's vaccinators and non-vaccinators face to face: 37,120 new cases of corona and 1254 deaths in Russia
Booster dose approved for people over 50 in US
Washington: The total number of corona cases in the world has increased to 257,180,131 with 2,53,228 new corona cases, while the total death toll from corona has increased to 51,59,330 with 3,995 deaths.
In the last three days in America, more than one lakh new cases of corona have been reported. According to the WorldDometer website, a total of 48,528,020 cases were reported after 6,424 new cases were reported by Corona, which resulted in 86 deaths, resulting in 7,91,184 deaths.
There were 1,05,299 new cases and 1,507 deaths in the US on November 17 and 1,11,707 new cases and 1,322 deaths on November 18. On November 19, 1,11,829 new cases were reported and 1,322 people died. Meanwhile, for the second consecutive day in Russia, there were reports of more than half a dozen deaths from Corona.
Russia's task force announced that 37,120 new cases of corona have been reported. A total of 9.3 million cases of corona have been reported in Russia, in which a total of 2,62,843 people have died. However, Russia's statistics service put the death toll higher. According to Rostat, from April 2020 to September 2021, there were 4,62,000 deaths.
Meanwhile, cases of corona are increasing in Europe, due to which a war has broken out between those who are vaccinated and those who are not vaccinated. Despite two years of various restrictions, the coronavirus pandemic is not abating and governments are making vaccinations mandatory to maintain the crippled health system.
Austria has made vaccination mandatory from February 1, while Slovakia has banned non-vaccinated people from visiting shopping malls and all non-essential shops from Monday. Non-vaccinated people will not be allowed to attend any public events and will also have to undergo tests twice a week to go to work.
Slovak Prime Minister Eduard Hager described his move as a "lockdown" for non-vaccinated people. In Greece, Prime Minister Kyriakos Mitsotakis also banned people who were not vaccinated from visiting bars, restaurants, cinemas and museums and gyms. They will not be allowed to go to these places even if the test is negative.
Whereas in Singapore, from January 12, the corona vaccine will be given to children below the age of 12 years. The Health Ministry official said that the percentage of people below 12 years of age in corona cases was 11.2 percent. Which was 6.7 percent four weeks ago. On the other hand, in the age group of 12 to 20 years, corona cases are between four and five percent.
Meanwhile, US regulators have approved a booster dose for all adults over the age of 50. The government has also approved the Pfizer and Moderna booster vaccines. In Iran, 3,500 new cases of corona have been reported in the last 24 hours, in which 118 people have died. The total death toll in Iran has reached 128,000.