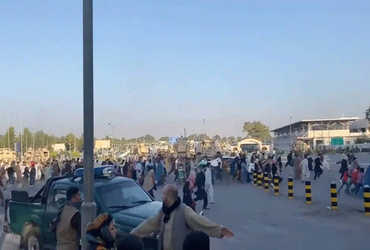 New Delhi: More than 200 Indians, including employees of the Ministry of External Affairs, are stranded in Kabul and hundreds of paramilitary personnel are responsible for their safety. He has not yet been expelled from Afghanistan.
An Indian plane is parked at a busy airport in Kabul. Now the question is how to bring the employees of the Indian Embassy safely to the airport. The Taliban have imposed a curfew in the city.
There are over 100 Indo-Tibetan forces among the stranded Indians in Kabul. His job is to protect the Indian Embassy in Afghanistan. Afghanistan's airspace has been closed for commercial flights. This is because thousands of Afghans are scrambling to flee the war-torn country. As the Taliban take control of Kabul, Kabulis are scrambling to escape.
The Cabinet Secretary is working with the officials of the Ministry of External Affairs to evacuate the employees of the Indian Embassy. The question is being raised as to why the employees of the Indian embassy have not been evacuated yet. Other countries began to evacuate their embassies as the Taliban took over one city after another. Most countries evacuated their embassies before the Taliban laid siege to Kabul.
With the Taliban gaining control of Afghanistan, its commercial airspace has been closed. Afghan civil aviation officials have said they will no longer have control over any aircraft passing through Kabul airspace. Everyone will have to re-route their air route through Afghanistan.