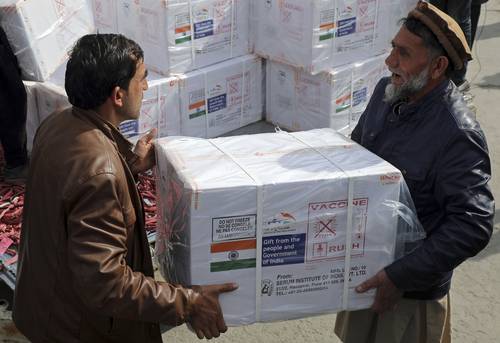 ▲ Civil organizations warn of the imminent collapse of the Afghan health sector due to lack of funds. In the image, one of the last arrivals of anticovid vaccines, before the Taliban took power last August. Afp photo
Afp and Europa Press
La Jornada newspaper
Sunday, January 9, 2022, p. 19
Kabul. A delegation of the Taliban led by the Afghan Foreign Minister, Amir Khan Muttaqi, was received yesterday in Iran to discuss issues related to the economic and migration crises in Afghanistan, in a diplomatic contact unprecedented since the arrival of the Islamist group to power.
Iran, like the international community as a whole, has not recognized the Islamic Emirate proclaimed by the Taliban in August, following the withdrawal of US troops from Afghanistan.
The mission to Tehran aims to address political, economic, transit and migration issues, Afghan Foreign Ministry spokesman Abdul Qahar Balkhi tweeted.
The delegation, led by Foreign Minister Amir Khan Muttaqi, has already held a meeting with Iranian leaders, the spokesman said.
The Islamic Republic of Iran, of Shiite Muslim confession, did not recognize either the Taliban government, of the Sunni branch of Islam, which was in power from 1996 to 2001. Iran has shown signs of rapprochement with the jihadists, but without actually recognizing to the new Afghan state. The two countries have a common border.
Iranian diplomacy spokesman Said Khatibzadeh urged the Taliban to do their best to gain the trust of the international community.
Millions of Afghans live in Iran, which fears a new migratory wave due to the serious economic and humanitarian crisis that its neighbor is going through.
For collapse, Taliban health system
The International Rescue Committee (CIR) warned that Afghanistan's health system is about to collapse due to lack of funds.
The CIR indicated that 90 percent of the country's medical centers could close their doors in the coming months, taking into account that the previous government allocated 75 percent of the aid funds received to the health care on which 30 million people depended. Now these funds are almost non-existent and US sanctions against the Taliban regime have crippled domestic assets abroad.
The crisis will deprive millions of people of essential health care, threaten the response against the coronavirus and could lead to the outbreak of new disease outbreaks, as well as waves of malnutrition.
If this lack of aid continues, 97 percent of the country's population could end up below poverty levels in six months and 9 million people will be facing famine.