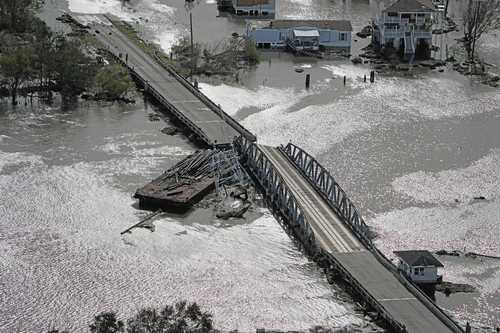 ▲ The passage of Hurricane Ida dragged a barge that crashed and damaged the bridge that divides the towns of Lafitte and Jean Lafitte, in Louisiana.
Ap
La Jornada newspaper
Wednesday, September 1, 2021, p. 28
New Orleans. Hurricane Ida had caused at least four deaths and more than 10 injuries in Louisiana and Mississippi as of yesterday. Two of the victims were killed when seven vehicles fell into a twenty-foot deep sinkhole near Lucedale, Mississippi, where a highway collapsed due to torrential rains.
More than a million residents do not have electricity, a situation that could last several weeks and that forced the mayor of New Orleans to declare a night curfew to prevent crime, after the city was without power after the passage of the hurricane that made landfall with category 4.
Communities battered by Ida in Louisiana began the daunting task of cleaning up debris and repairing damage affecting more than a million Americans who could go without power for long periods of time in the sweltering summer heat.
Some areas outside of New Orleans also suffered significant flooding and damage to homes and businesses.
US President Joe Biden held a virtual meeting Monday with Louisiana Governor John Bel Edwards and Mississippi Governor Tate Reeves, as well as the mayors of the most affected cities, to receive an update on the damage Ida caused and discuss what help the federal government can provide. We are in close coordination with state and local officials every step of the way, Biden said.
Rescuers in boats, helicopters and trucks helped hundreds of people caught in the floods on Monday, and planned to go door-to-door through the worst affected areas.
Governor Bel Edwards explained that 25,000 utility repair personnel were working on the ground in Louisiana to try to restore power and said there were more on the way.
Despite this, his office described the damage to the power grid as catastrophic and those responsible for the service said it could take weeks for power to be restored at some points.
After hitting 240 kilometers per hour, which made it the fifth most powerful hurricane to hit US soil, on Monday night, Ida degraded to a tropical depression with 35-mile-per-hour winds, although meteorologists warned of heavy downpours and flood hazard in parts of the Tenesi and Ohio valleys.
Meanwhile, in the resort town of South Lake Tahoe, the raging Caldor wildfire was approaching yesterday, just hours after roads were jammed with fleeing cars when the city's evacuation was ordered.