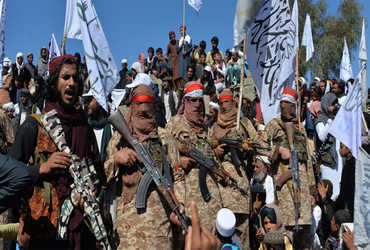 Kabul, Ta. Saturday 14 August 2021
The Taliban of the nineties appear quite rare on television in 2021. There is no doubt that the quality of the broadcast has improved, but there has been a big change in the dress and style of the Taliban fighters.
Taliban weapons look brand new and shiny, their combat vehicles are modern, the clothes worn by Taliban fighters are clean and new. to resemble; Her neat outfit is already seen in a completely different design from the old fashioned dress.
The Taliban of 2021 doesn't sound ridiculous. At first they looked awkward, clumsy during their barbaric rule in Afghanistan, and women as well as men were seen to be bullshit into everything. Although there has been no major change in their barbaric acts, girls' schools are still running in many provinces under their control. Although Taliban fighters are running the old-fashioned system in many places, the way they live and work has changed significantly.
The Taliban fighters now seem disciplined. In Afghanistan, they are moving forward with a strategy to take over the regime. However, the question is why they are not happy, their organization has immense wealth.
So what is the Taliban's net worth, and where does their money come from? This is an important question. In 2016, Forbes ranked the Taliban as the fifth richest terrorist organization out of 10 'terrorists'. At that time, ISIS had a turnover of $2 billion. The Taliban top the list with an annual turnover of US$400 million.
Forbes cites drug trafficking, security funding and donations as the Taliban's main sources of income. This figure is from 2016 when the Taliban was not as dominant in Afghanistan as it is today.
According to a confidential NATO report obtained by Radio Free Europe/Radio Liberty, the Taliban's annual budget for fiscal year 2019-20 is $1.6 billion, a 400 percent increase in revenue over four years compared to 2016 Forbes figures .
The NATO intelligence report cited the fact that the Taliban leadership was trying to become self-reliant, becoming an independent political and military entity.
The Taliban has been working for years to reduce its reliance on foreign donations and contributions. In 2017-18, it reportedly received an estimated ₹500 million, or about half of its total funding, from foreign sources. By 2020, it was about 15 percent of the Taliban's total earnings. In the same fiscal year, the Afghan government's official budget was 5.5 billion, of which only less than 2 percent was for defence.
However, the United States has provided significant funding to the Afghan government to keep the Taliban out of Afghanistan. To get out of Afghanistan, the United States has now begun training Afghan forces to fight or counter the Taliban.
The US has spent nearly a trillion dollars on military spending over 19 years. It now appears that Afghanistan has a US base for the Taliban. A better business venture than growing faster than