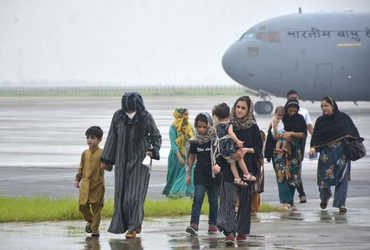 New Delhi, 25 August 2021, Wednesday
After the establishment of Taliban rule in Afghanistan, the Indian government is now repatriating its citizens as well as Hindu and Sikh citizens of Afghanistan.
However, many Hindus and Sikhs living in Afghanistan seek refuge not in India but in the United States and Canada, which has also delayed the repatriation of Afghan Sikhs and Hindu nationals.
Indian World Forum President Puneet Singh Chandok says that 70 to 80 Afghan Sikhs and Hindus in Gurdwara Karta Parwan in Afghanistan do not want to go back to India, they have to go to America or Canada. These people are also delaying the process of evicting other citizens from here.
He said that he had twice missed a flight to India to fly to the US and Canada. Also at a time when the Government of India is providing high quality facilities to the people here.
Meanwhile, a civilian posted in Afghanistan said there was nothing wrong in finding an option to go to the US and Canada. There are no employment opportunities in India and many people here migrated to India or returned to other countries.
There are also reports that Sikh organizations have arranged chartered planes to evacuate Hindus and Sikhs from Afghanistan. Although 100 people arrived at the airport, they were not allowed to board the flight. It is not yet known what he will do after leaving office.