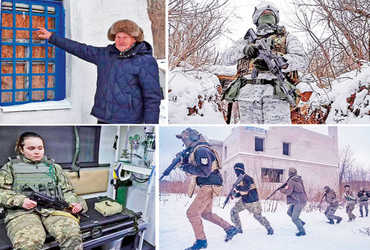 War broke out between Russia and Ukraine
Britain deploys more NATO troops to strengthen Eurozone against Russia's growing aggression: Britain
Russia's policy of destabilizing other countries will not work: Boris Johnson
Kiev: The tense situation between Russia and Ukraine is deteriorating and there is a war between the two countries. In such a situation, more than 18,000 Indian students studying in Ukraine are in trouble. These students are now scared and are saying that if a war breaks out between the two countries, their studies will be seriously affected.
Russia has deployed a large number of troops and military equipment along the border with Ukraine. Britain has called for the deployment of more NATO troops to guard Europe's borders against conflict and criticized Russia's tendency to pressure Ukraine.
Presently more than 18,000 Indian students are studying in Ukraine in various medical and engineering courses. The students have registered with the Indian Embassy in Ukraine.
The Indian Embassy has details of where these students live and study in Ukraine, including contact details and passport numbers of Ukraine.
There is also a description of where they come from in India. So these students fear that the new semester will start in the first week of February. If war breaks out in such a situation, the embassy will send them back to India.
Britain, on the other hand, has made its position clear that more and more NATO (North Atlantic Treaty Organization) forces should be deployed on the European border. More troops should be sent to defend Europe's borders against Russia's increasingly aggressive stance and to make the borders more secure.
United Kingdom Prime Minister Boris Johnson said in a statement today that Britain will take all necessary steps to ensure the security of our NATO allies. Russia's policy of destabilizing other countries should not be followed. Ukraine should have the freedom to decide its own future.