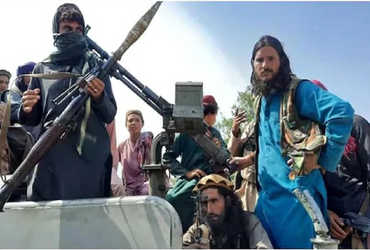 Kabul, Sunday 15 August 2021
After weeks of conflict, the Taliban have finally regained control of Afghanistan. After reaching the capital Kabul, the power is to go to the Islamic fundamentalist organization. Media reports have claimed that President Ashraf Ghani will resign soon. The country's acting interior minister has already said that the Taliban would be handed over power peacefully, and there has been speculation about the government's collapse since then.
Taliban number 2 leader Mullah Baradar is in talks with Afghan President Ashraf Ghani for a transfer of power. It is being said that President Ashraf Ghani will hand over power to Ali Ahmed Jalali. Earlier Taliban negotiators arrived at the president's residence to prepare for the "transfer" of power. An official, speaking on condition of anonymity, said on Sunday that the aim of the meeting was to hand over power to the Taliban peacefully. The Taliban said they did not want to seize power by force.
Taliban on Kabuli border
Earlier, the Associated Press news agency reported that Taliban fighters had surrounded the capital and were moving slowly. However, media reports also claimed that the fighters have now been instructed to stand at the city gates and have been denied entry. The Taliban gained momentum with the withdrawal of US and NATO forces from the country and the capital is now in their clutches.
According to a Taliban spokesman, fighters from the Islamic Emirate will remain out of the capital for the time being and will not enter the country until the transfer of power is complete. Meanwhile, the Afghan government is responsible for the security of Kabul. On the other hand, a Bloomberg report citing President Ashraf Ghani's office claimed that Kabul is controlled by national security forces and people need not worry.
Home Minister said 'peaceful transfer of power'
President Ashraf Ghani's chief of staff has appealed to people on his Twitter account not to panic, there is nothing to worry and the situation in Kabul is under control. Acting Interior Minister Abdul Sattar Mirkajwal has said that there will be no attack on Kabul and the transfer of power will take place peacefully. He said that the security of the city would be ensured.
'No answer'
According to media reports, the Taliban claim that all civilians will be taken care of and they will not be harmed. He also said that even the army will not be answered. A Taliban spokesman said in a statement that they "forgiven everyone" but advised people to stay in their homes. However, civilians have claimed that terrorists have started moving in some places.