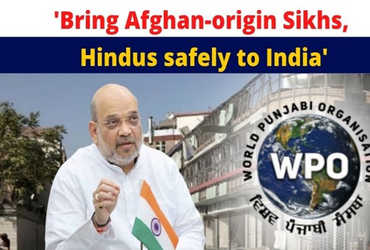 New Delhi, dated 14 August 2021, Saturday
As the Taliban approaches Afghanistan's capital Kabul, the World Punjabi Organization has appealed to Union Home Minister Amit Shah that 257 Hindu and Sikh families in Kabul are in danger. He should be evacuated safely from Kabul as soon as possible.
The organization's president Vikramjit Singh Sahni said that Sikhs and Hindus of Afghan origin need to be brought back safely. His life is in danger. The organization will provide assistance for the rehabilitation of these families and also try to provide them employment.
In which year did the organization send three chartered aircraft to bring back 500 Hindu and Sikh families from Kabul, Ghazni, Jalalabad and other areas? The organization thanked the Indian government for granting these people long-term visas and also appealed to the government to grant them Indian citizenship under the CAA that came into force last year.